9+ best places to eat in Puerto Morelos in Mexico
Puerto Morelos is an authentic fishing village on the shores of the Caribbean Sea full of unique sights and a relaxed atmosphere. Here are the best restaurants and best places to eat in Puerto Morelos.
In this blog post, you will find all the restaurants with photos, descriptions, and exact locations where they can be found on Google Maps. Happy travels!
Read also >>> 11 best Instagram spots in Puerto Morelos, Mexico
This post contains some affiliate links. If you use these links to buy something I may earn a small commission at no additional cost to you!
1. Local Coffee + Shop
Local Coffee + Shop is a breakfast and brunch restaurant in Puerto Morelos. They serve a wide variety of different breakfast and brunch choices.
You can choose from generous portions of different toasts, sandwiches, and omelets as well as smoothies, pastries, and drinks. We enjoyed this place very much!
Location: Local Coffee + Shop
Tip! Right in front of them (across the street), there is a small bakery – Matilda's Bakery. In case you are up for a simple cake and coffee then this is the place to go.
We enjoyed a coffee and a cinnamon roll there and loved it. It is a cute small place with a couple of tables to sit at.
2. Mi Pueblo Hokum – jungle restaurant!
Mi Pueblo Hokum – a jungle-style restaurant in Puerto Morelos was probably my favorite restaurant there and one of the best places to eat in Puerto Morelos on any occasion!
The restaurant is relatively new and looks like a garden with trees and plants everywhere, with wooden gates and roof structures, with benches and garden lights hanging around.
Tip! In case you are a food lover, I recommend checking out this taco and tequila-tasting tour in Puerto Morelos! What better way to experience the local culture and find out about the traditions of local people than going on a food and drinks tasting tour?
Location: Mi Pueblo Hokum
3. El Nicho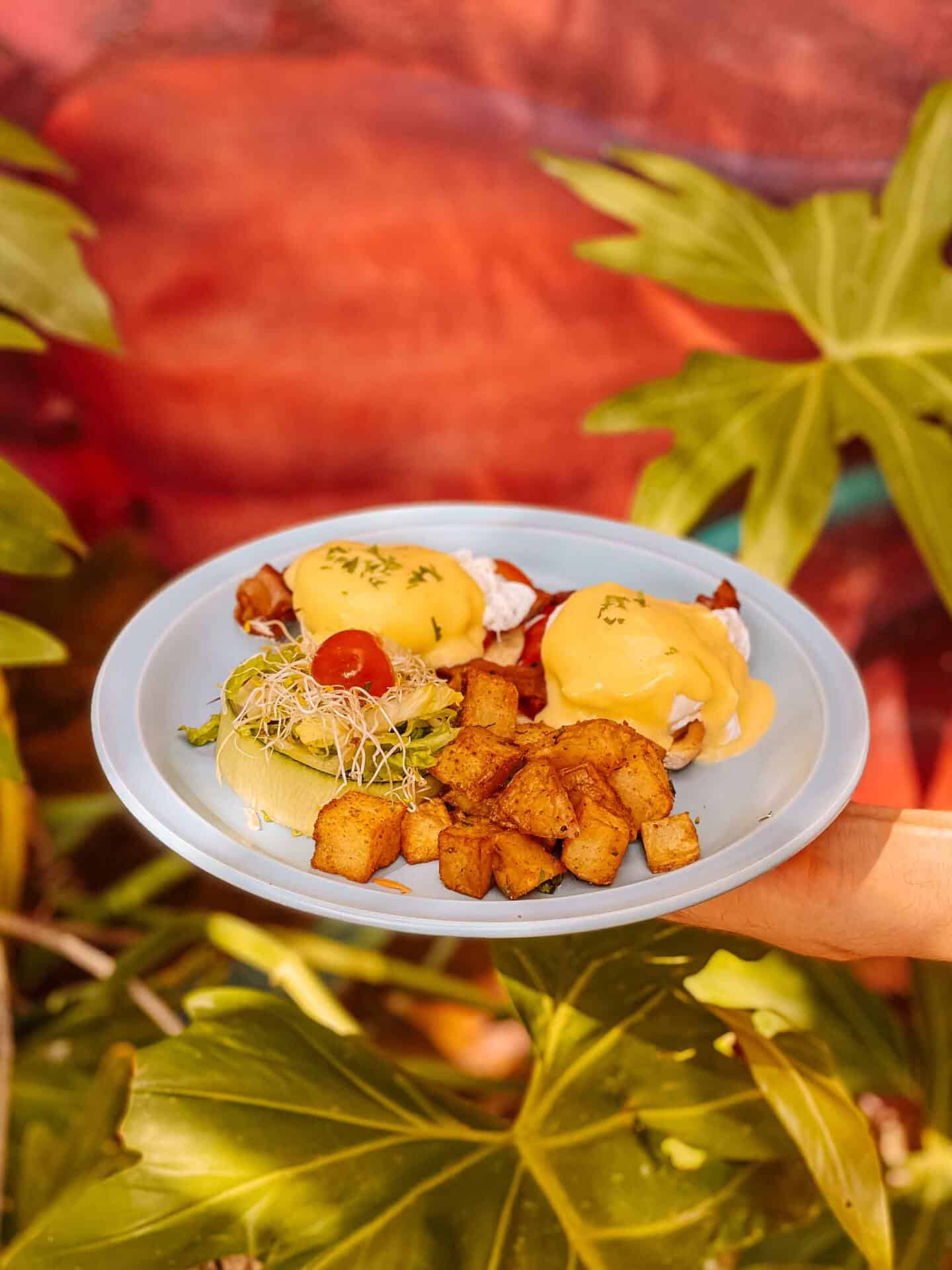 El Nicho was one of my favorite restaurants in Puerto Morelos and I am convinced that many people would say the same as it was packed with people when we arrived.
It is a breakfast and brunch place in Puerto Morelos offering everything you might wish – eggs, waffles, sandwiches, as well as Mexican breakfast…
And the interior is stunning – all walls are painted with beautiful designs, plants everywhere. I really liked the atmosphere of this place!
Location: El Nicho
4. El Socio Taqueria Naiz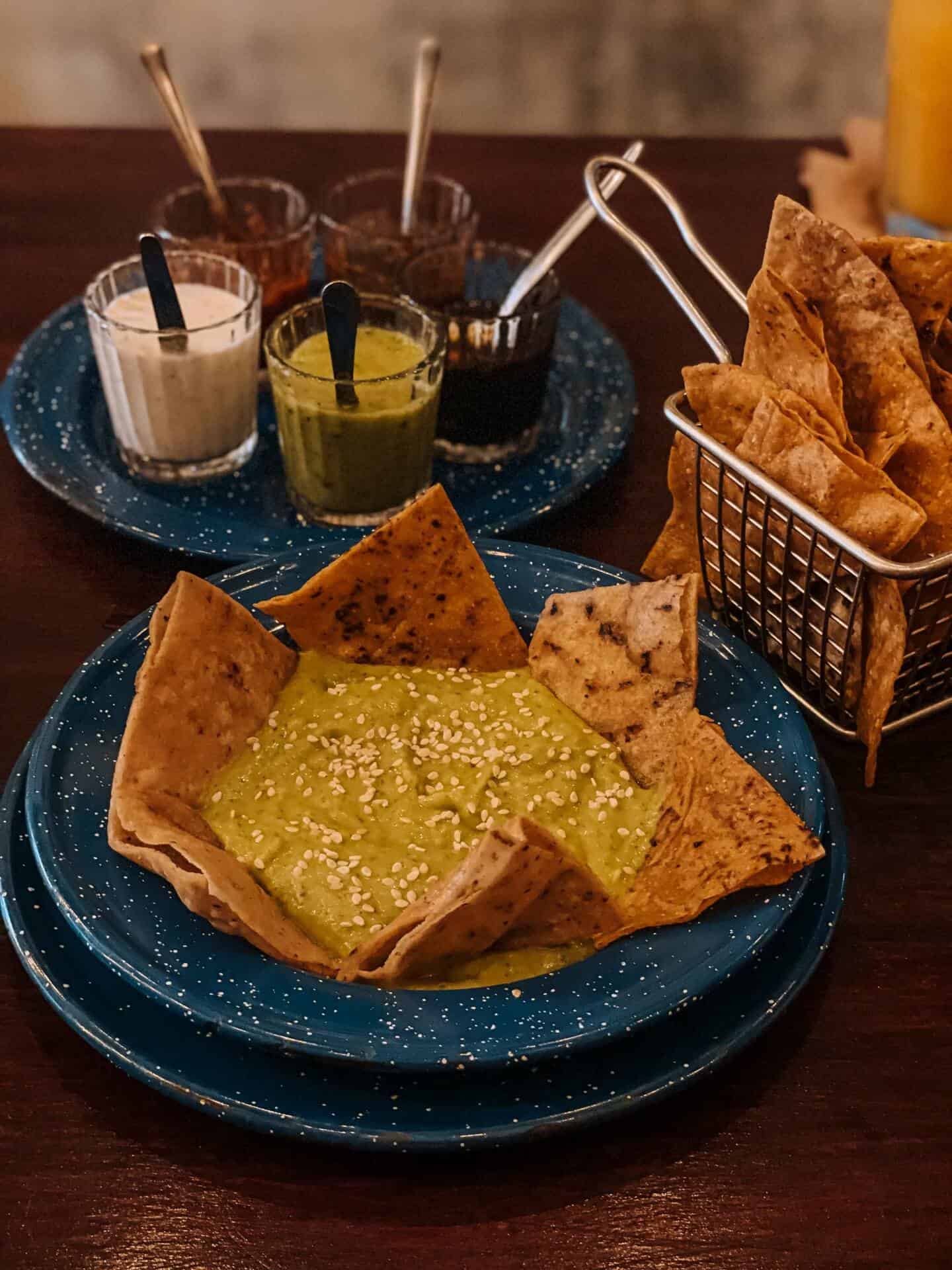 El Socio Taqueria Naiz is a taco restaurant and a Mexican food restaurant in the center of Puerto Morelos. They love grilling food here and specialize in some pretty unique and unusual flavor combinations. If you are into some gourmet tacos then this is the place to go!
Location: El Socio Taqueria Naiz
5. La Choza del Puerto
La Choza del Puerto is a great Mexican restaurant for lunch or dinner. They serve different Mexican dishes with good portion sizes. You will not leave this place hungry!
We tried chicken fajitas and burritos and were both very satisfied. Everything was good quality with traditional taste.
Location: La Choza del Puerto
6. Lola and Mya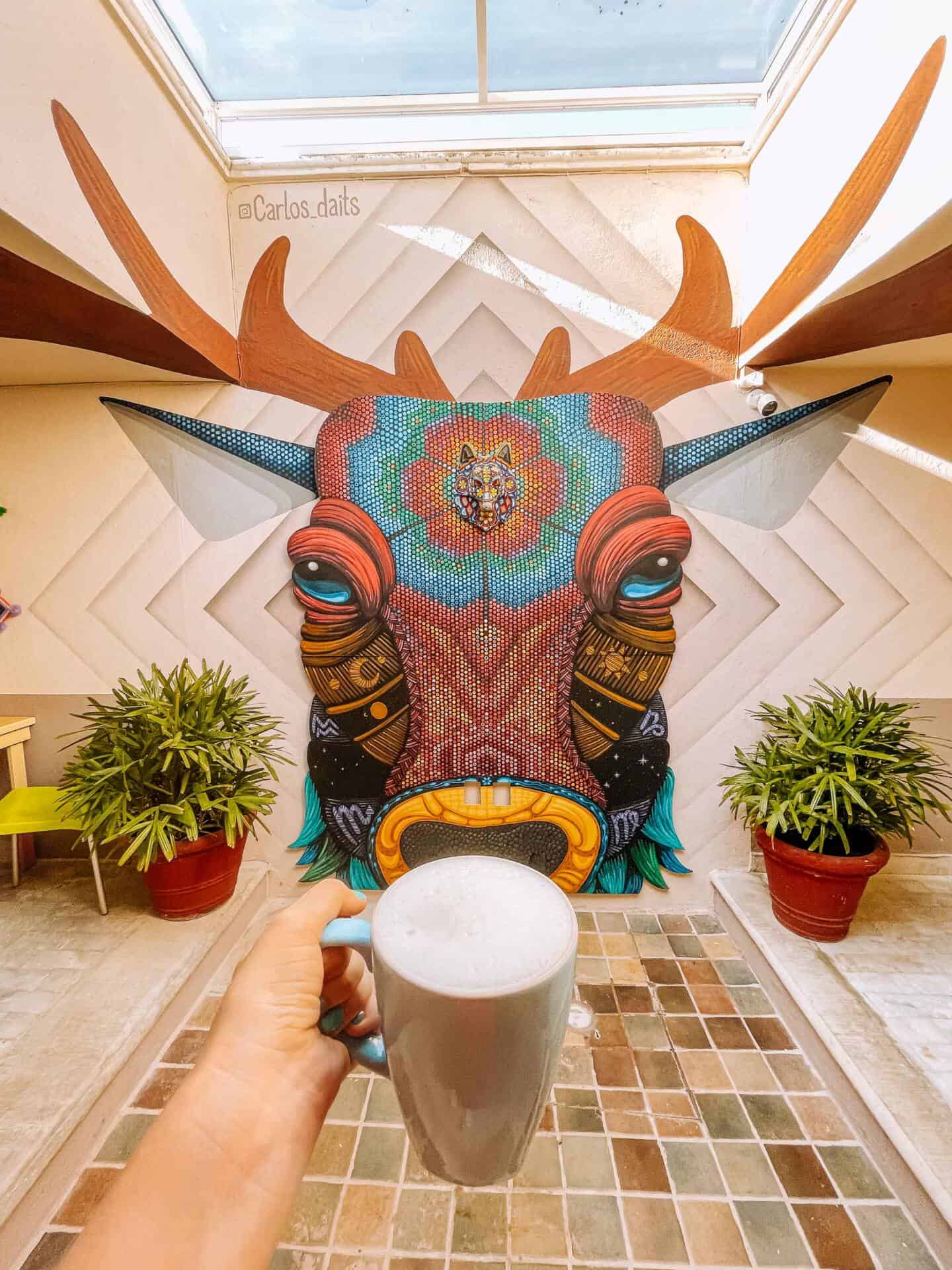 Lola and Maya is a great choice to have some breakfast or lunch. They have many traditional Mexican breakfast options as well as some more international breakfast versions as well. I had a bagel and it was just fantastic.
In case you order a large coffee, be prepared that they will bring you a huge mug! I could not even finish it, haha! There is also beautiful artwork inside the restaurant (pictured above!).
Location: Lola and Maya
7. Mangata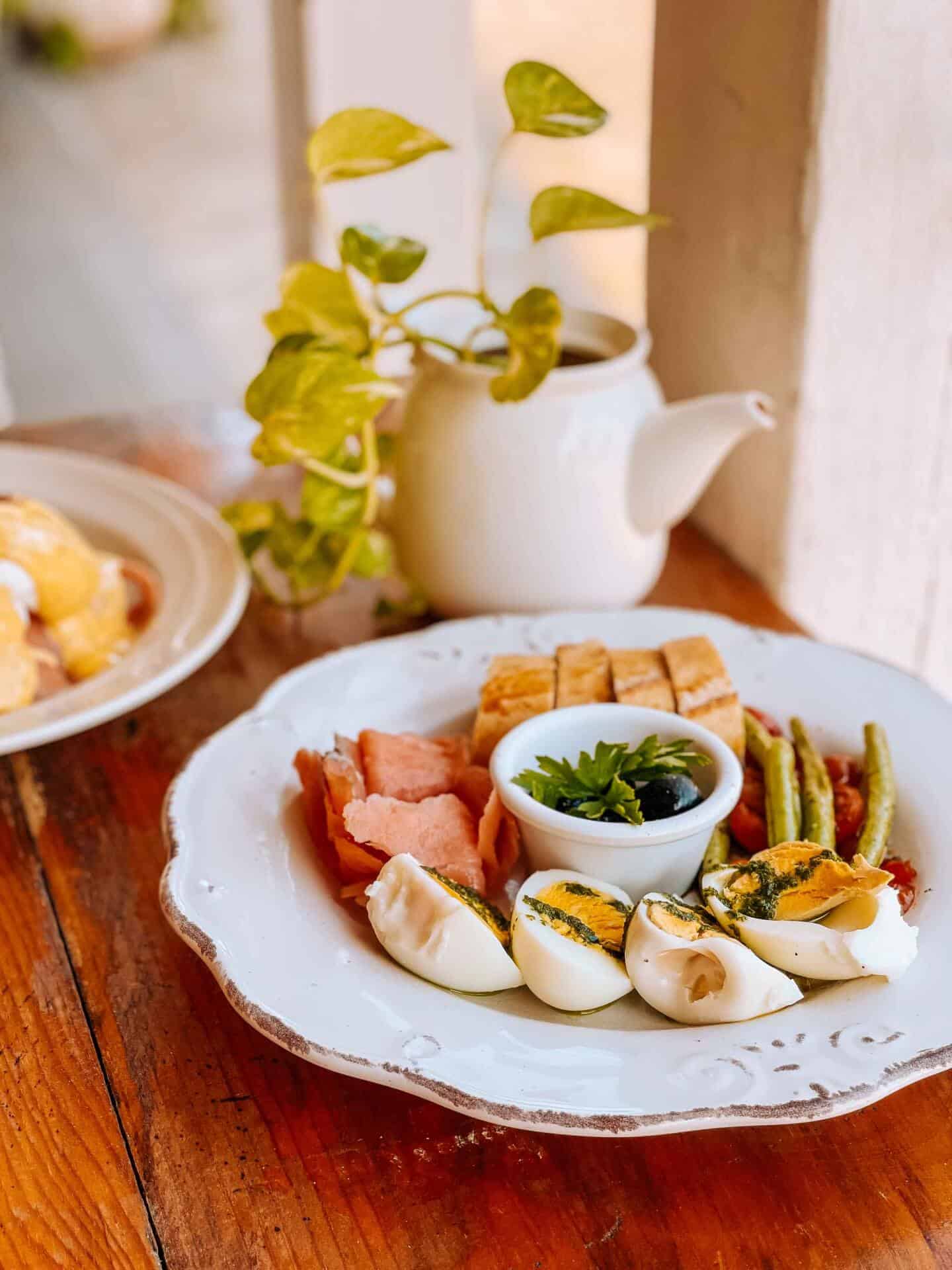 Mangata is a great all-day restaurant you can visit for any meal of the day. We came for breakfast and had a great time. They serve all kinds of sweet and salty breakfast options.
I had a Mediterranean breakfast (pictured above) and it was great. They have many vegan and vegetarian options too. If you are interested, there is a vegan product shop right next to the restaurant.
Location: Mangata
8. Belleville Panadería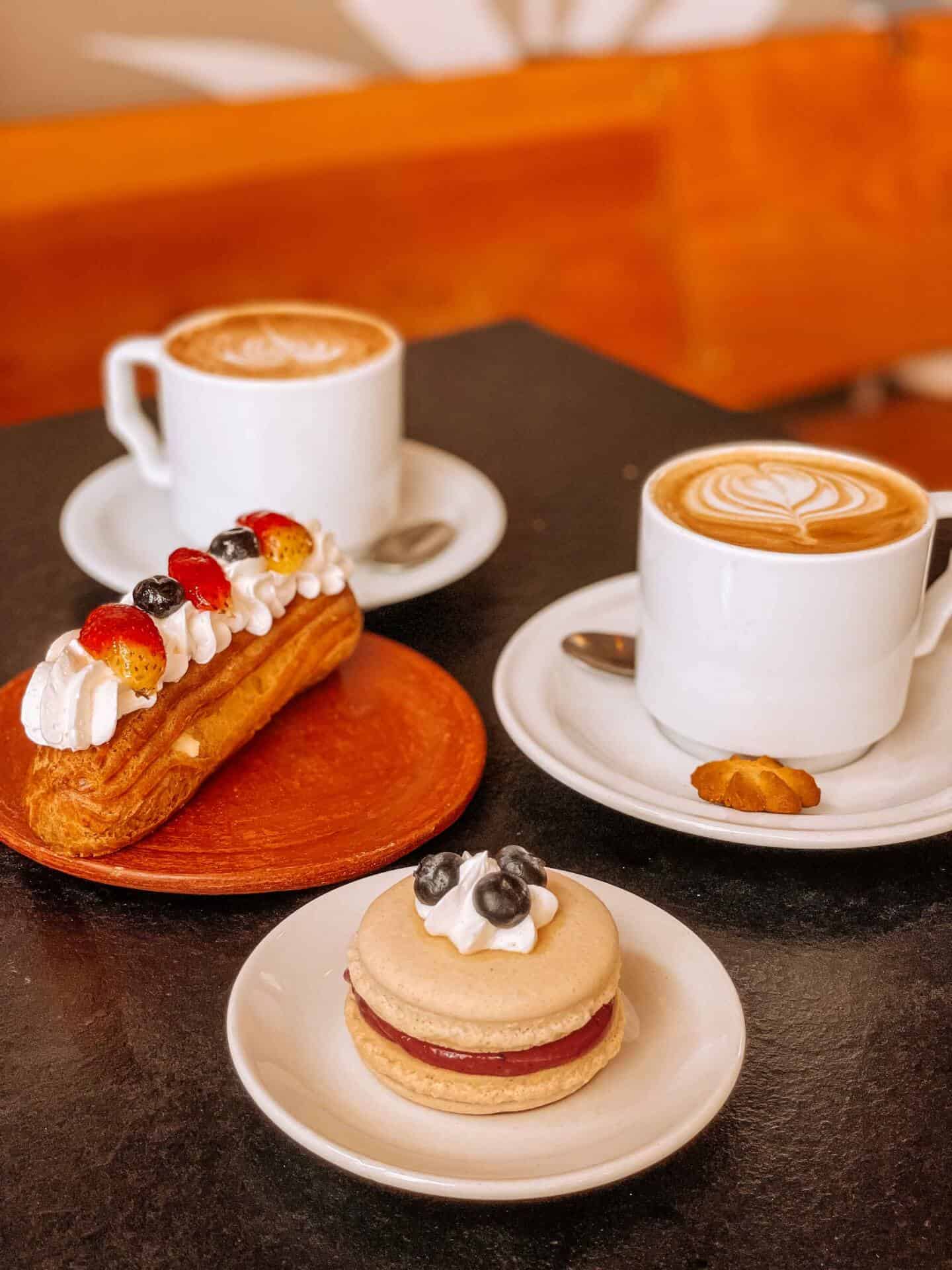 Although we visited Belleville Panadería just for a simple breakfast snack I believe this is one of the best places to eat in Puerto Morelos. They have a pastry shop and a restaurant under one roof but with different entrances.
Come here for toasts, eggs, sandwiches, great coffee or other drinks, and delicious pastry. You can even buy sourdough bread! Truly a hidden gem in Puerto Morelos!
Location: Belleville Panadería
9. Geoholistik Puerto Morelos
Geoholistic was one of the most unique places to eat in Puerto Morelos, at least for us! It is uniquely decorated (the entrance gate is the name of the town), and the restaurant has colorful paintings inside and lots of plants.
They serve some nice coffee, fresh juices, smoothies, granola bowls, toasts, and many delicious options for lunch. What we liked the most about this place was the relaxing atmosphere.
Location: Geoholistik Puerto Morelos
Tip! In case you are into seafood then great seafood restaurants are El Pesquero, Muelle Once with a great view, Amor y Pez, and Blue Morelos.
But if you are a vegetarian or vegan, then there are also many great vegan restaurants in the town like Layla Restaurant and Veggie Veggie Street Food.
Happy exploring!
Puerto Morelos is a relaxed small fishing town in Riviera Maya. This is really the place to go if you wish to skip the buzz of popular tourist destinations! If you can, please, leave a comment below if there are any significant changes to anything that is written in this blog post! Many thanks!
PIN FOR LATER!