The magical Piódão, one of the Historical Villages of Portugal!
Piódão is a hidden village in the Serra do Açor mountains in Portugal. With its 120 inhabitants, it used to be a shelter for people to hide away from everything and everyone. Today the whole village is a Property of Public Interest in Portugal.
Piódão is known as one of the schist villages in Portugal – a form of rock typical in the area. Every house, every wall, and every narrow street is made of small pieces of schist making it one of the most unusual hidden gems in Portugal that I ever encountered!
The village is very small and you only need one hour to see everything this magical place has to offer. In this blog post, you will find all the places in Piódão with photos, descriptions, and locations on Google Maps. Happy exploring!
Read more >>> 17 top things to do in Monsanto, the most Portuguese village
1. Stop by the viewpoint of Piodão!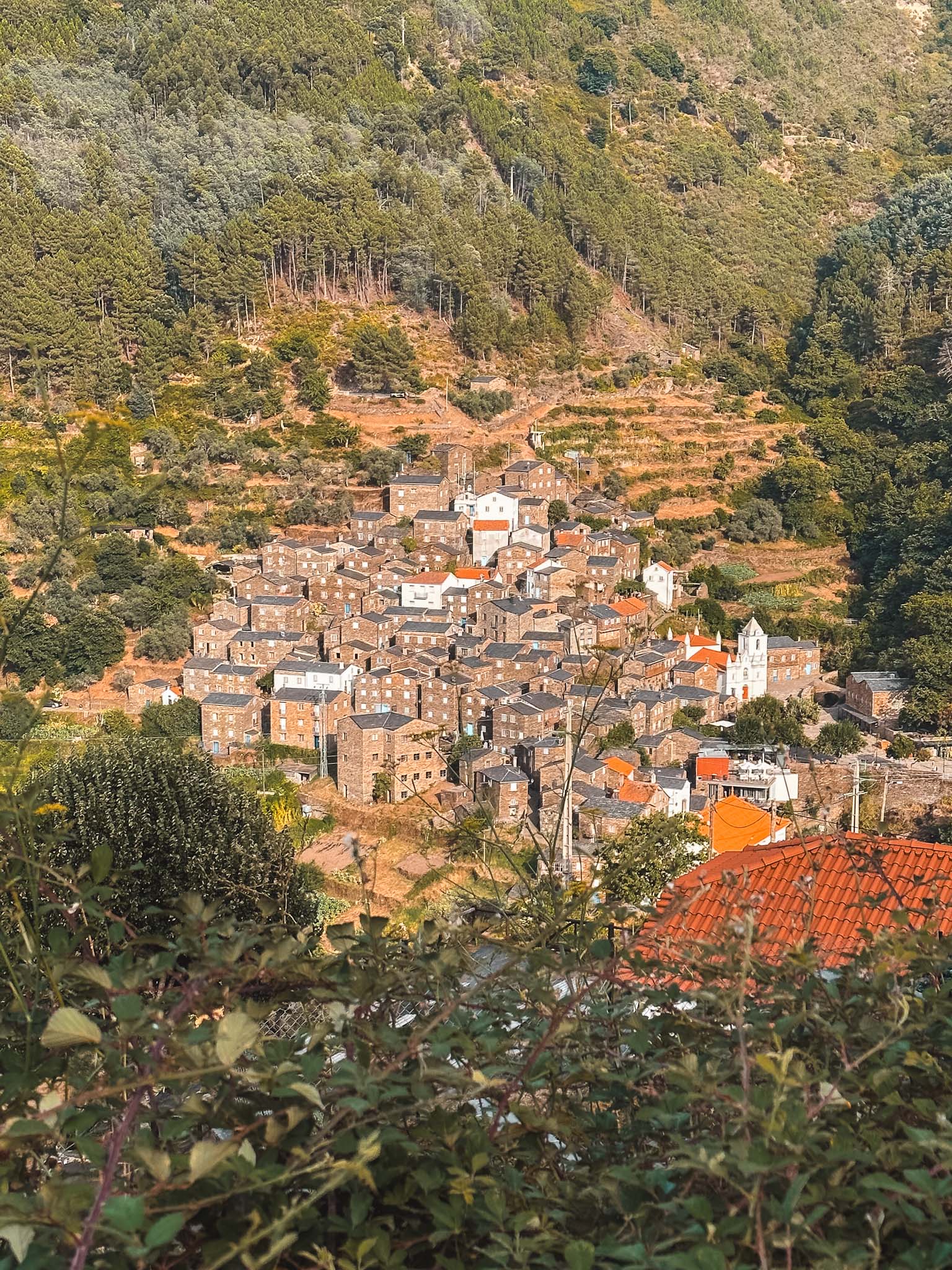 First things first, as you approach Piodão I recommend stopping at the side of the road to see the overview of the village. It is wonderfully positioned on the slope of a mountain and those houses look like a bunch of Lego pieces put together.
We found a beautiful viewpoint next to the INATEL Piodão Hotel (exact location below) as we approached the village. There are a couple of parking spots next to the road where you can stop by and enjoy this iconic overview of this mysterious mountain village!
Location: Viewpoint of Piodão
2. Check out the impressive Igreja Matriz do Piódão!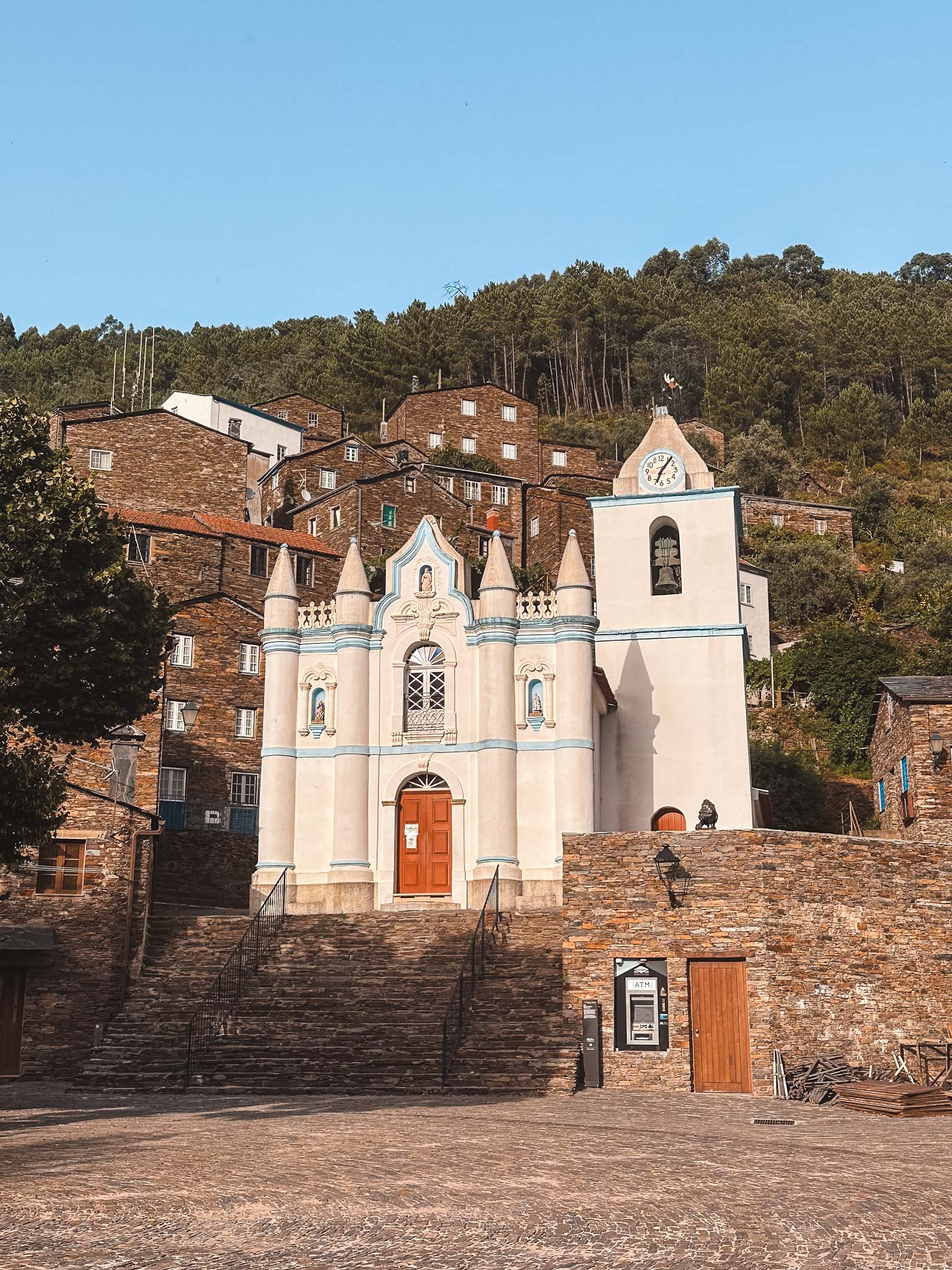 Igreja Matriz do Piódão is probably the most impressive building in the village. As you park your car and start walking to the village you will reach the main square that serves as the entrance to the village.
The imposing Igreja Matriz do Piódão church is standing right next to the square overlooking everything and everyone who enters the village. It is a 17th-century church that was built in the place of an older temple. It is the Piódão's main church.
The church stands out with its facade with a neo-baroque pediment and four castle-like cylindrical buttresses that are topped by conical domes. It actually somehow looks like a fairytale castle from a Disney movie, right!?
Another reason for this church to stand out is its white and blue color! As you probably saw from the viewpoint of Piódão, the whole village is built of schist, typical rocks in this area. However, the massive white church looks a bit misplaced here, haha!
Location: Igreja Matriz do Piódão
3. Get lost in the narrow streets of schist!
One of my favorite things to do in Piódão village was getting lost in the narrow winding streets of the village. Piódão is known for all the houses, walls, and streets built of schist, a special metamorphic rock found in the Serra do Açor mountains.
There are a couple of schist villages in Portugal in this area, but Piódão is probably the most famous one of all. Schist was used as it was a cheap option – the abundance of this material that was available for free was enough of a reason to use it everywhere!
 This special rock is composed of mineral grains that you can very easily see with your eyes if you inspect a piece. The minerals are oriented in a way that makes the rock easily split into thin flakes.
As you walk around the village, you will notice that it is built of layers and layers of this rock. It is definitely one of the most unique things I saw in Portugal! Even the streets, the stairs, and door stills are all made of this unique rock.
The village is very small so don't worry about getting lost forever. Just keep your Google Maps app open and go explore! We chose an object to go to and then wandered in that general direction so that we could explore hidden corners along the way!
4. Wander up to Chapel São Pedro!
Chapel São Pedro is a small white-and-blue chapel in the very heart of the Piódão village! It was one of the objects we chose as destinations while wandering around the streets and staircases of the mystical village.
The chapel is very charming with whitewashed walls, blue doors and window bars, a terracotta red roof with a schist bell arch, and massive clay pots for plants on both sides of the entrance. When we visited, it was closed. Maybe you will have better luck!
Location: Chapel São Pedro
5. Spot all the typical blue doors in Piódão!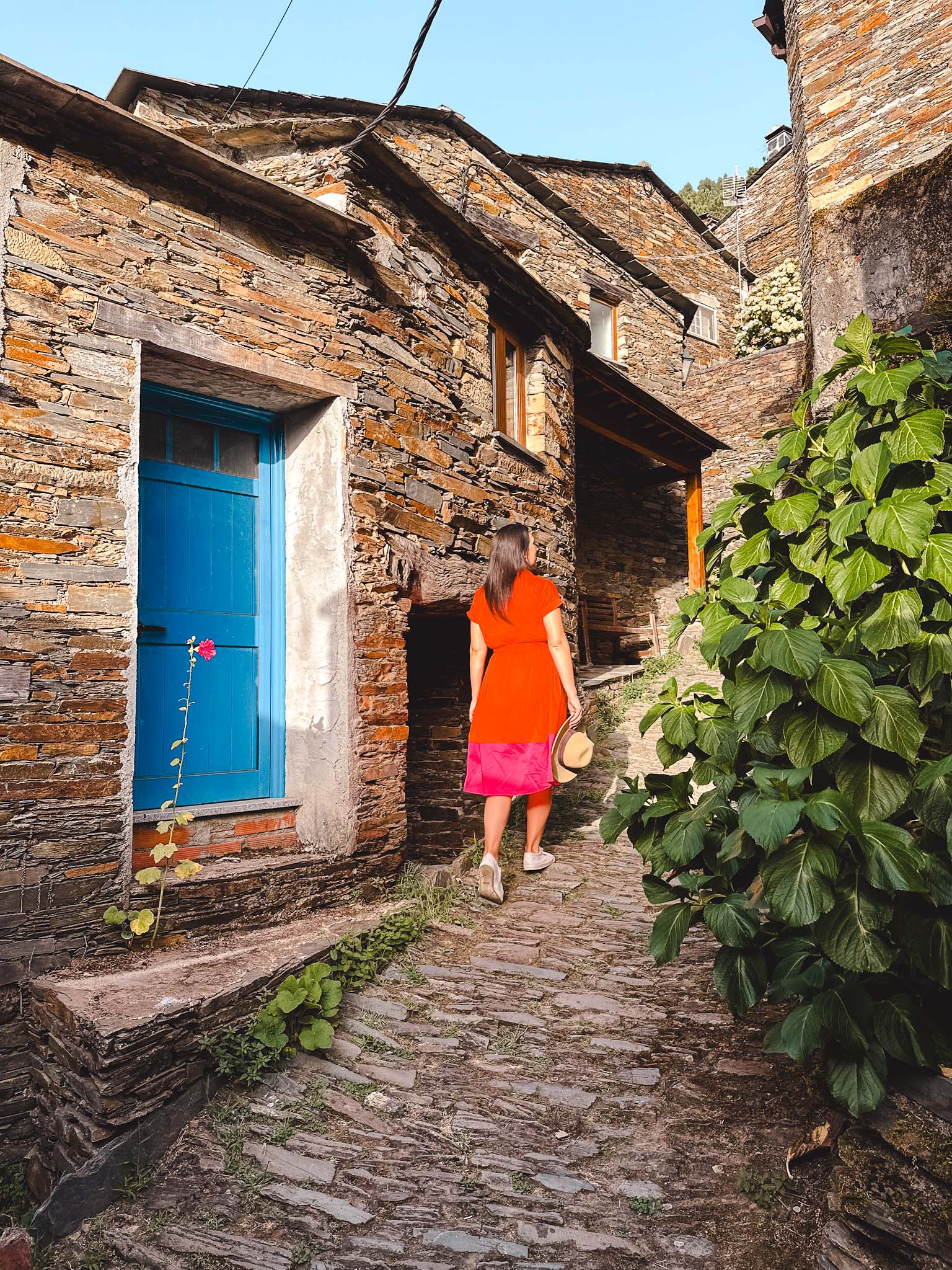 Piódão is a small medieval time village in the Serra do Açor mountains in Portugal. For this village to be so very remote it came with its challenges. For some, it was a place to hide away as it was so remote and hidden from the outside world.
It is thought that one of the assassins of Inês de Castro was hiding in this village to escape the justice brought by her husband – King Pedro I of Portugal. The remoteness also translated into a lack of building materials or other resources.
It is said that during the construction period of this village, there was only one paint supplier nearby where local inhabitants could buy paint. The supplier only had blue color so as a result of that all doors in the village are painted blue.
I loved walking around and finding the cutest blue doors around the village! Stop by and take some photos of this unique feature of Piódão village. Of course, today the accessibility situation has changed, but there are still plenty of blue doors in Piódão.
6. Spot the gurgling levada in the middle of the village!
As you walk around the village you might notice gurgling sounds of water somewhere nearby. It is because there is a water canal – levada – flowing underneath you hidden below a cover of schist rock surface.
In some places, the water canal is uncovered and you can see the water running down the canal like a spring. Have fun jumping over the levadas when you walk around the village! I added the location below for the levada that is pictured above!
Location: Piódão levada
7. Stop by Fonte Dos Algares!
Another stop you can make while exploring Piódão schist village is at Fonte Dos Algares fountain. It is a small fountain that is entirely built inside a schist wall – a typical sight in this village. It is decorated with plants and statues.
Location: Fonte Dos Algares
8. Pay a visit to Capela das Almas!
Another one of the popular tourist attractions in Piodão is Capela das Almas or the Chapel of Souls. It is a rather simple-looking 18th-century chapel with whitewashed walls and chestnut-brown doors.
However, the most beautiful thing about this charming chapel is not actually pictured above. The chapel faces the mountain slope so you can see a picturesque view of the valley and the surrounding area from this place.
Location: Capela das Almas
9. Walk down the picturesque Rua Manuel Nunes Pacheco street!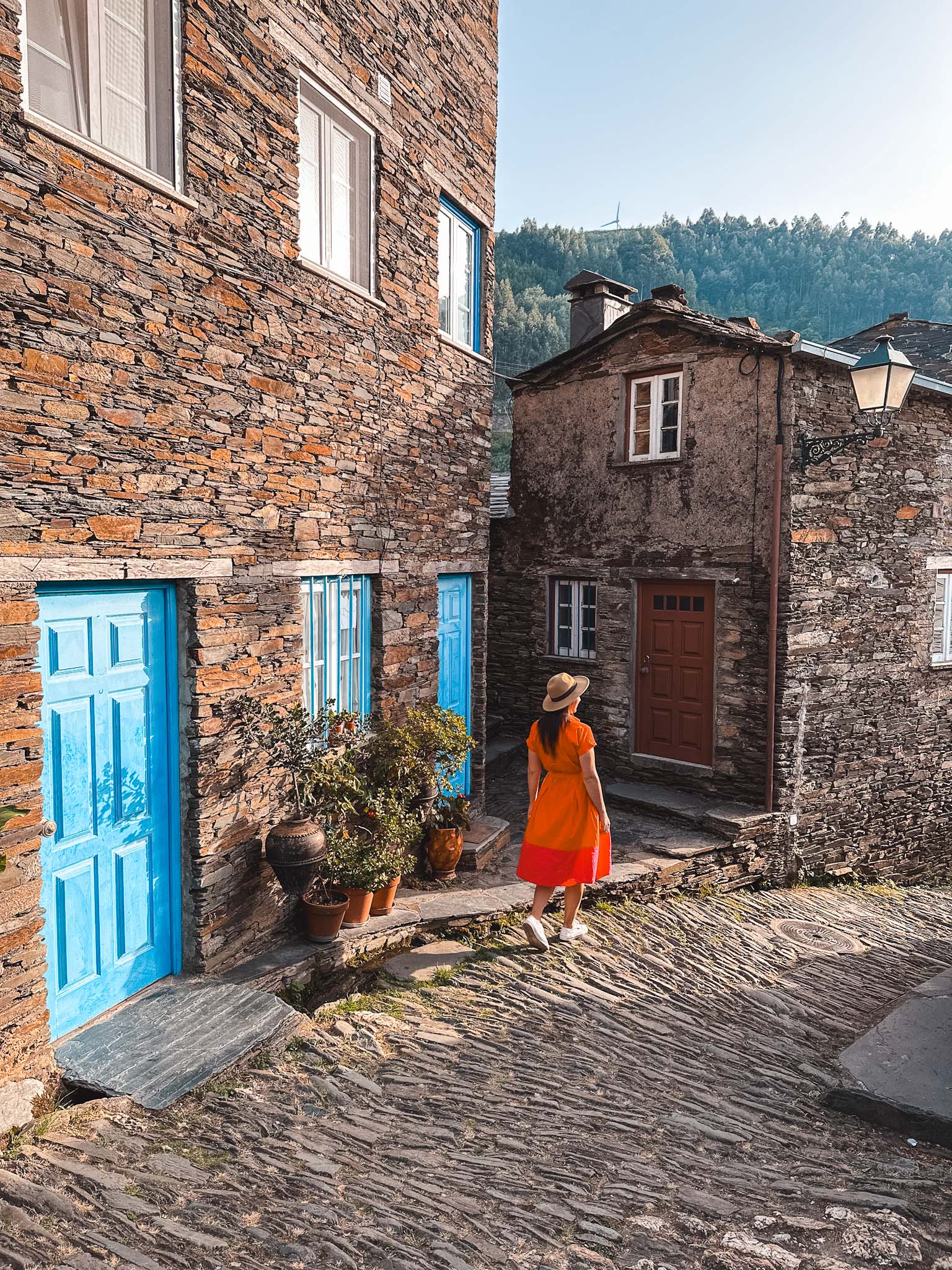 One of my favorite places in Piodao was Rua Manuel Nunes Pacheco street. It is one of the biggest streets in the village that goes along the lower level of the village and at some points it uncovers fantastic views over the valley above and below.
This is the exact street where you can see the levada of Piodão as well as Capela das Almas. Once you visit the chapel, I suggest coming back to the center of the village down this street to see the views along the way.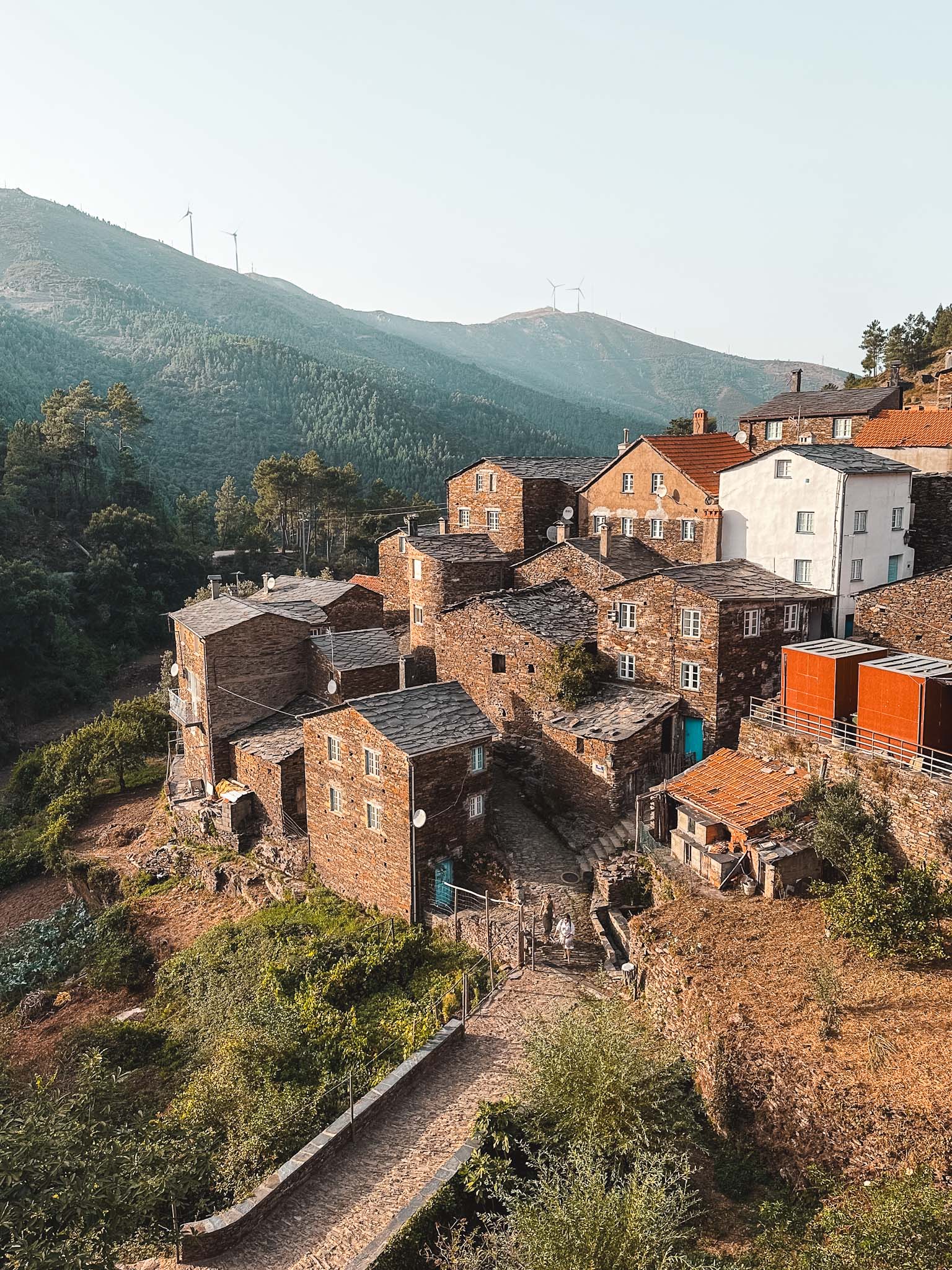 Rua Manuel Nunes Pacheco street will end at one of the bridges that cross the gorge. If you walk further downhill you will reach the village's public swimming pool which is a popular place during the summer heat. There are stairs leading down to the pool, so check it out!
Location: Rua Manuel Nunes Pacheco street
10. Buy a schist souvenir and sit down for a local meal!
After a fun visit to this unique and special village, come back to the main square next to the white church where you began your visit to check out some souvenir shops and stands to take a keepsake back home with you!
One of the most typical souvenirs you bring home from Piodão is the fridge magnet house made of real schist rocks. They even painted the blue doors and windows! It does look pretty cool and very authentic!
As for the restaurants, there are only a couple of them in the village that are worth a visit. One of them – Solar dos Pachedos – is right at the square where you can sit down and watch people walk by. Another great restaurant is O Fontinha.
Location: Main Square – Solar dos Pachedos – O Fontinha
11. Piodão side view and goodbyes!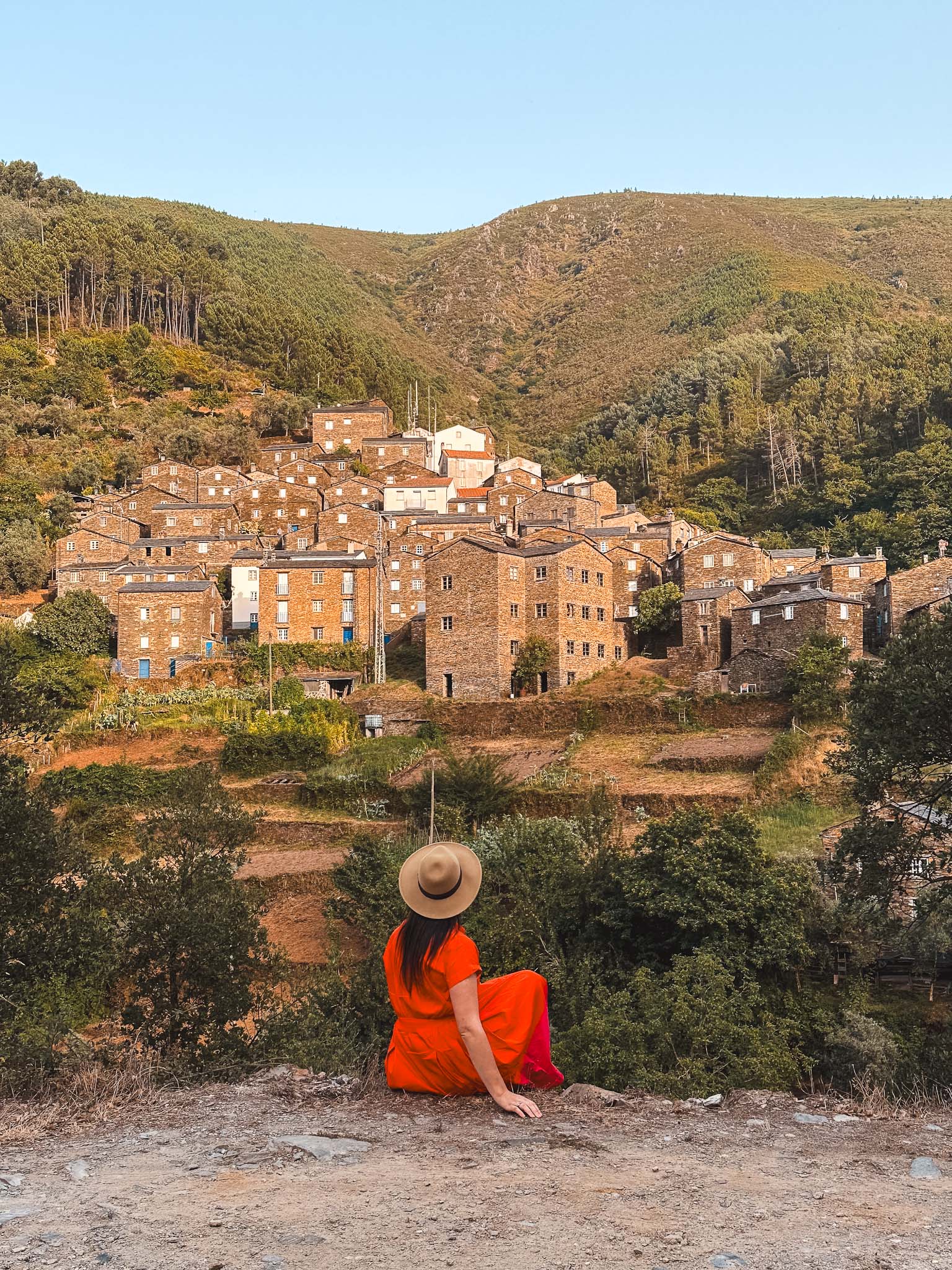 Before you say your goodbyes to one of the most iconic villages in Portugal, I recommend checking out a different viewpoint of Piodão where you can see the village from the side. Here you can perfectly observe the terrace layout of houses!
Location: Piodão side view
Happy exploring!
Piodão is labeled as one of the historic villages in Portugal – ancient urban areas that were founded before the Portuguese nation itself. The list currently has like a dozen villages including Piodão, Monsanto, and others.
What makes Piodão special and unique is that it is also one of 27 hidden Schist villages (Aldeias do Xisto) in Portugal that are spread throughout the Lousã and Açor mountain ranges not far from Serra da Estrela – the highest peak in continental Portugal.
I hope you enjoy your time in Piodão and in Portugal as much as we did and I hope you get inspired by places you visit and see! And I hope my travel tips help make your trip to Portugal even more fun, exciting, and full of unforgettable memories!
PIN FOR LATER!