Aveiro, Portugal: 21 best things to do in Aveiro, The Venice of Portugal
Looking for the best things to do in Aveiro and near the city? With scenic city canals, lively boats cruising around, cute bridges, tasty ovos moles, stunning architecture, glazed tile facades, and some of the best hidden gems in Portugal, Aveiro has so much to offer!
We spent a whole week living in Aveiro, Portugal, and exploring everything in this unique city. This was one of my favorite areas in Portugal! In this blog post, you will find the best things to do in Aveiro with photos, descriptions, and locations on Google Maps. Happy exploring!
Read more >>> 15 best Instagram spots in Aveiro, Portugal
1. Go on a gondola boat ride in Barcos Moliceiros!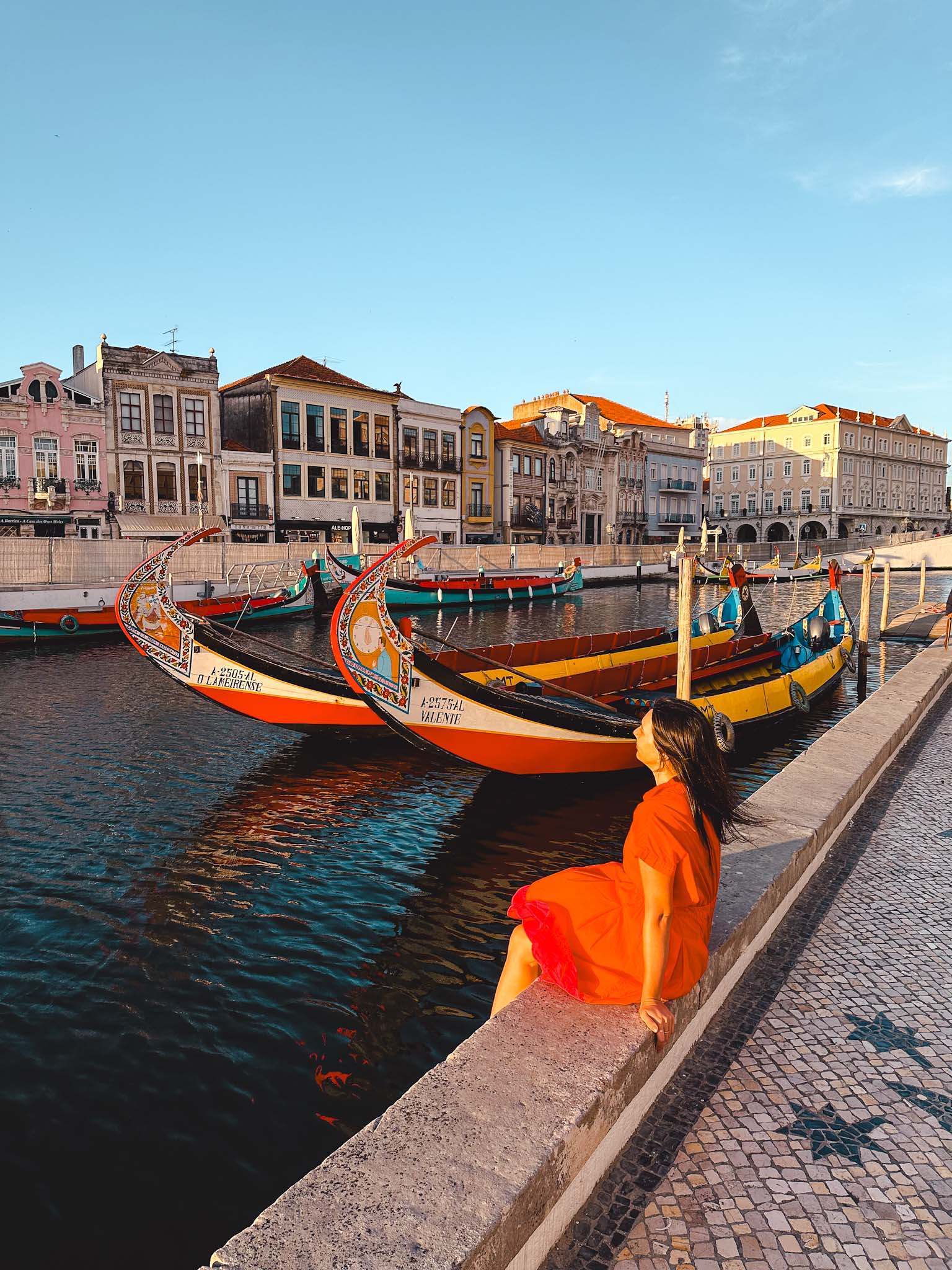 There is only one reason why Aveiro in Portugal is called the Venice of Portugal. Aveiro city has a system of canals winding through the city that allows transportation in special boats called Moliceiros – similar to those in the Italian city of Venice.
These Moliceiro boats were once used for harvesting seaweed (moliço), but today they are mostly used for tourist purposes.  The most common Aveiro boat tour goes along four urban canals – Canal Central, Canal da Pirâmides, Canal do Cojo, and Canal de São Roque.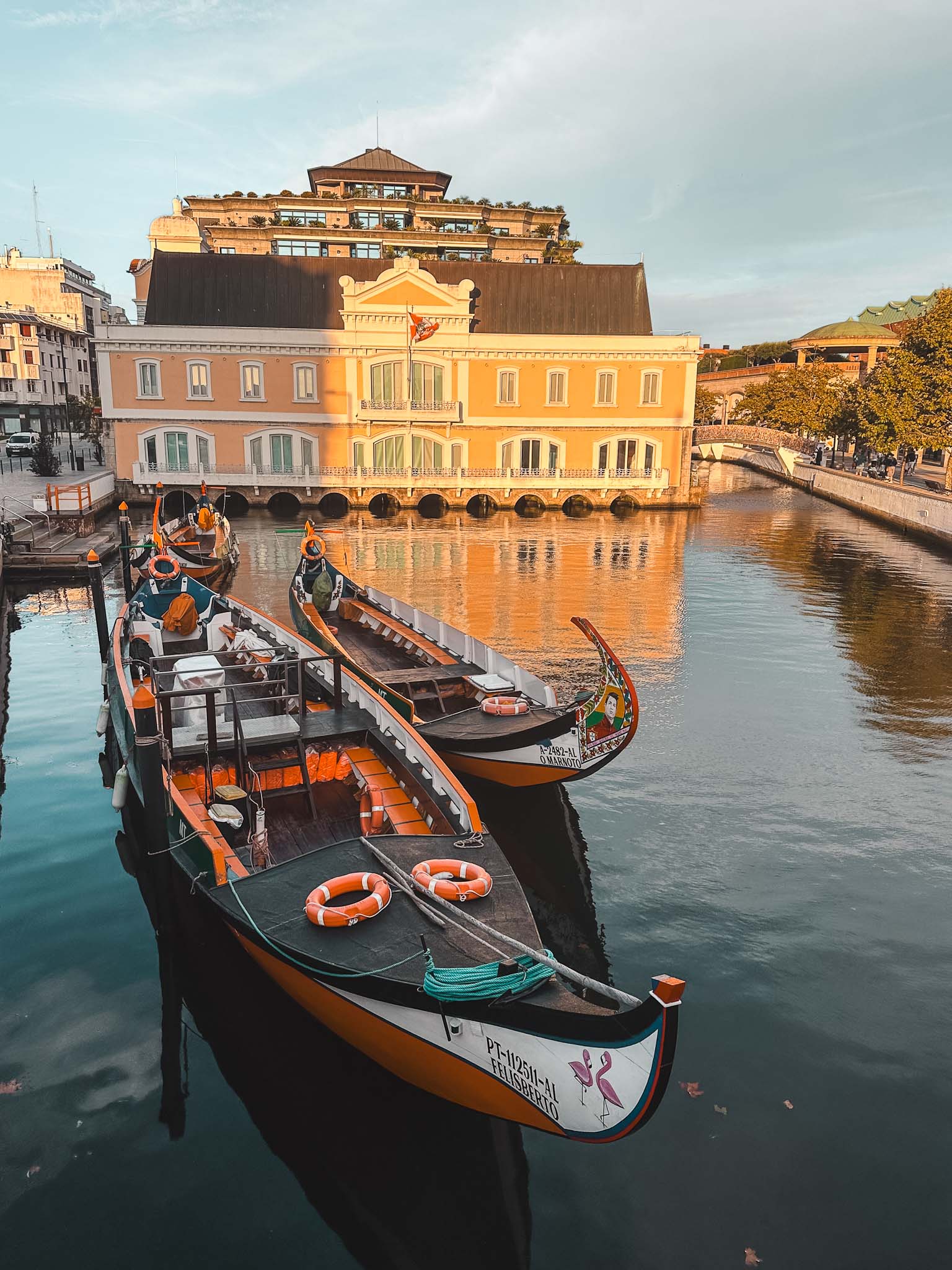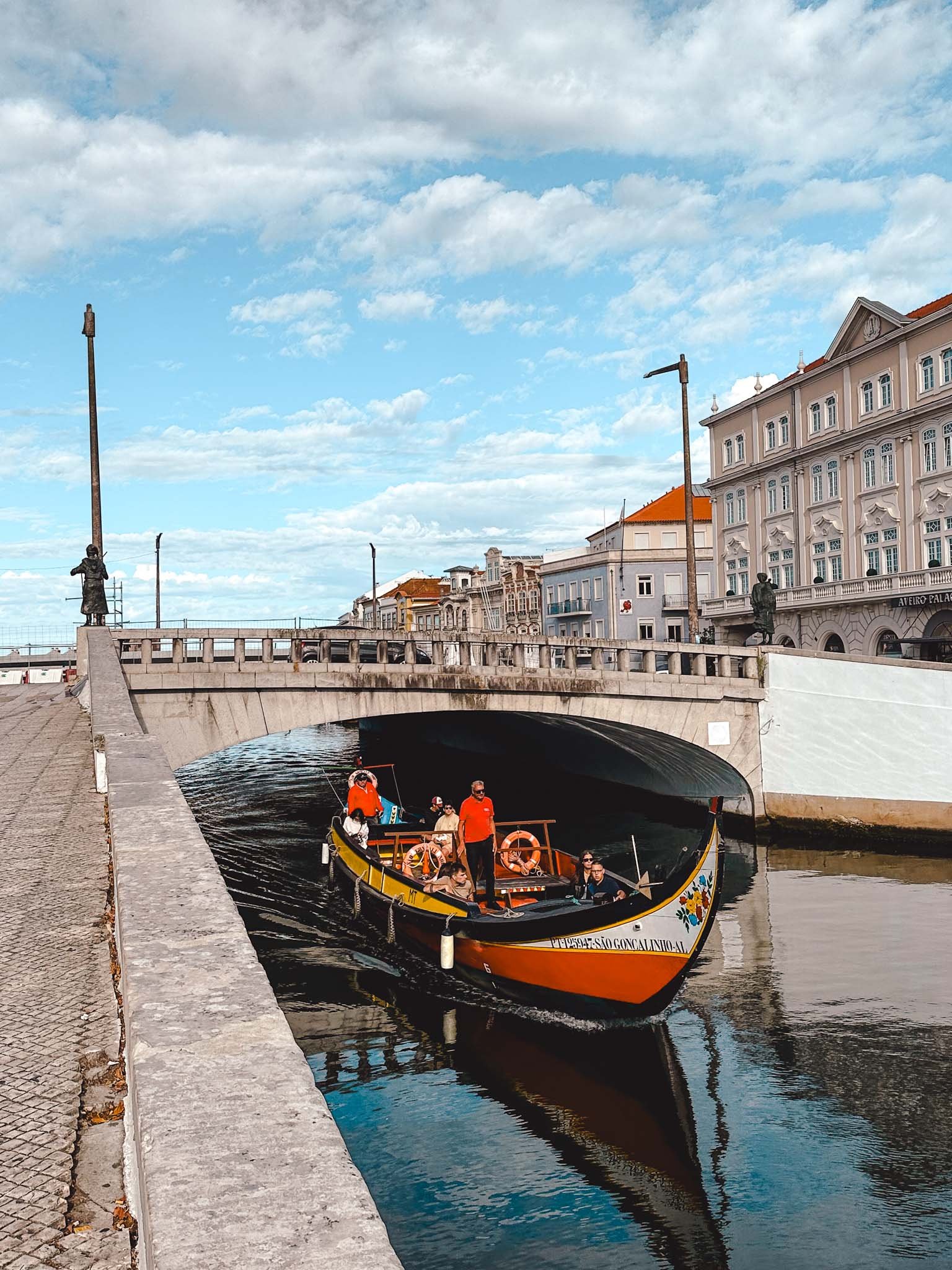 The tour is very entertaining with very attractive guides that tell you stories about the city. Along the way, you will see such places as the Art Nouveau buildings, salt marshes, the fish warehouses, and you will pass under several bridges.
In order to go on a boat tour in Aveiro, you need to head to the main canal – Canal Central – and find vendors on either side of the canal. You will easily spot them as they have official uniforms. Make sure to choose an English-speaking tour! It costs around 10 EUR and lasts about 45 minutes.
Location: Moliceiros Pier – Canal Central
2. Taste the traditional Ovos moles de Aveiro!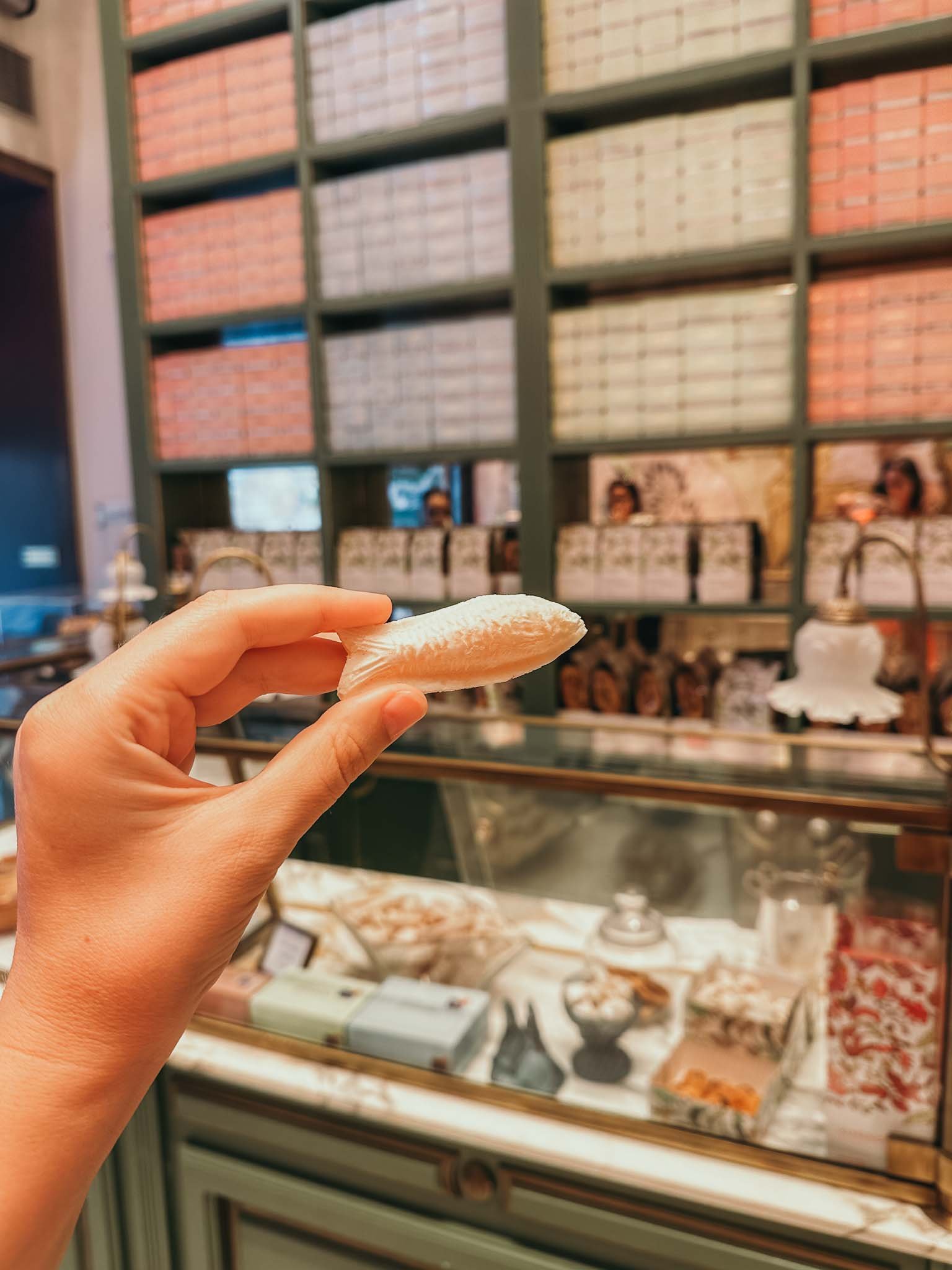 Ovos moles de Aveiro translates as the soft eggs from Aveiro and it is the name of a local pastry delicacy from Aveiro city. It is made of a soft, paste-like mixture of egg yolk and sugar that is put inside an airy rice paper casing in the shape of a fish or a seashell.
The famous pastry has received a Protected Geographical Indication by the European Union. It means Ovos moles de Aveiro is a product that can only be made in Aveiro, so tasting this unique pastry is definitely amongst the best things to do in Aveiro.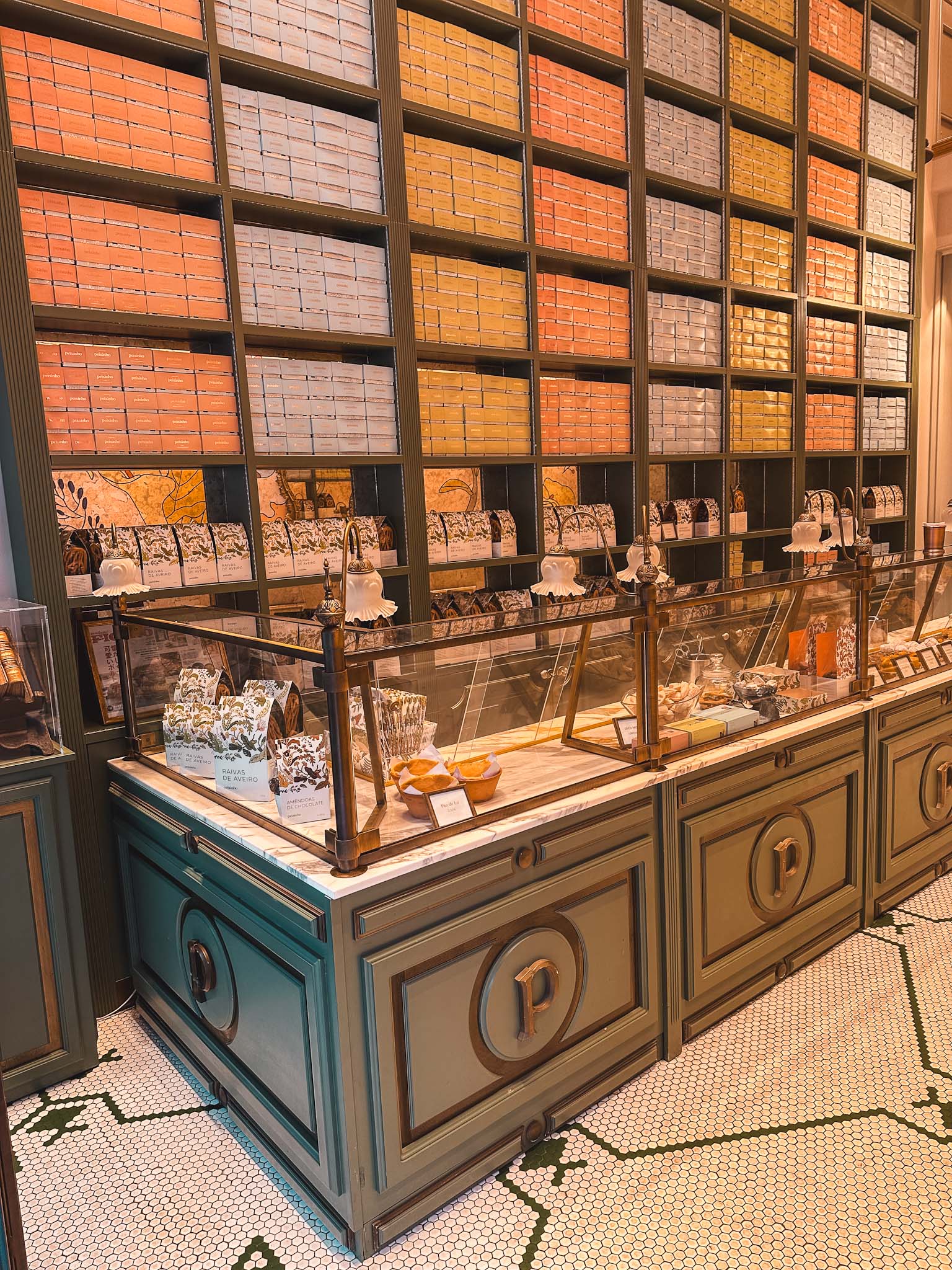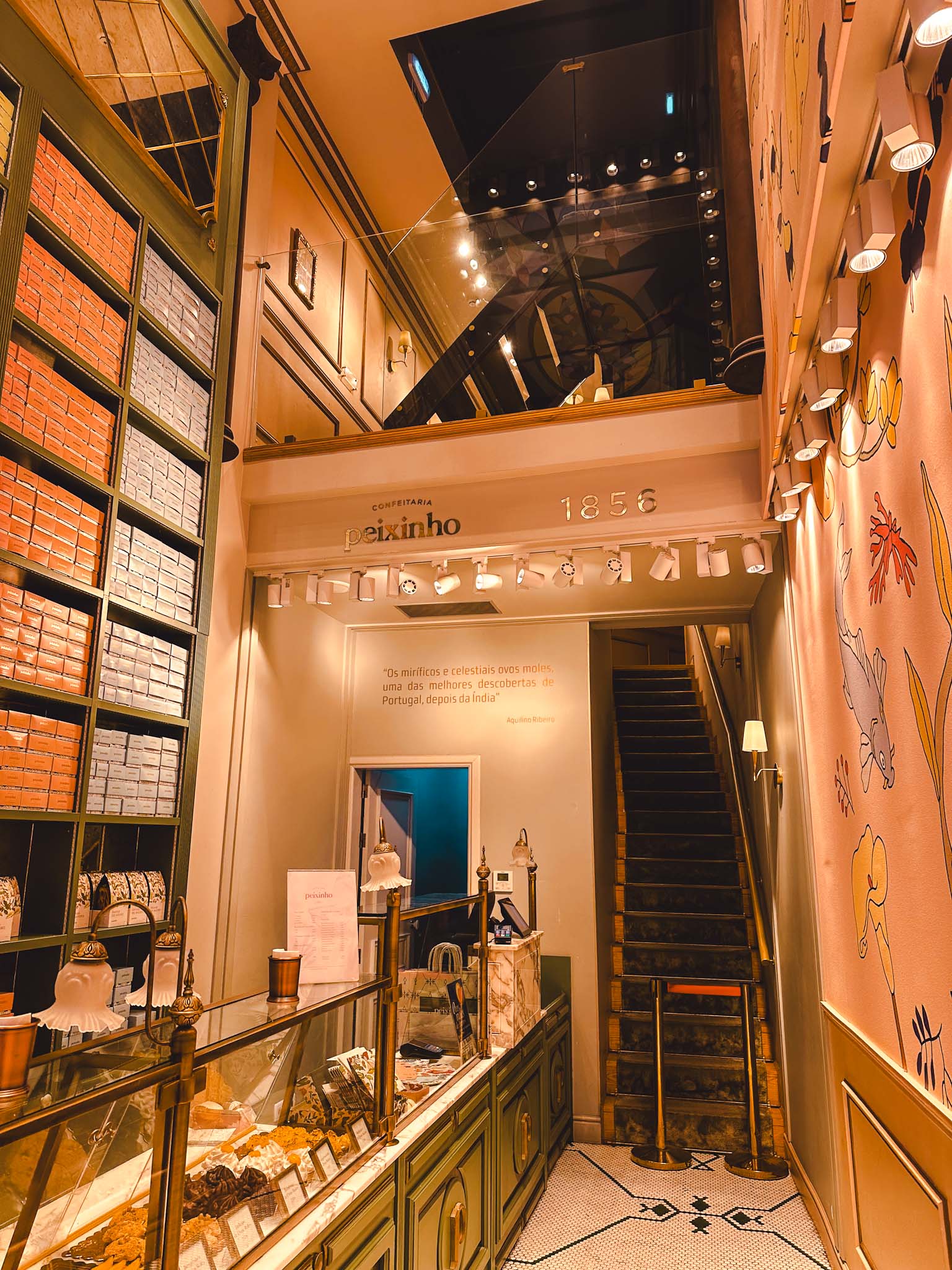 The origins of this pastry come from convents. It was reported that nuns used lots of egg whites to starch clothes used in religious ceremonies and were left with lots of egg yolks. Then they had to come up with different recipes in order to not waste them.
Today you can buy Ovos moles de Aveiro in many places around the city – basically in every pastry shop and bakery. However, I recommend going to a beautiful local sweets shop Confeitaria Peixinho right next to the boat canal.
There you can buy a single piece to just taste it or a box of them if you like them or want to bring them home as a souvenir. They even have a couple of tables on the upper floor for you to enjoy Ovos moles de Aveiro or other delicious pastries with a drink.
Location: Confeitaria Peixinho
3. Explore the riverside and admire the Art Nouveau facades!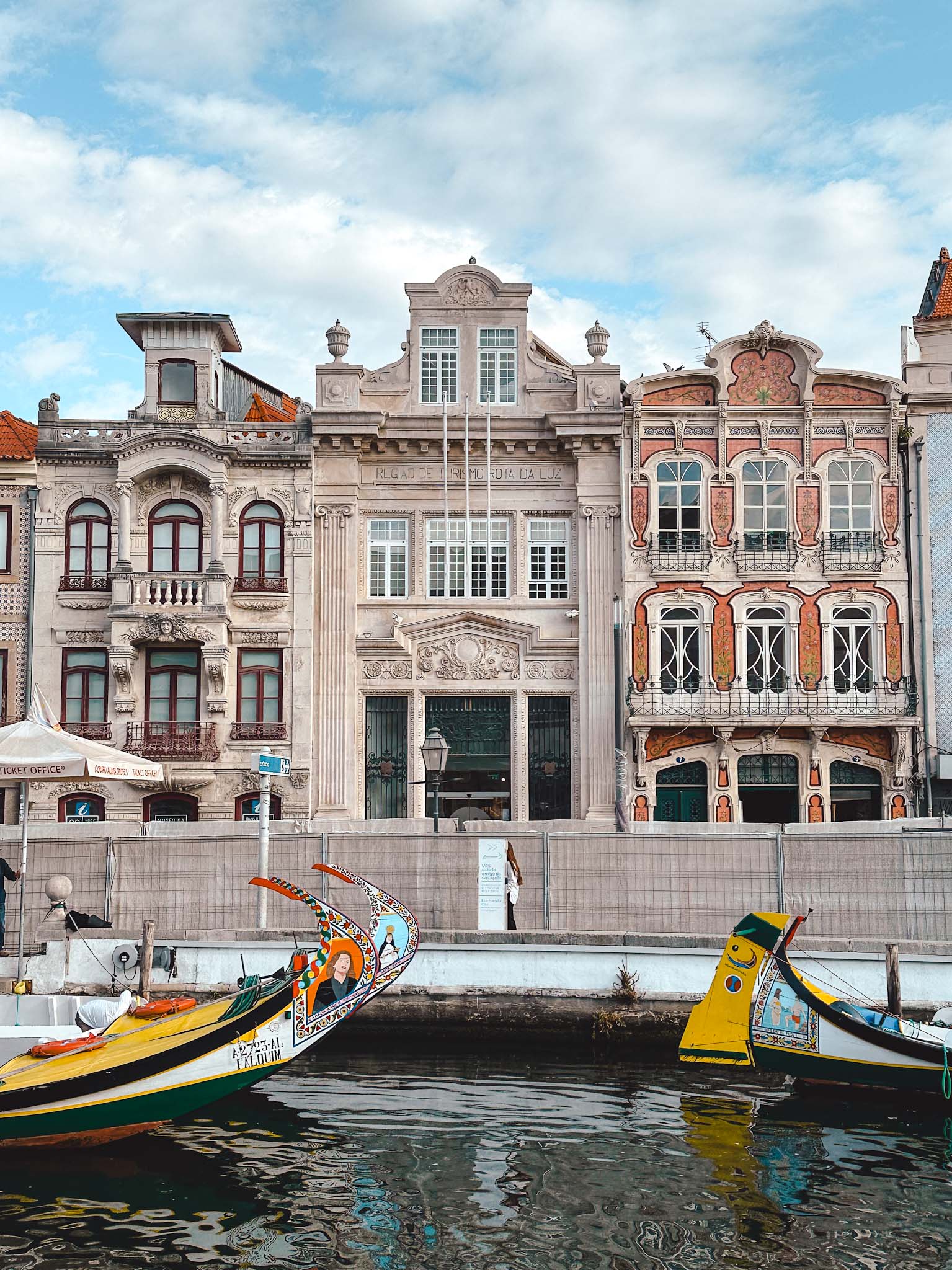 Aveiro is known for one more iconic trait of the city – the beautiful Art Nouveau architectural style. You can see many buildings around Aveiro in Art Noveau style and Aveiro is even included in Réseau Art Nouveau Network – European cities with a rich Art Nouveau heritage.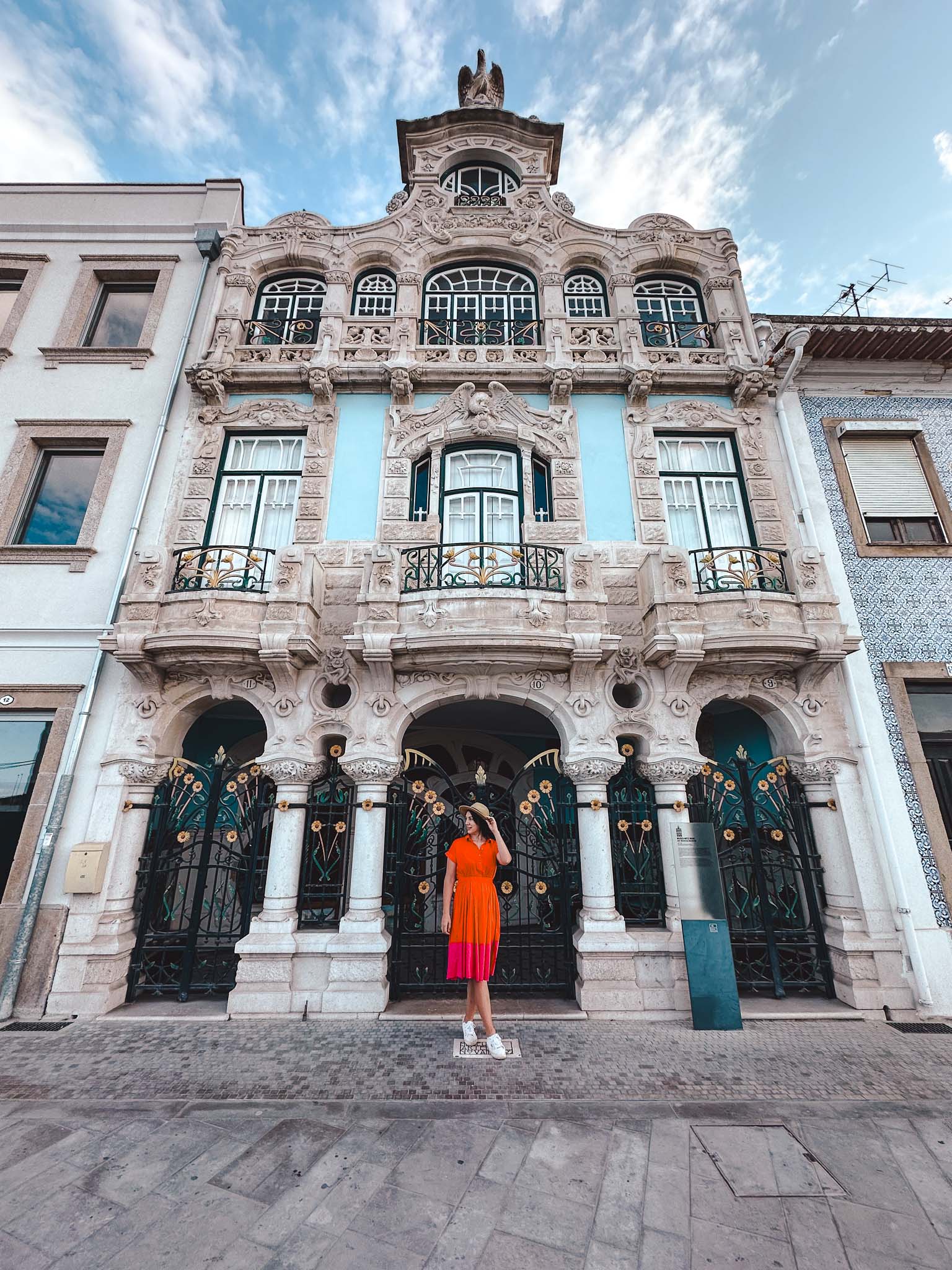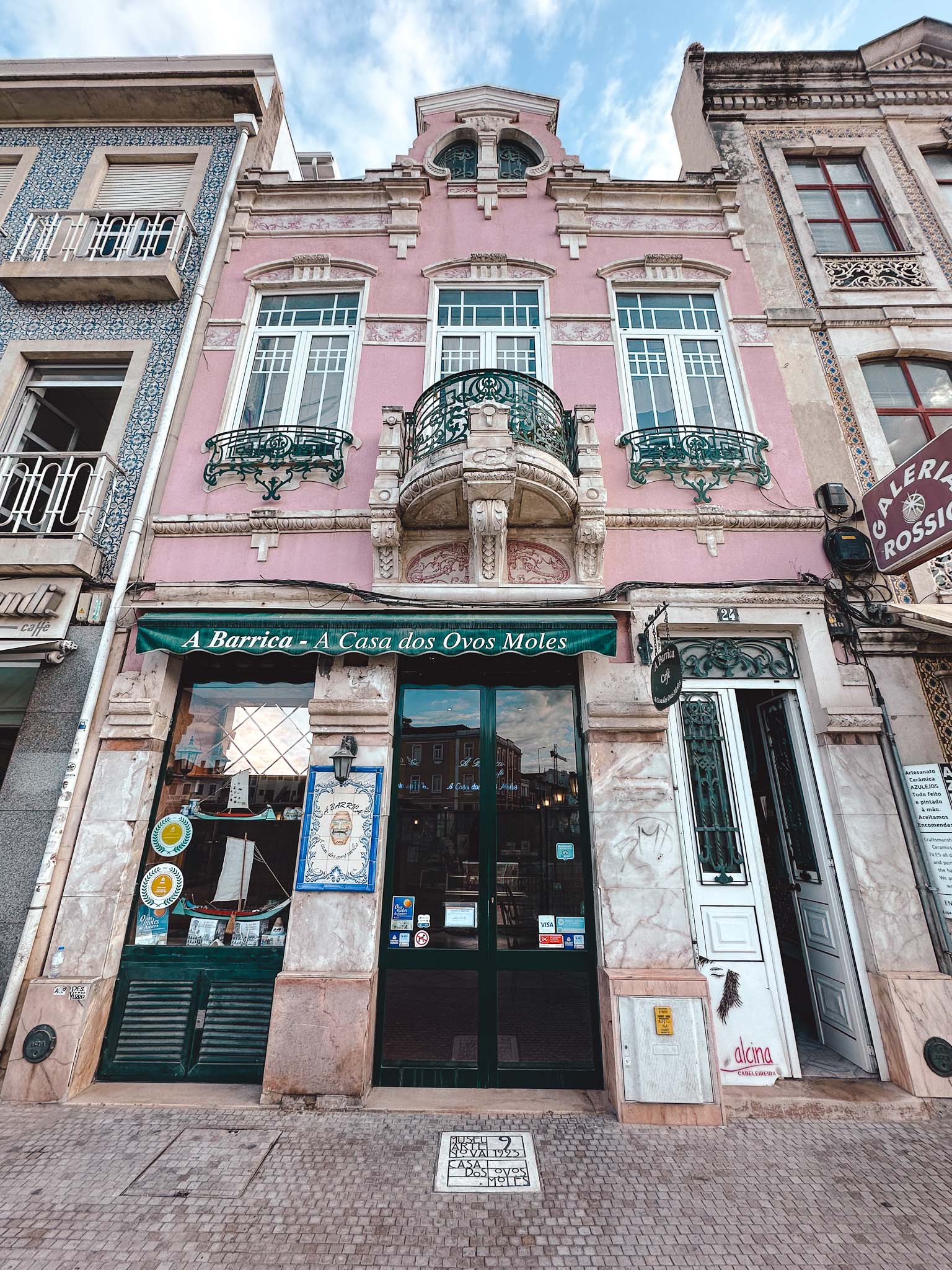 Aveiro experienced a big boom during the 19th and 20th centuries with the expansion of the transportation network and the opening of artificial canals in the city which resulted in economic growth and an increase in population in later years.
The 20th century saw the construction of many of the beautiful Art Noveau buildings in Aveiro. They were mostly built by wealthy families. You can see some prominent examples along the promenade that goes next to the central canal. There is even the Art Nouveau museum – one of the most beautiful Art Noveau examples.
Location: Art Nouveau museum
4. Cross the Friendship Bridge and tie a ribbon!
Because of the numerous canals winding through the city, Aveiro also has countless bridges spanning across them throughout the city. One of the most unique bridges is called the Friendship bridge or 'Ponte do Laços de Amizade' in Portuguese.
The bridge is located in the very heart of the city next to the Forum Aveiro shopping mall. The bridge is the perfect place for watching Barcos Moliceiros boats passing by the canal and under the bridge.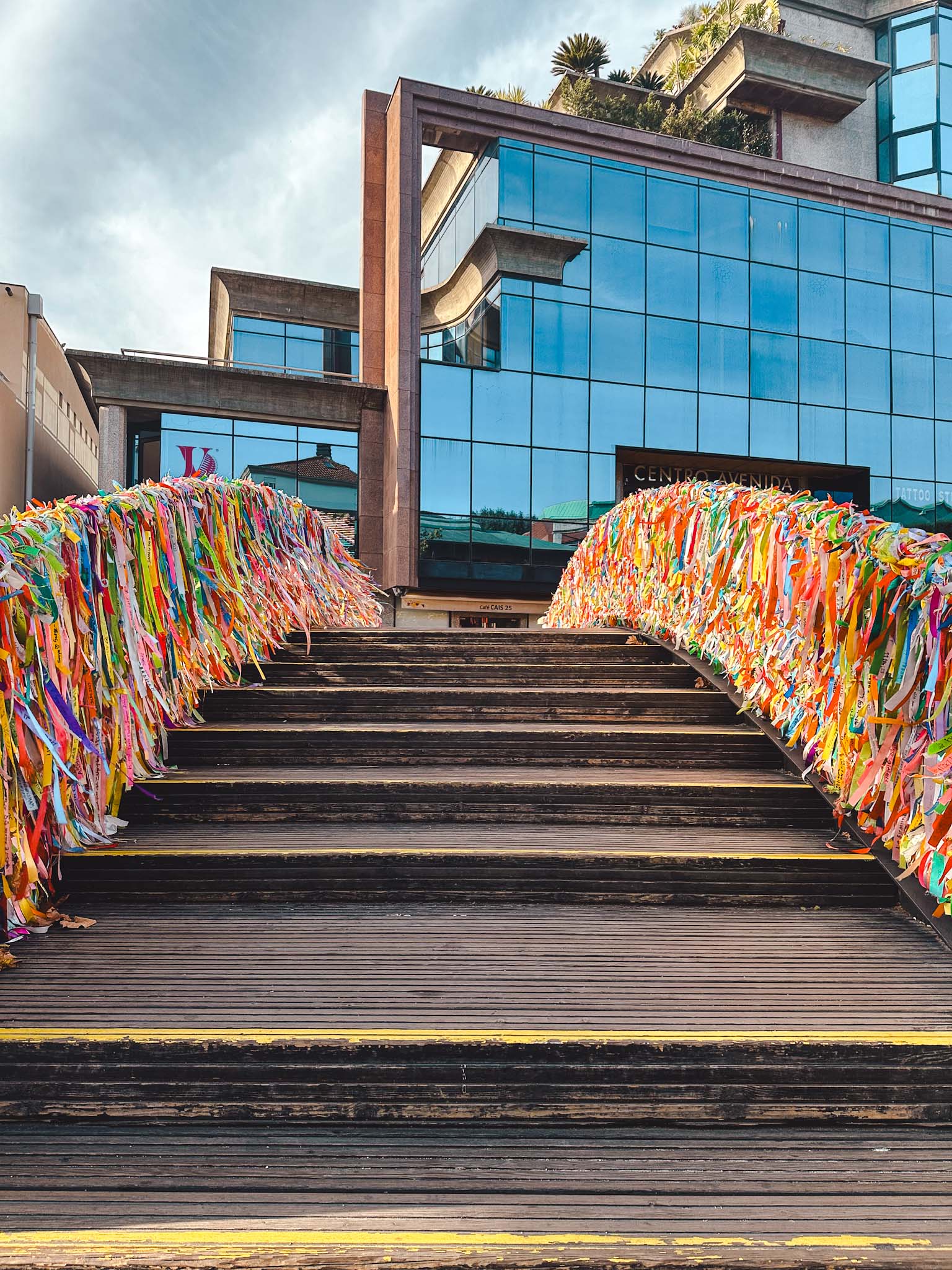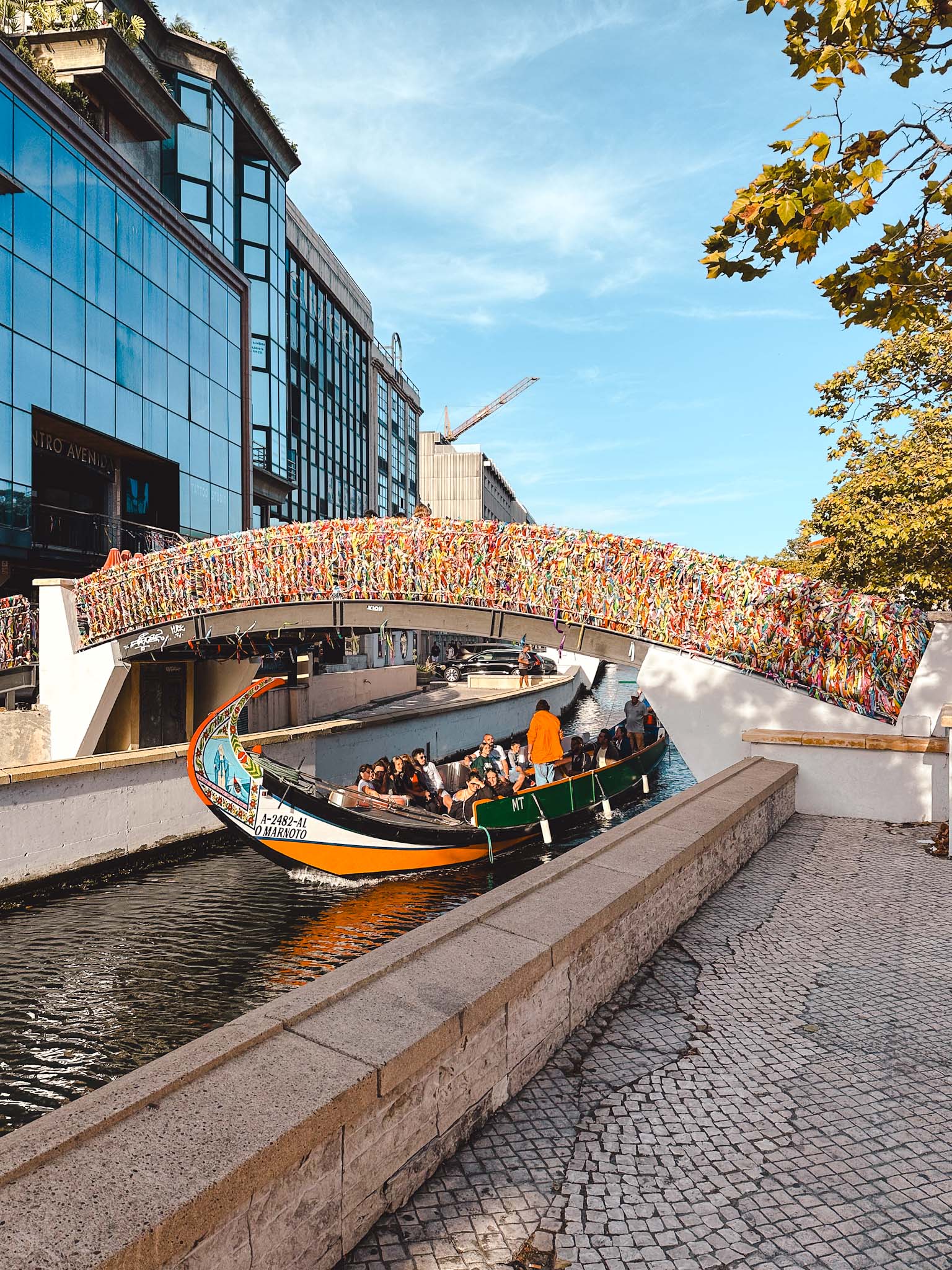 The most unique thing about this bridge that you will immediately notice is that it is covered by countless ribbons in different colors. These are friendship ribbons put there by friends and couples. They are a lighter and simpler alternative to the usual padlocks.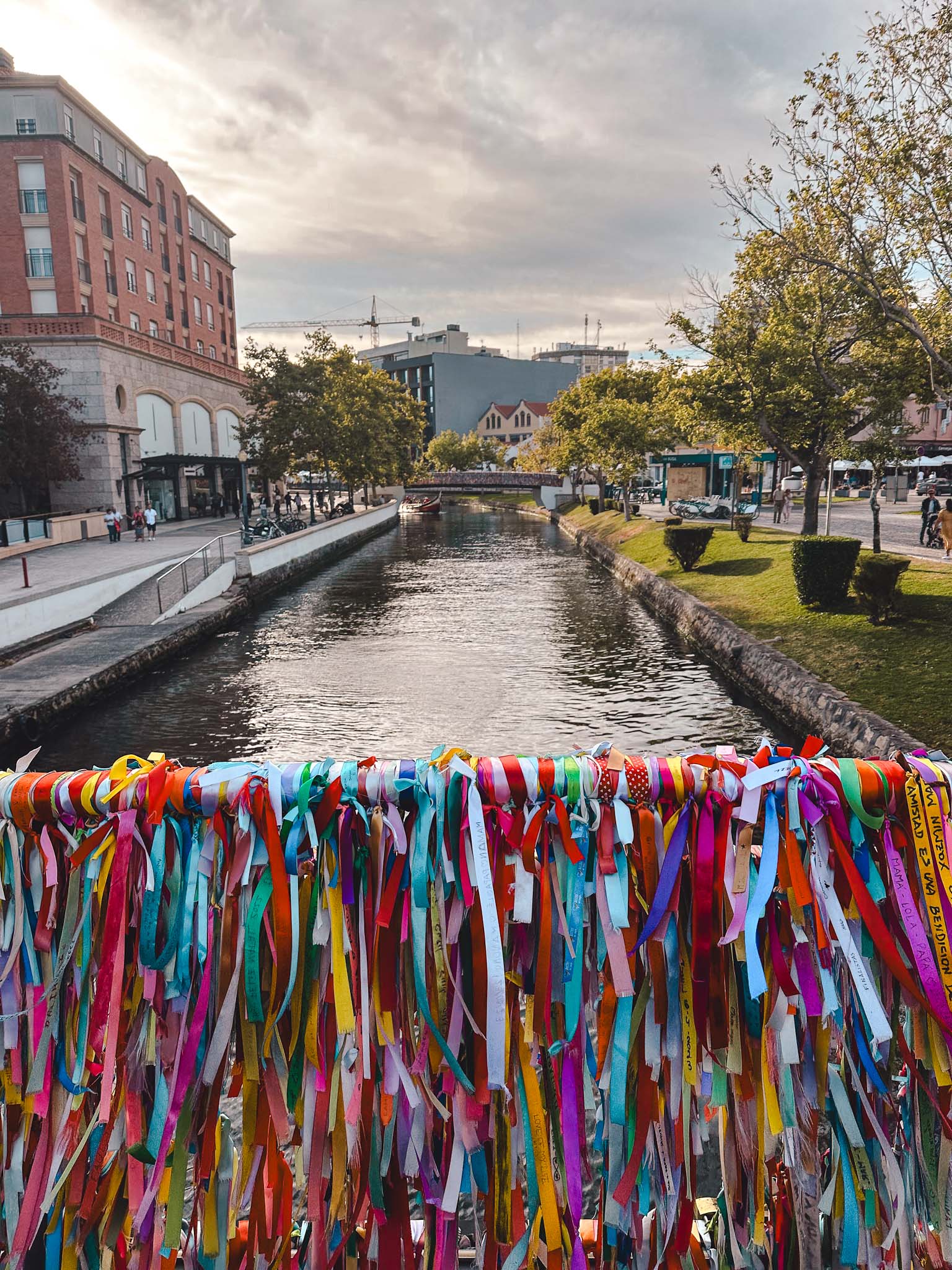 You can buy these ribbons in many stores in the city – normally they hang them outside next to the windows so that you can see that they have them. You then have to write your names on it and tie it to the bridge.
Although this tradition started with one bridge, today there are already a couple of bridges decorated with these ribbons. If you visit Aveiro with your loved one or friends, then this cute tradition should be on your bucket list things to do in Aveiro for sure!
Location: Friendship Bridge in Aveiro
5. Visit the iconic four statues on the bridge!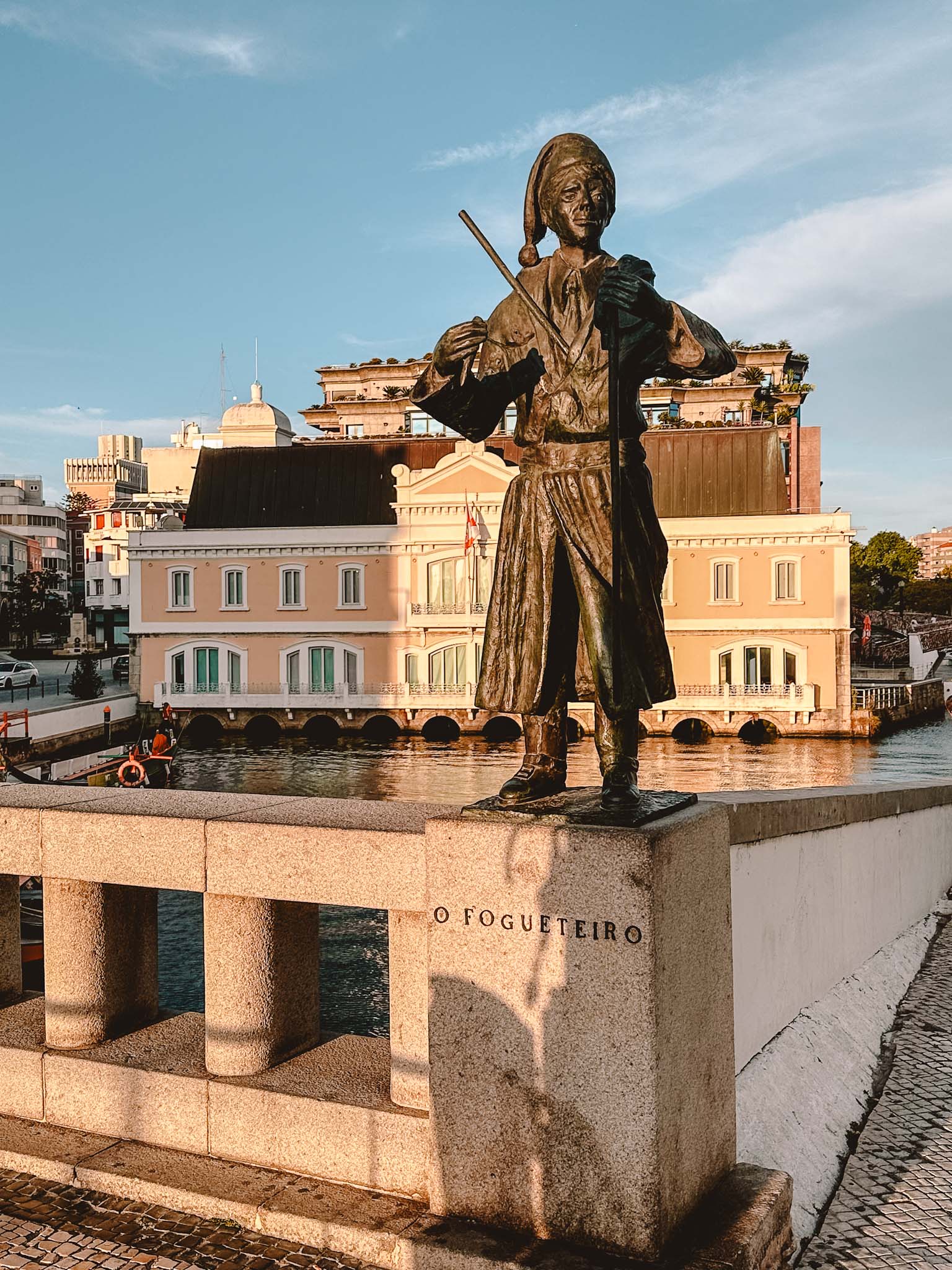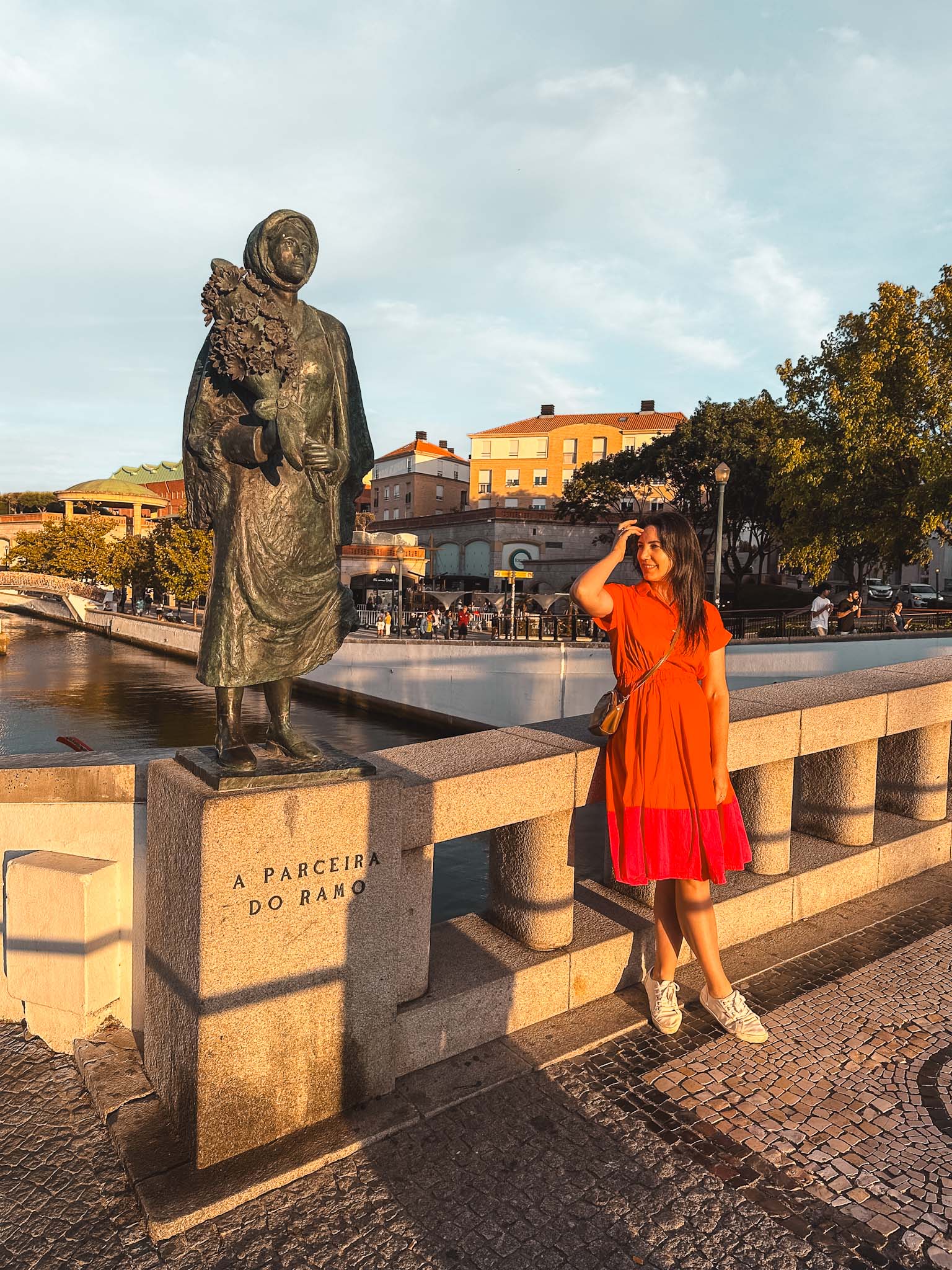 Right next to the Friendship bridge, there is a big square – General Humberto Delgado Square. It also serves as a bridge over the central canal. Boats are sailing right under the bridge while cars are driving over the bridge.
The unique thing about this central square is that in each of its four corners, there is a bronze statue dedicated to traditional figures from the history of Aveiro. Their names (or rather – professions) are – A Salineira, O Marnoto, O Fogueteiro, and A Parceira do Ramo.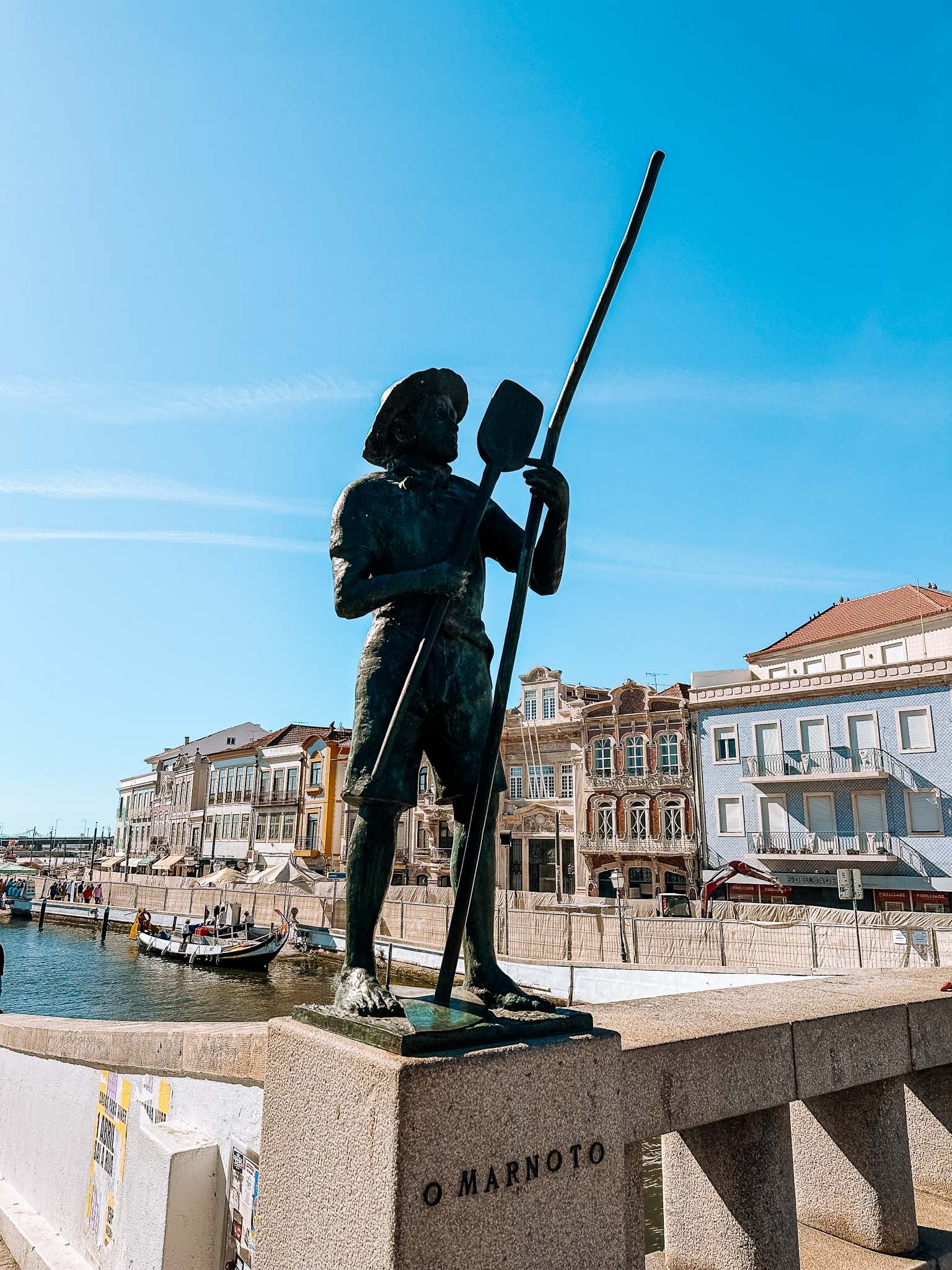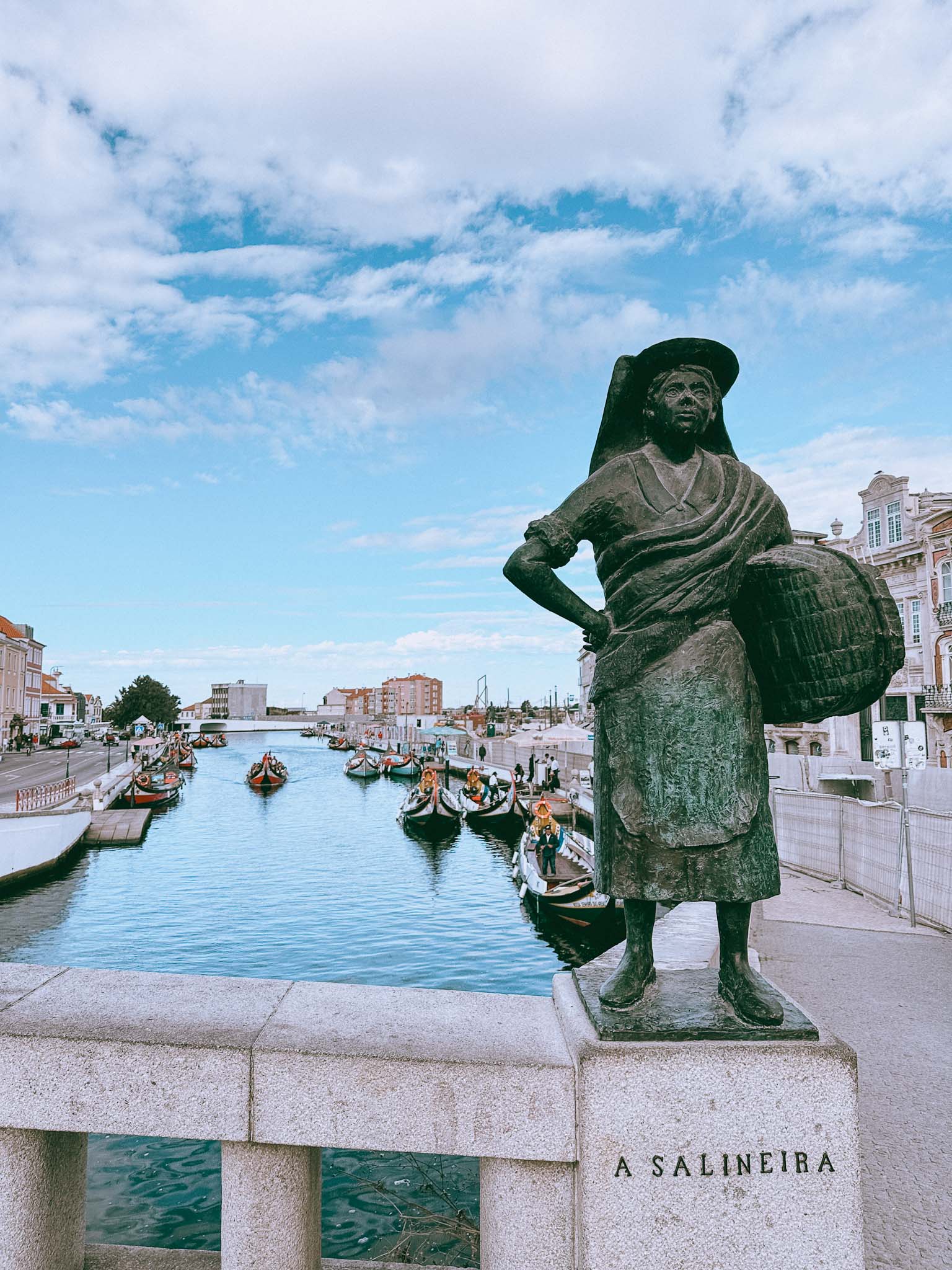 A Salineira is a woman whose job was transporting the salt in wicker baskets from the boat to the warehouses. O Marnoto was the man responsible for extracting artisanal salt using wooden tools. Which was a physically demanding job.
O Fogueteiro and A Parceira do Ramo come from entertainment traditions. O Fogueteiro was the one who launched fireworks during festive days in Aveiro, but A Parceira do Ramo wears traditional clothes on festive days and gives flowers to the new butlers.
Location: General Humberto Delgado Square
6. Explore the traditional tiles in Aveiro streets!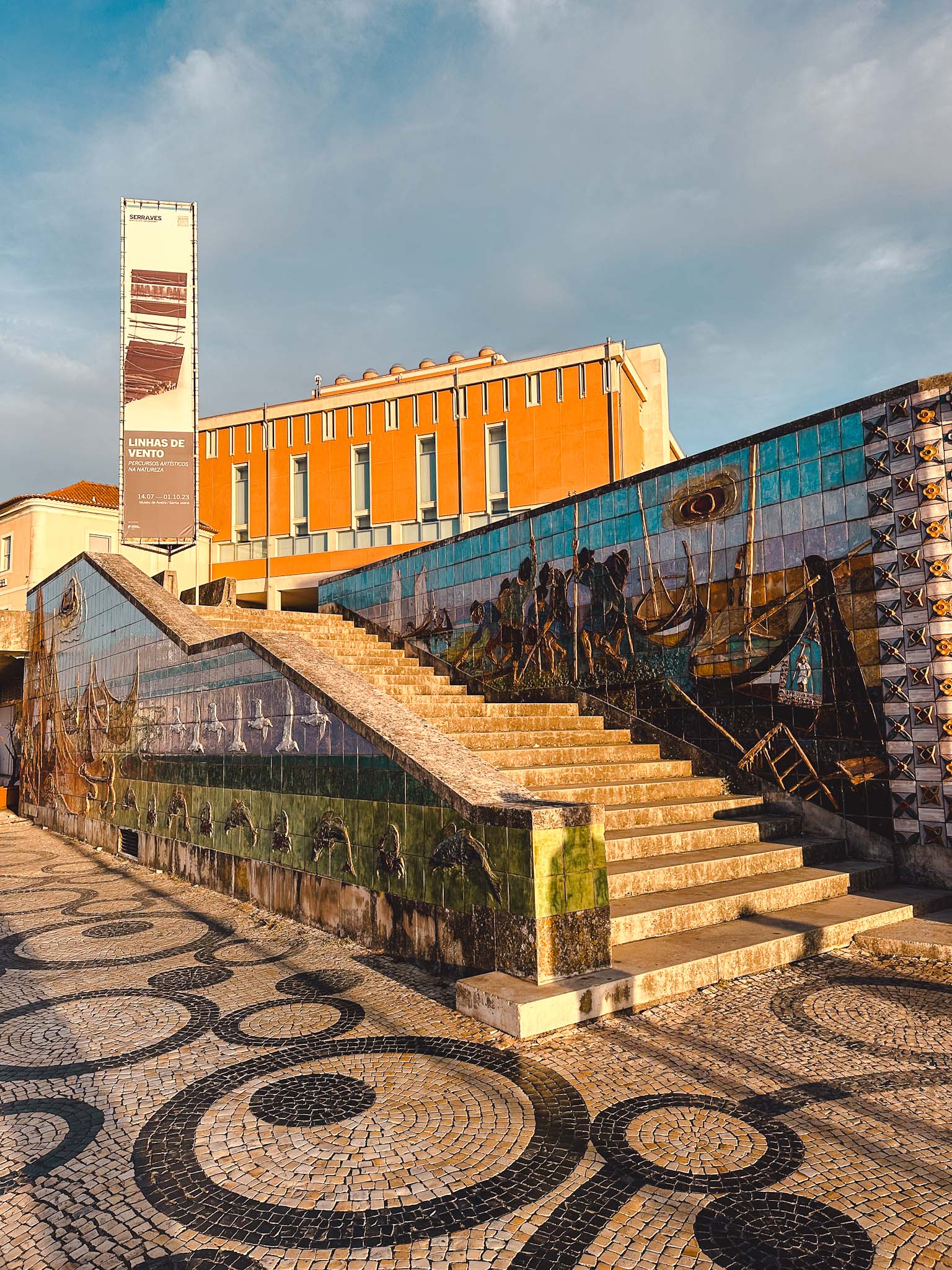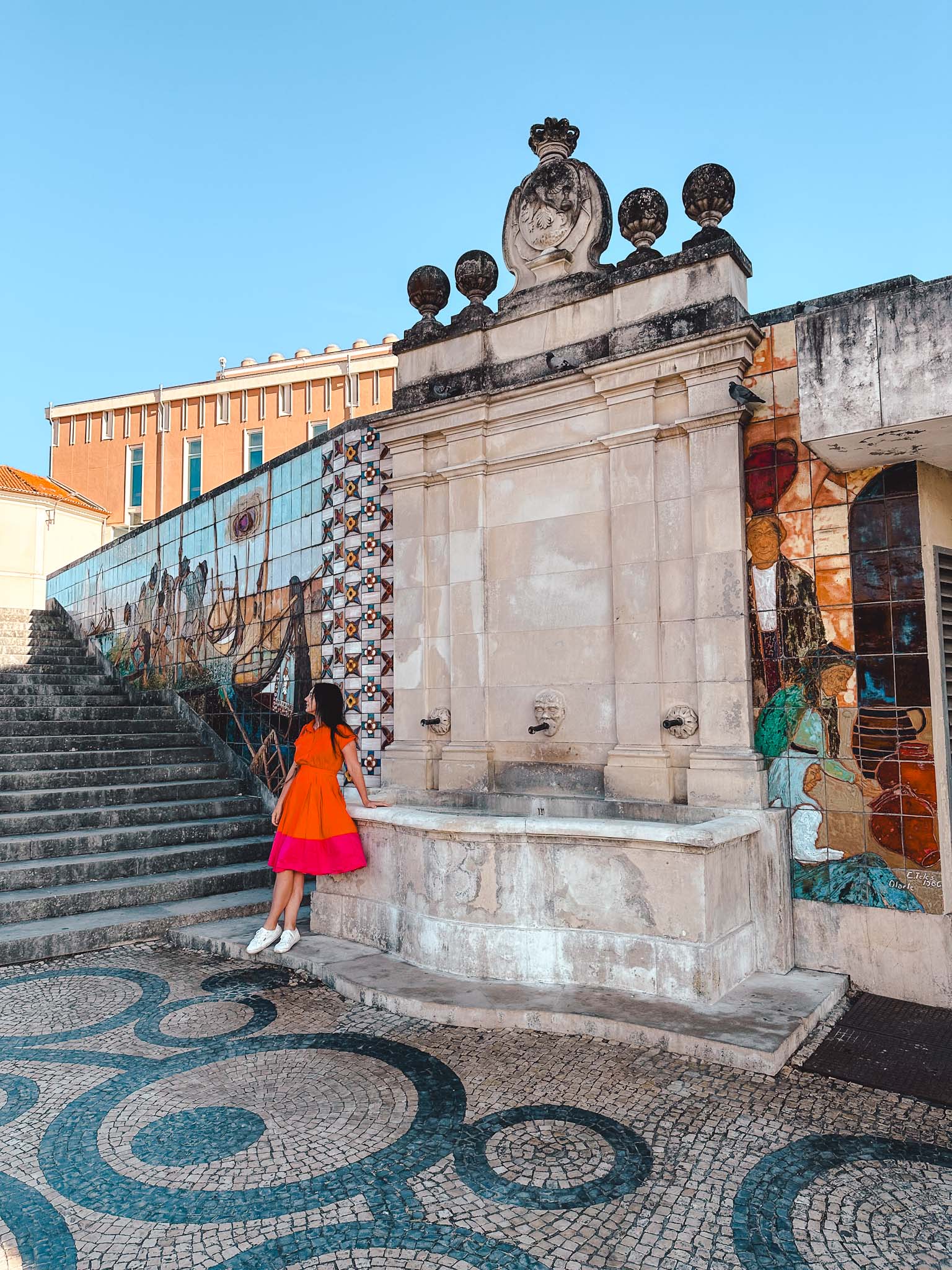 Portugal and tile artworks is a match made in heaven. Their art never ceases to amaze me and it is always worth taking a look at some of the best tile artwork examples you have around wherever you are in Portugal.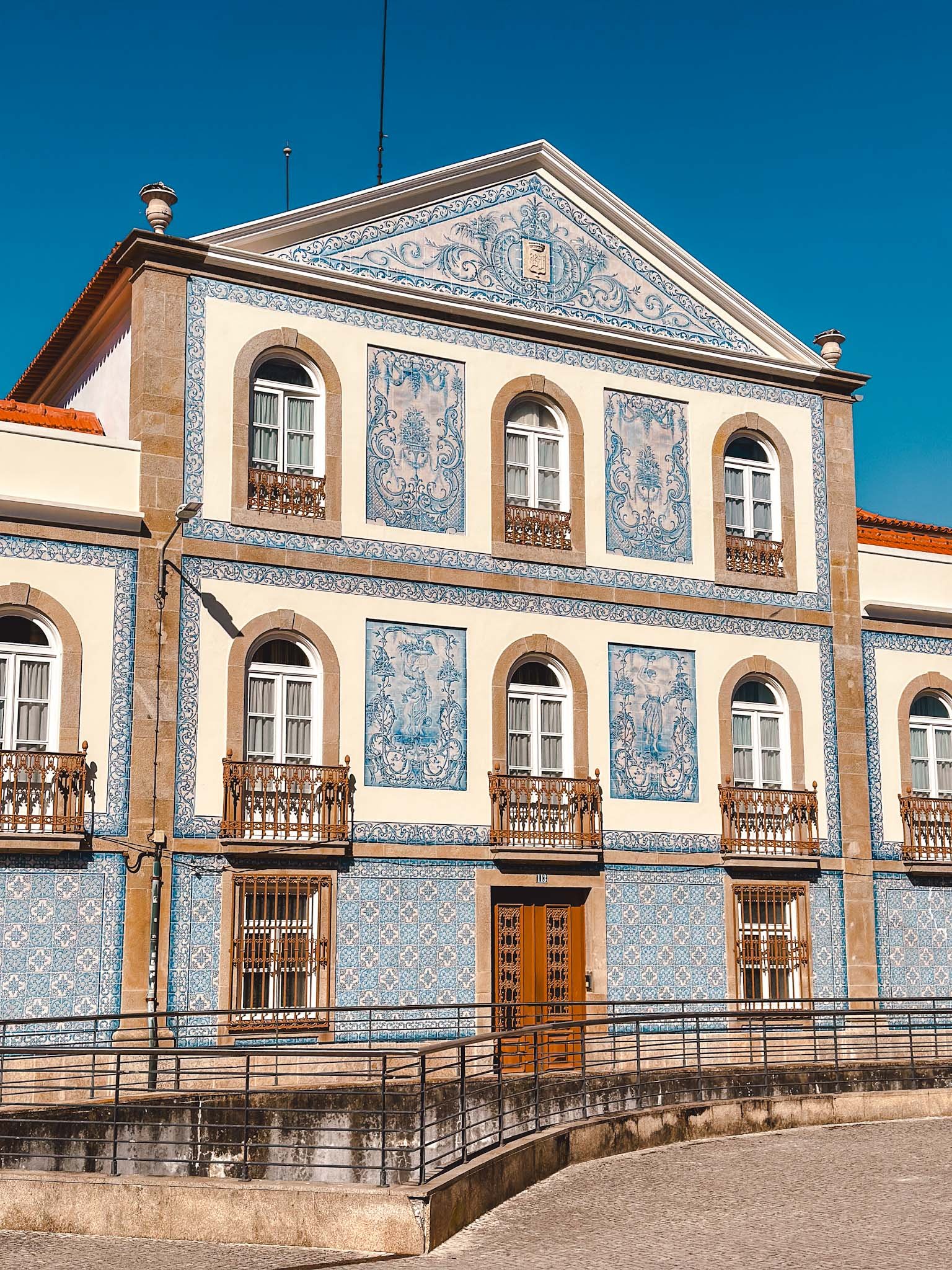 Some of my favorite tile artworks in Aveiro were the Casa de Santa Zita building near Aveiro Museum with beautiful blue and white tile mosaics. Another place is the Ceramic Mural right in front of the Confeitaria Peixinho sweets shop.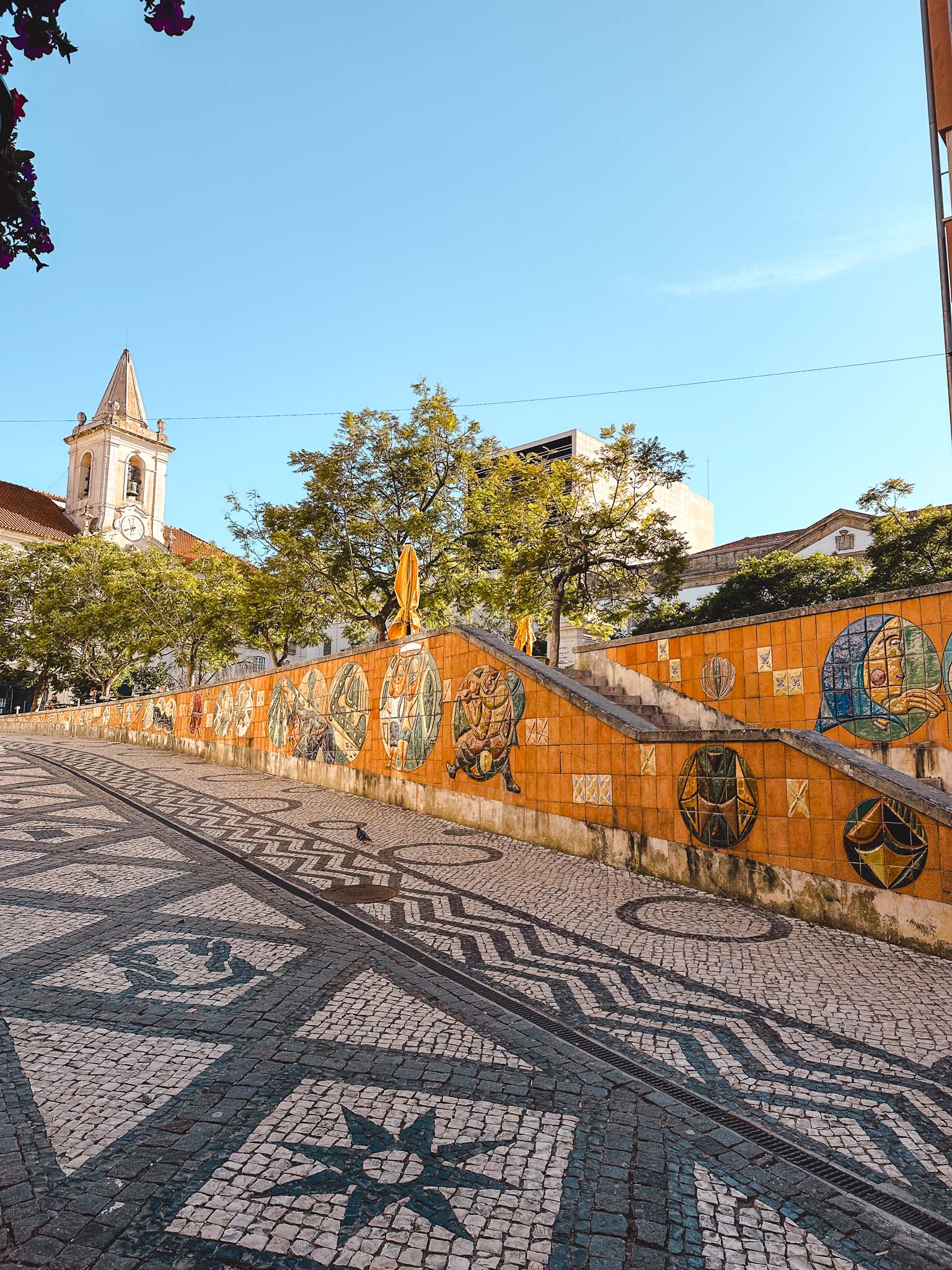 Probably the most impressive tile works you can find next to the central canal – there is a long wall full of illustrations depicting moments from the daily lives of people who lived here. Illustrations include salt production and fishing.
Location: Casa de Santa Zita – Ceramic Mural – Long wall of illustrations
7. Marvel at the 15th-century convent at visit the tomb of Princess Saint Joan in the Aveiro Museum!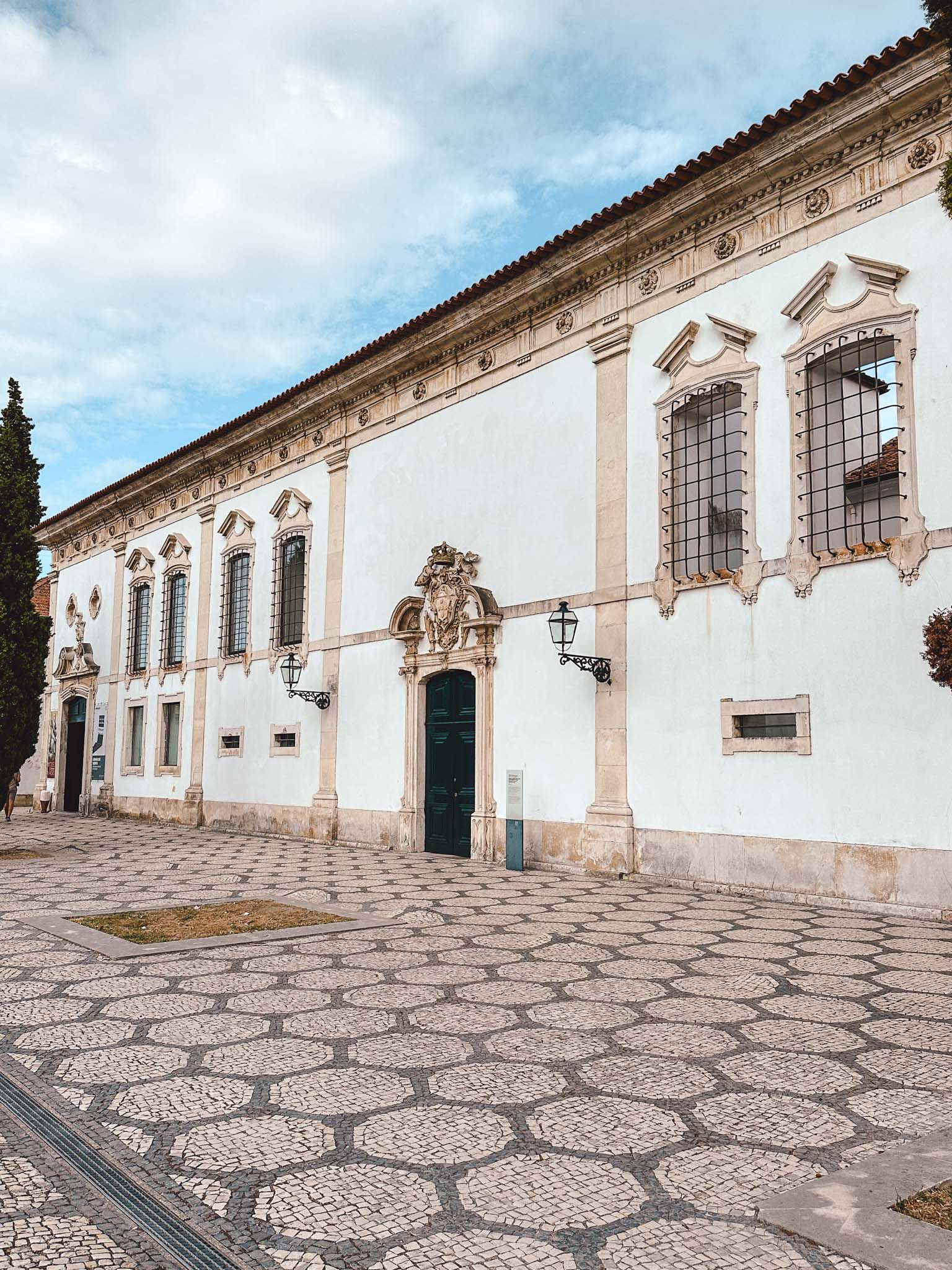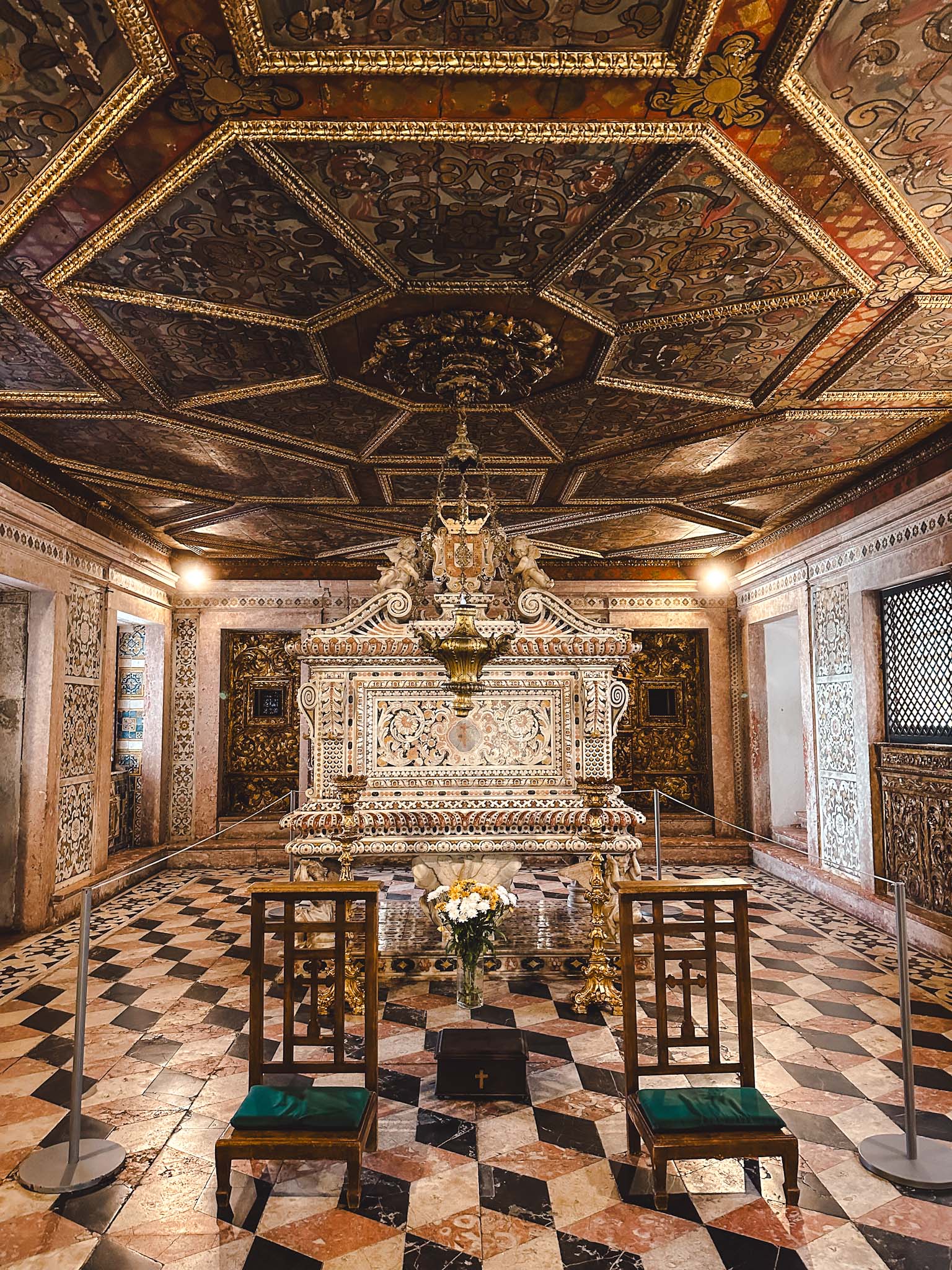 I am not usually one of those who like to visit all possible museums. However, I am quite fascinated by indescribably beautiful architecture from centuries ago. So is it worth visiting the Aveiro Museum? Absolutely!
The museum is located inside the 15th-century Covent of Jesus. This is the place where Princess St. Joana, daughter of King Afonso V, lived and died. The intricate marble tomb of Princess St. Joana can be visited inside the museum.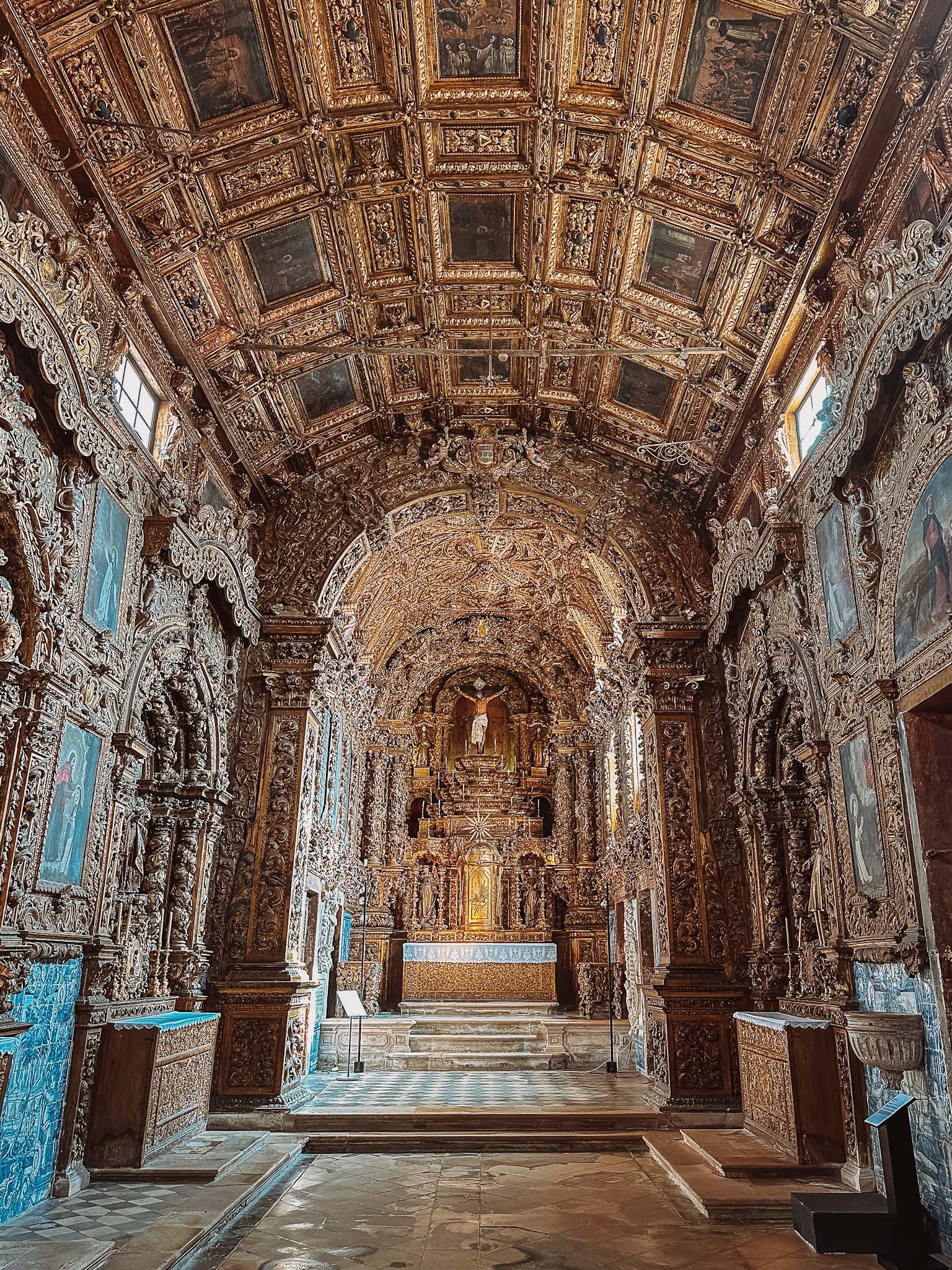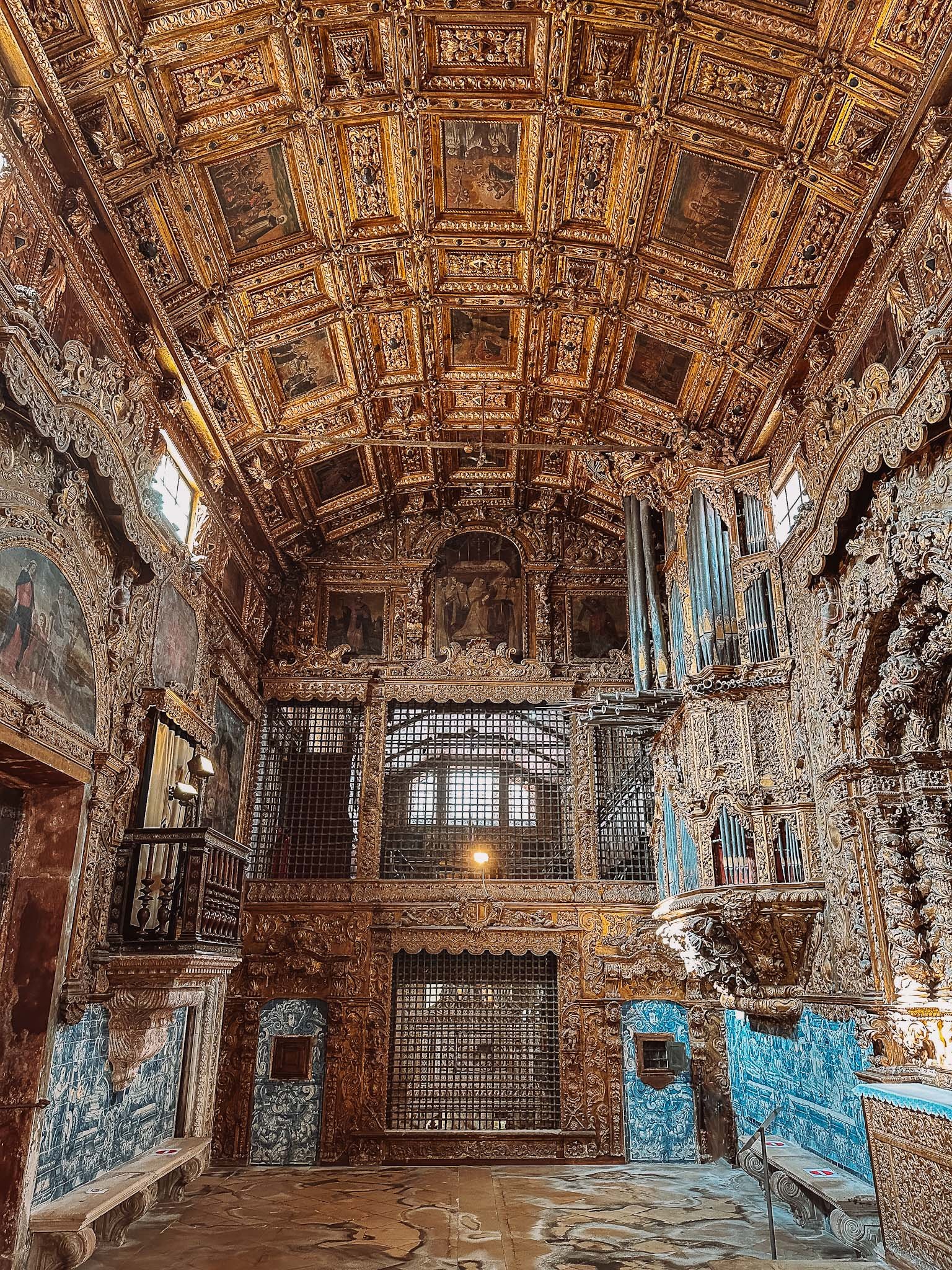 The museum also hosts the Church of Jesus. It is an absolutely stunning work of art with 16th-century gilded woodwork, tile illustrations along the walls as well as numerous paintings depicting moments from the life of Princess St. Joana.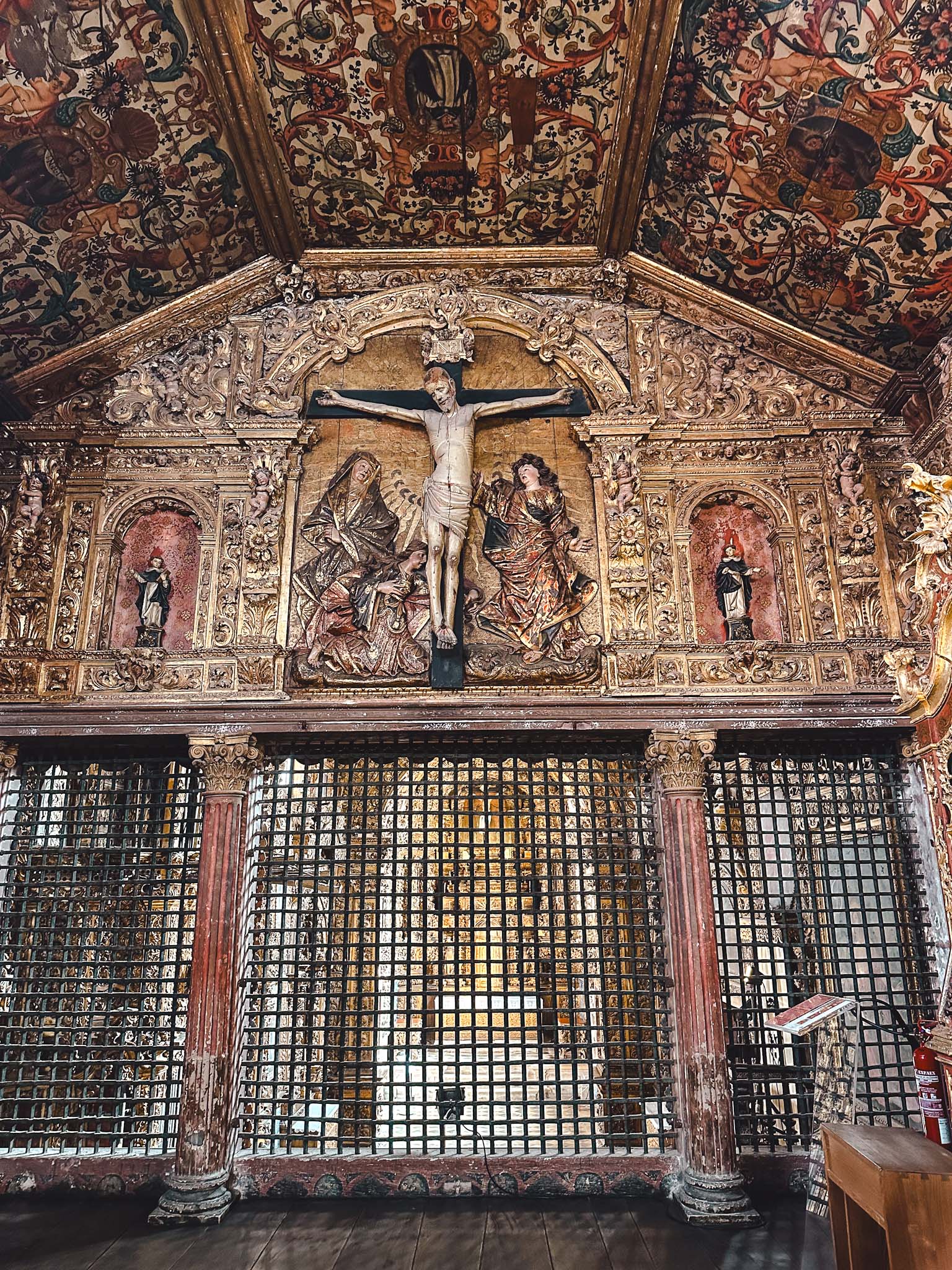 One of the most interesting figures inside the museum is the high-choir room. It hosts an organ as well as a statue of the crucified Christ. The uniqueness of the statue is revealed when you look at the face of Christ from both sides – from one side it looks like it is smiling, but from the other side, it seems saddened.
The museum also hosts a massive collection of religious arts – paintings, sculptures, artifacts from religious buildings and ceremonies. This is the perfect place to go in Aveiro if you are looking for a piece of the history of this city. The entrance costs 5 EUR.
Location: Aveiro Museum
8. Stop by the Cathedral of Aveiro!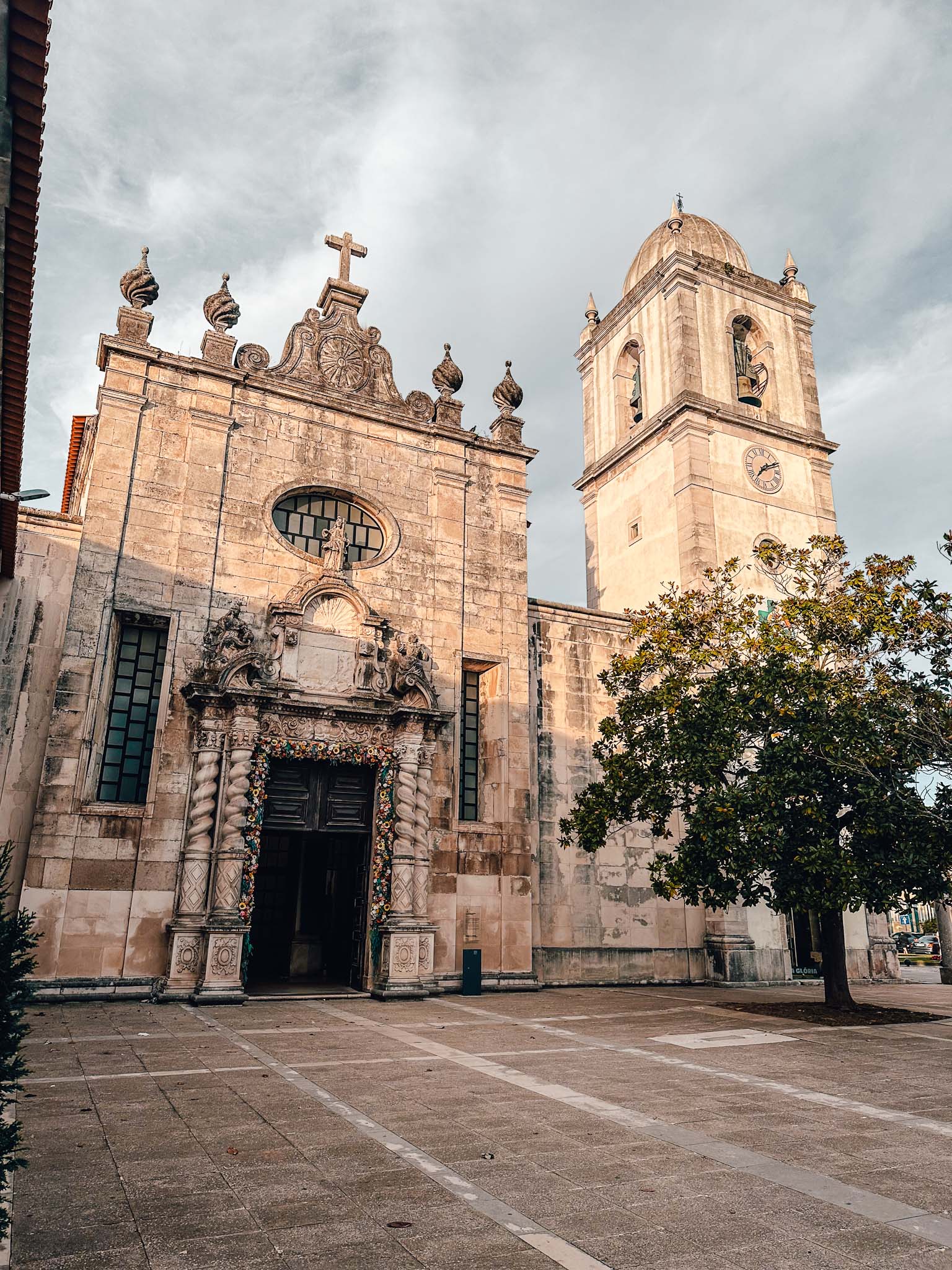 Right across the street from Aveiro Museum you will find the most important religious building in Aveiro – the Cathedral of Aveiro! You can visit the cathedral for free, so go there and take a look inside! It is a rather simple building, but beautiful nevertheless.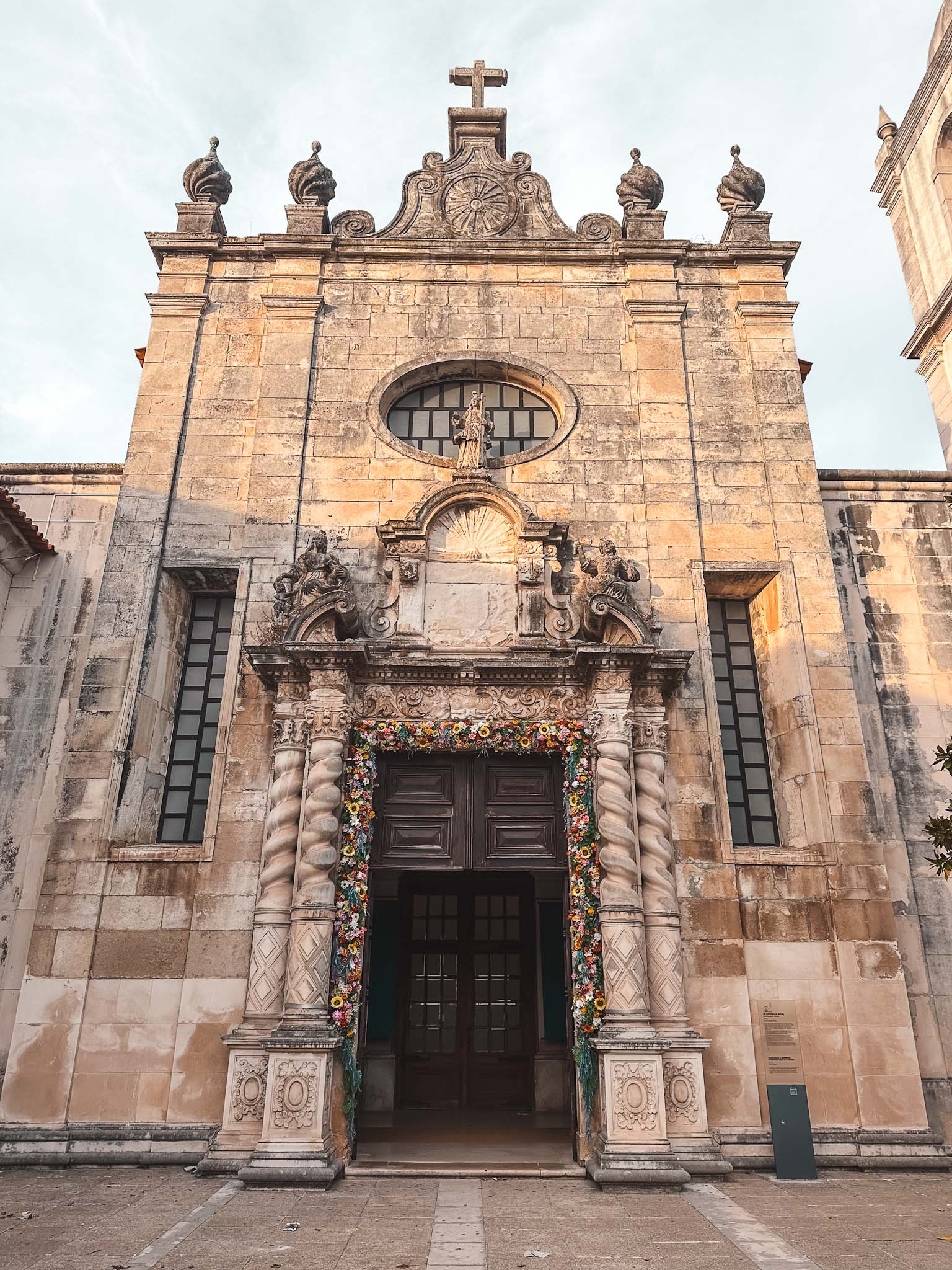 The cathedral has a beautiful baroque portal framed by four columns and decorated with floral elements. It also features beautiful Portuguese tiles, gilded altarpieces, and beautiful chapels of significant value.
One of the most outstanding pieces you will find inside is the baroque organ from 1754 which is now deactivated. A new modern organ was put inside the church in 2013. This is a beautiful place for a quick visit when you are somewhere nearby in Aveiro!
Location: Sé Catedral de Aveiro
9. Admire the stunning tilework at the Old Aveiro Railway Station!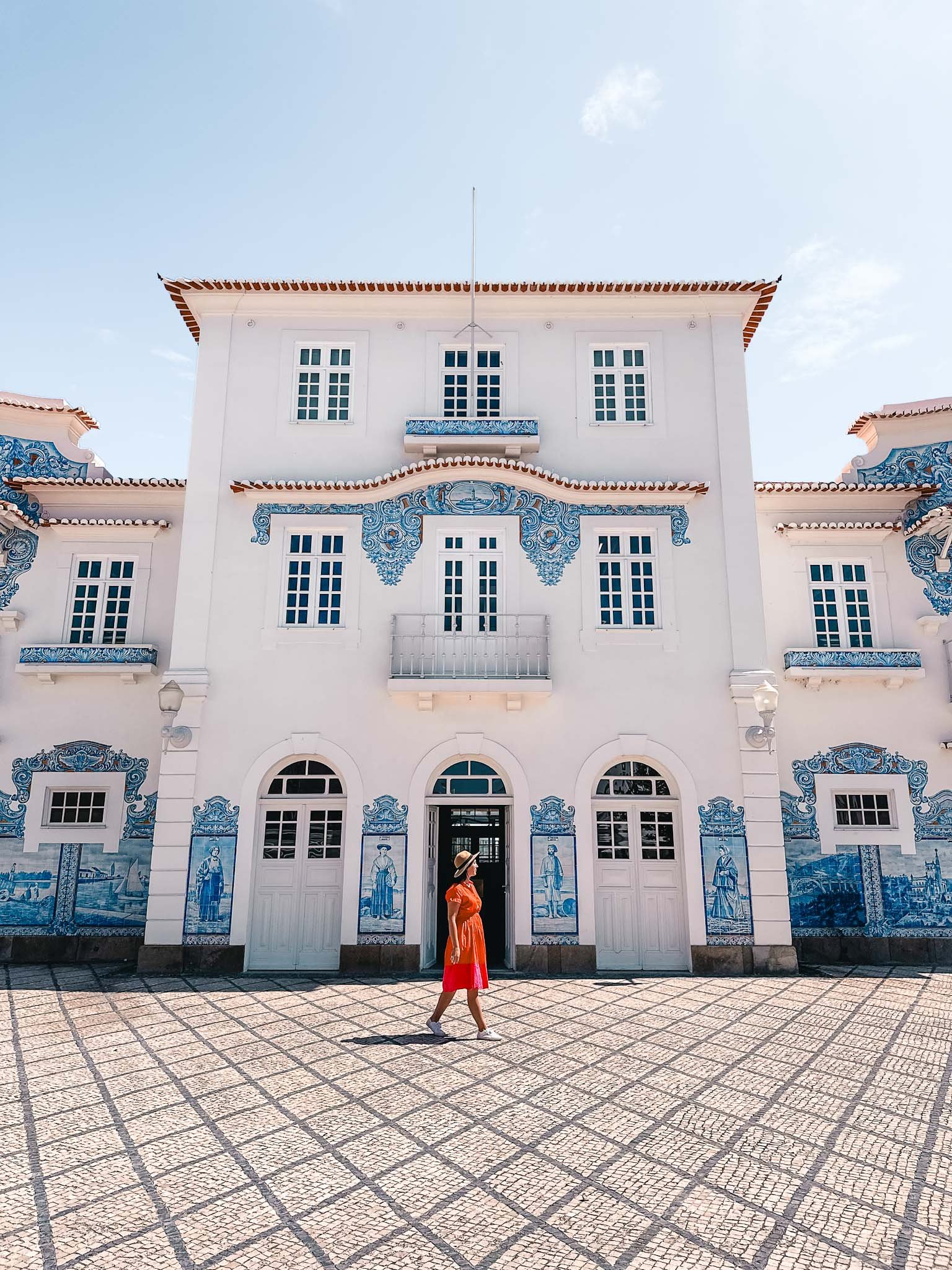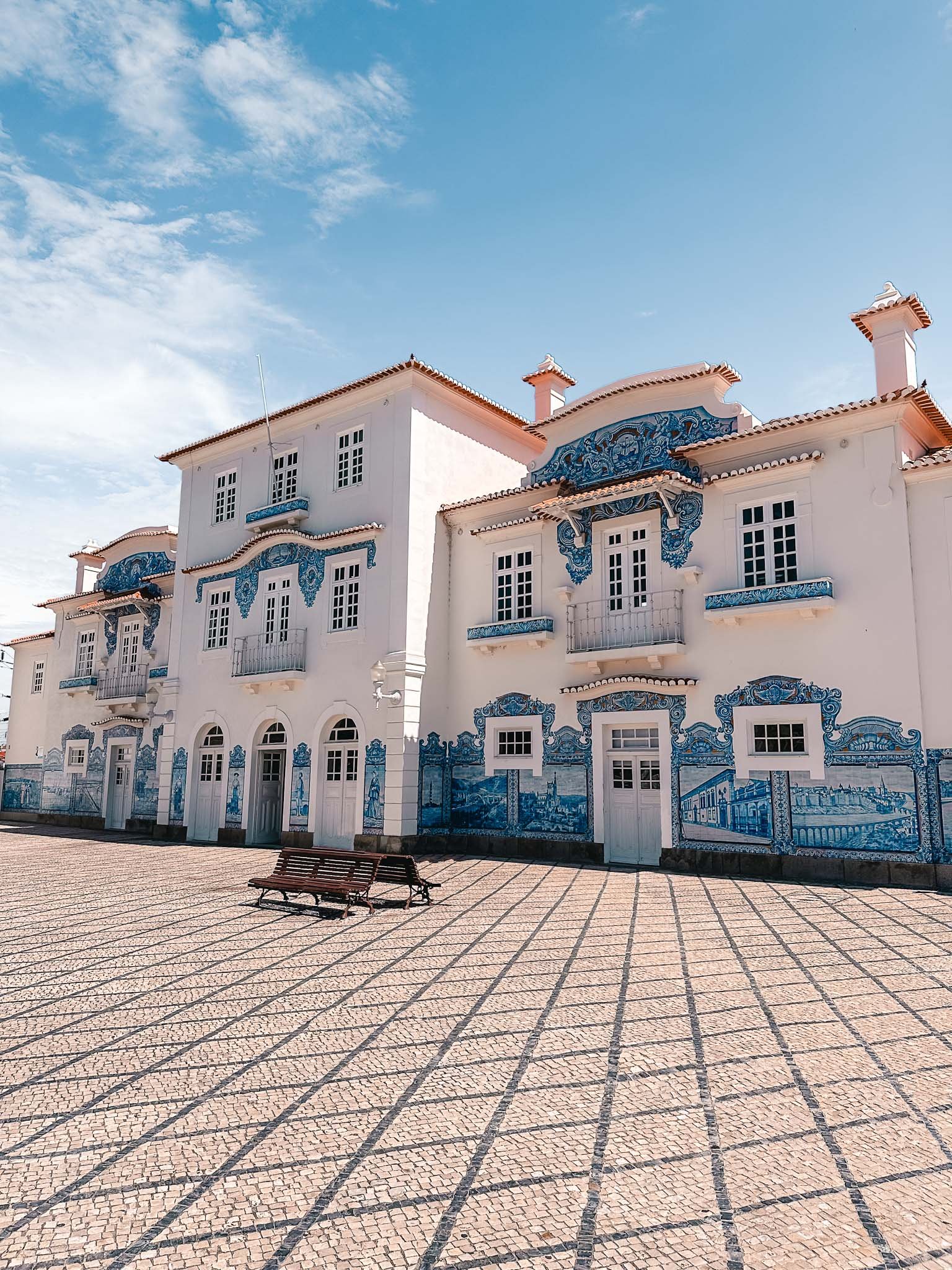 Inaugurated in 1856, Old Aveiro Railway Station is probably the most beautiful building in Aveiro and one of the most beautiful train stations in Portugal as well! This snow-white building with traditional blue tile illustrations is a true hidden gem you must see in Aveiro.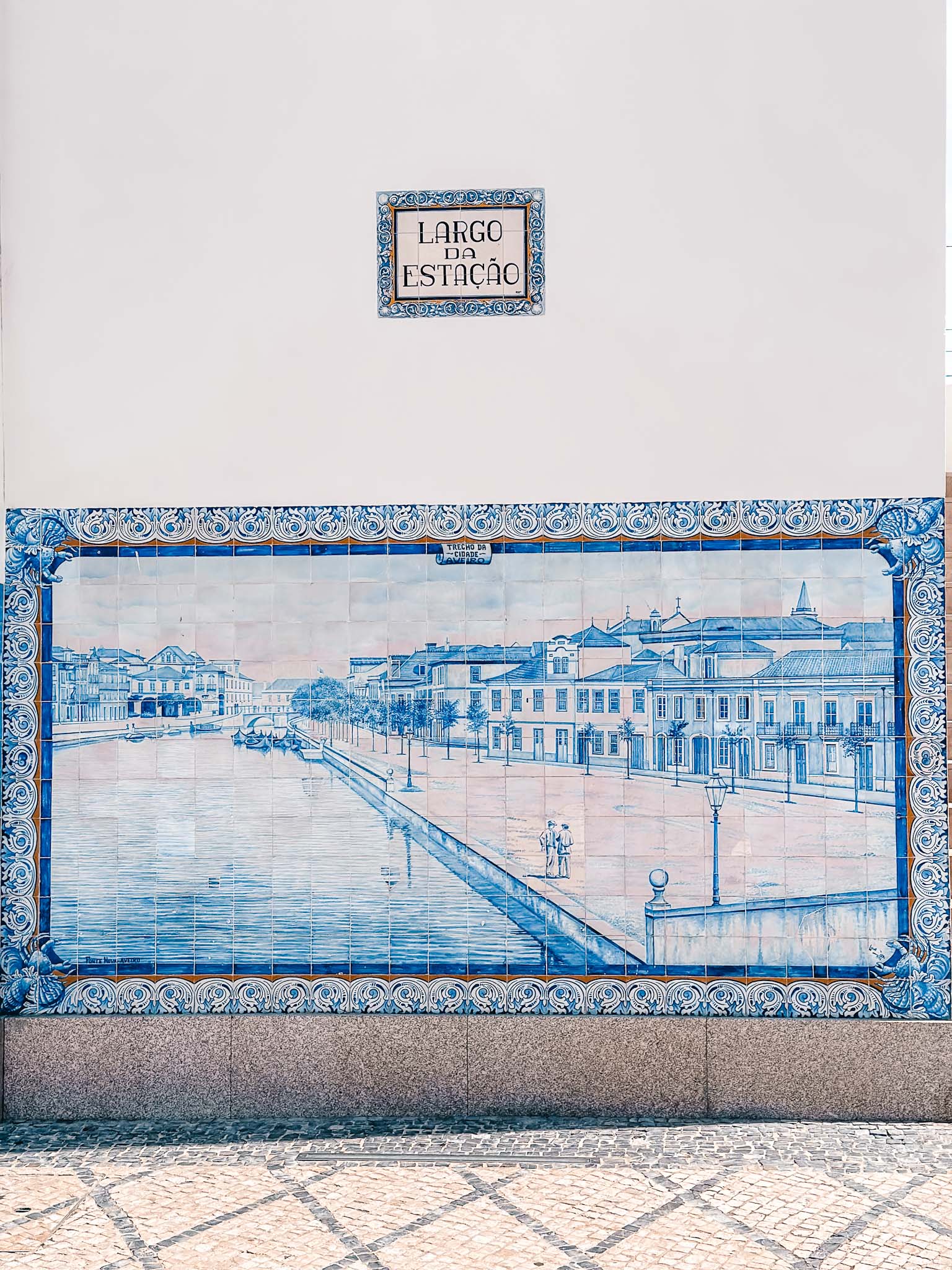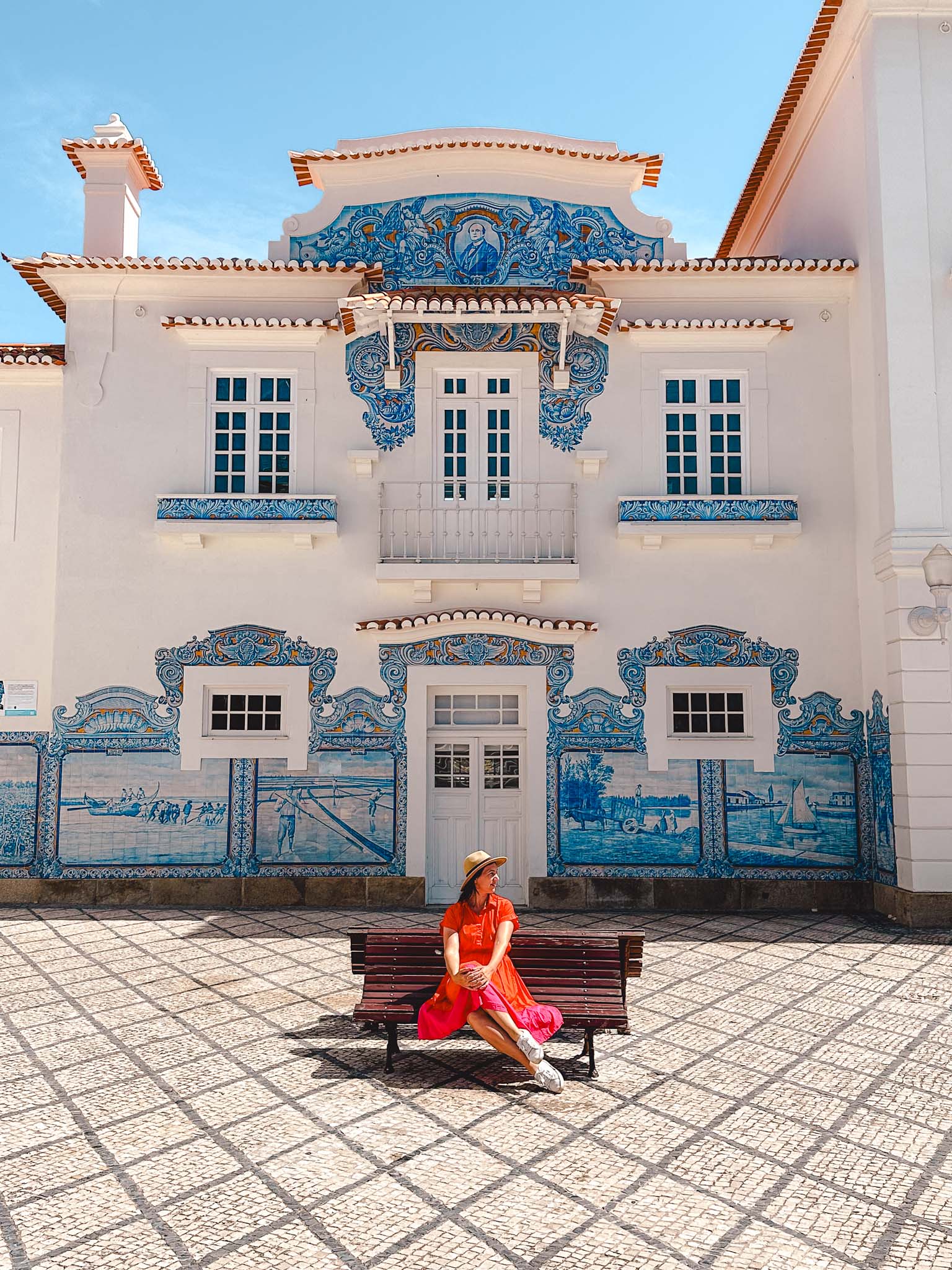 It was built as one of the stops on the Lisbon-Porto railway line. The facade of the building is covered with 59 tile panels. The illustrations include traditional activities, local landscapes, and representations of local figures. This was one of the best places to visit in Aveiro and one of my favorites for sure!
Location: Old Aveiro Railway Station
10. Be blinded by the gold at Carmelita de Aveiro church!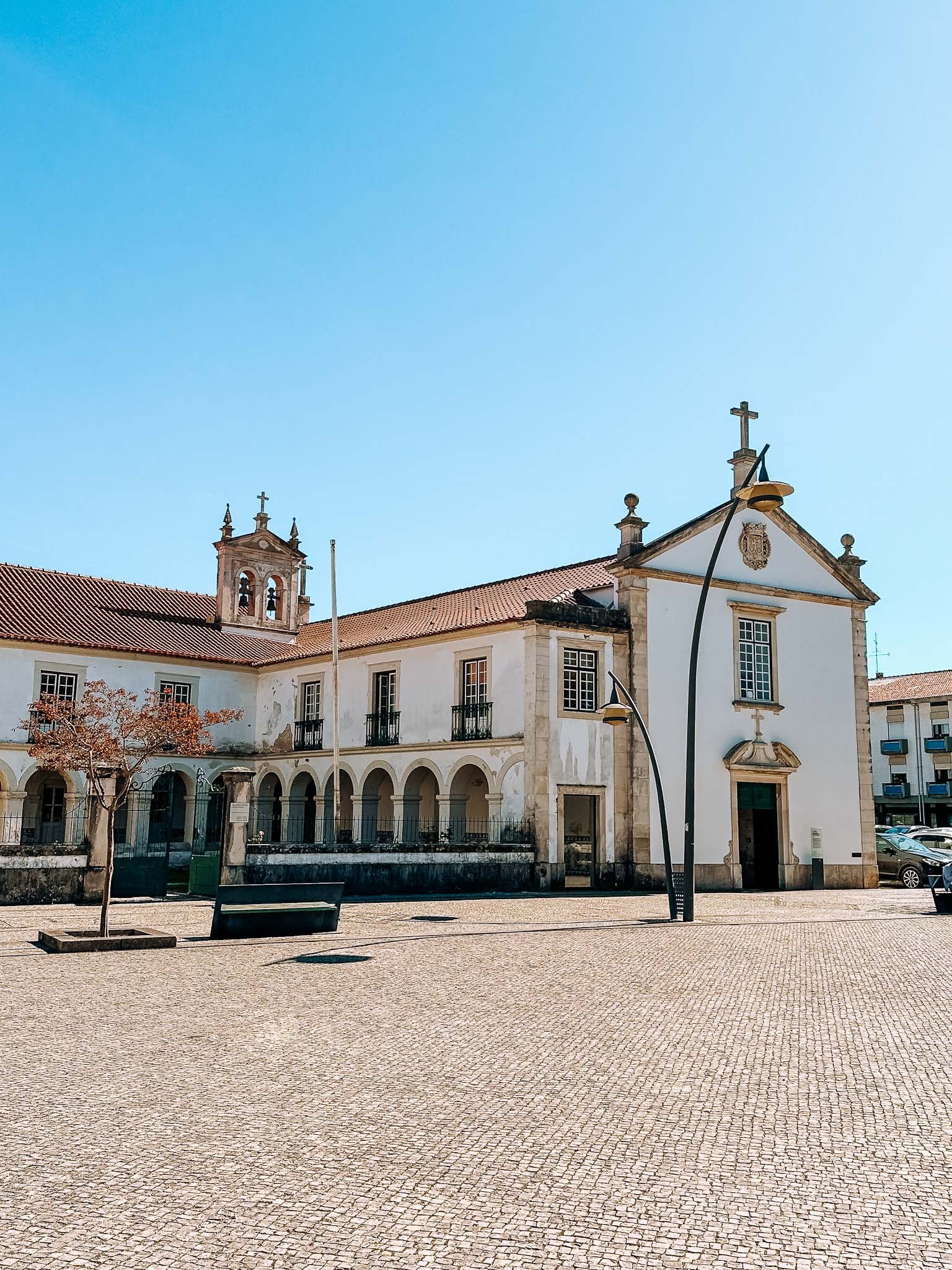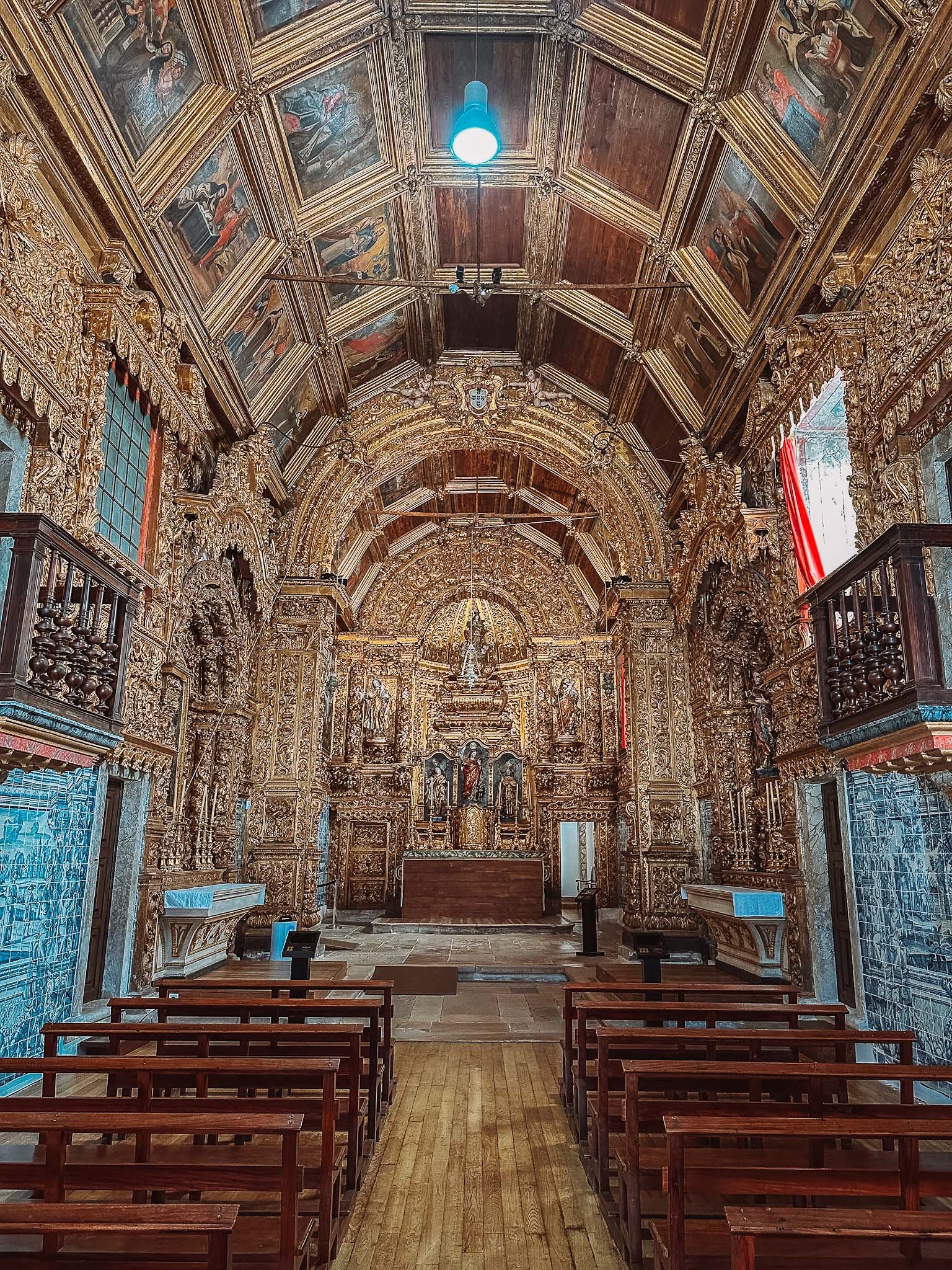 One of my favorite things to do in Aveiro was visiting this little church – Carmelita de Aveiro. On the outside, this church looks like absolutely nothing interesting to see. However, the inside was pretty jaw-dropping.
Construction of the church began in 1704. The interior is a stunning combination of gilded carvings, spectacular paintings, and beautiful tiles. Which puts it amongst the best hidden gems to visit in Aveiro. The best part – the entrance is free!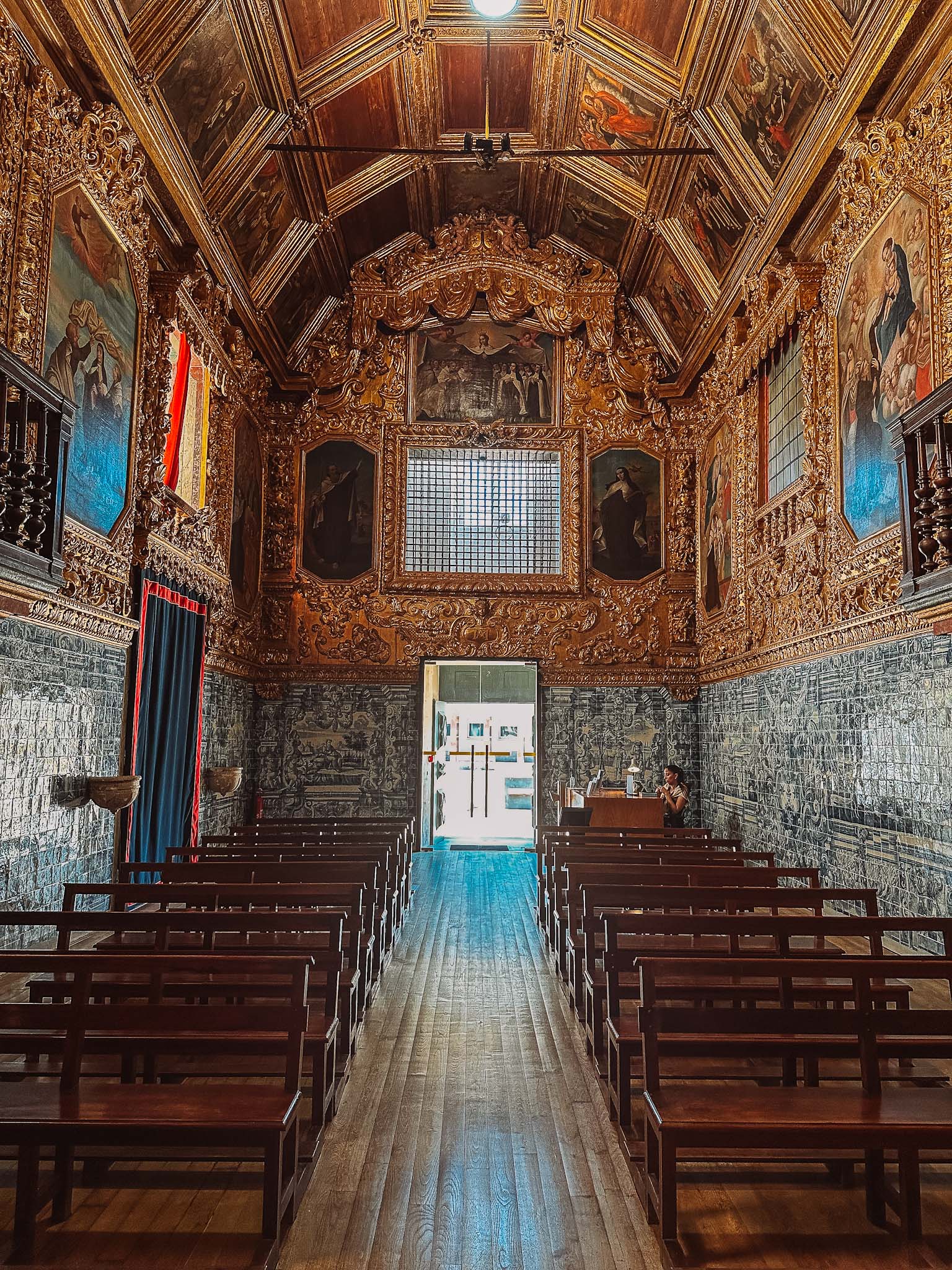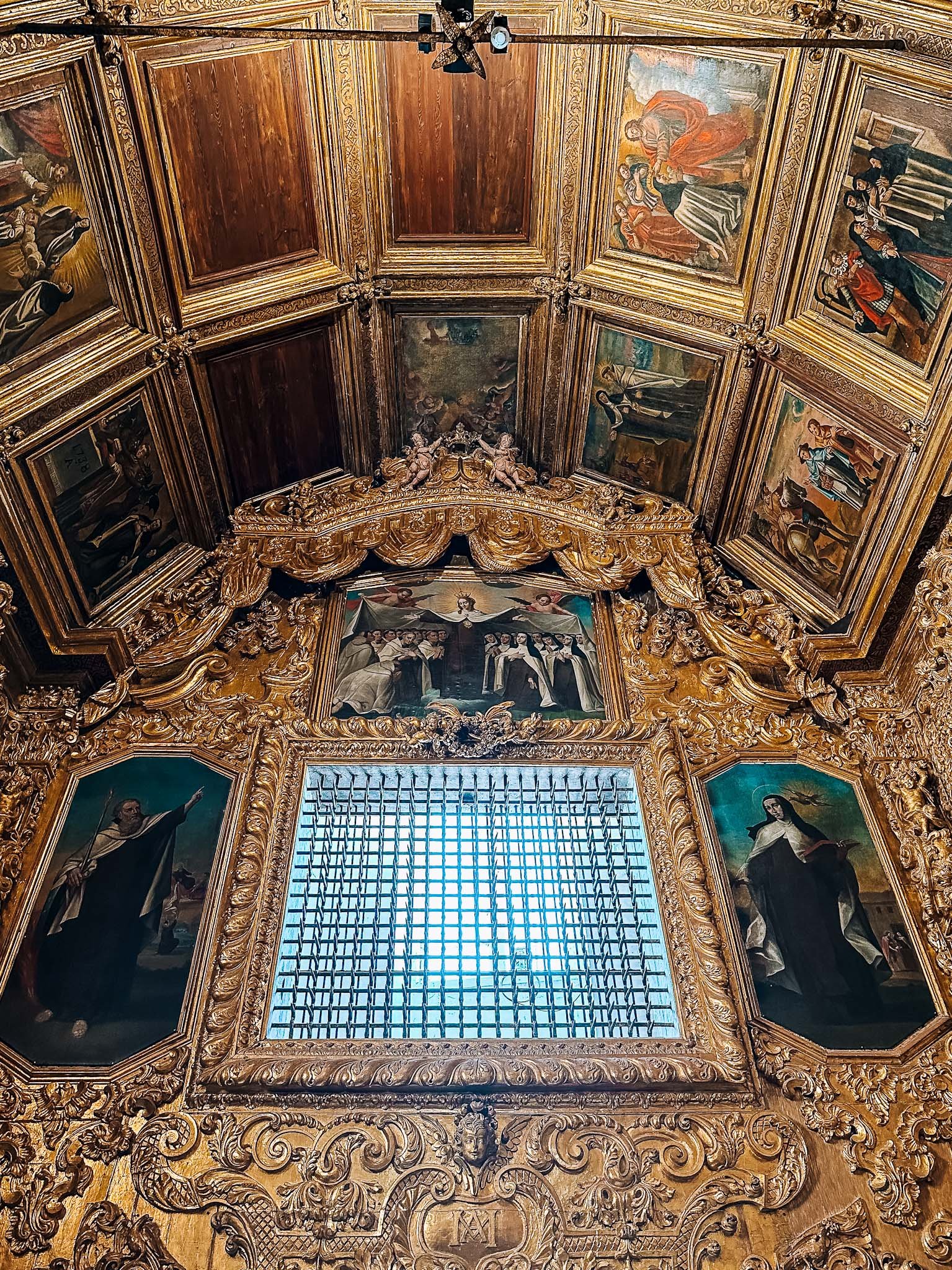 I spent quite some time admiring the vaulted ceilings with numerous paintings, the massive gilded carving as the altarpiece, and bedazzling walls with altars and traditional tile illustrations.
You also get to visit one of the back rooms which is equally stunning – especially the wooden ceiling with ornate illustrations. This is a must-visit spot in Aveiro even if you only have 10 minutes to spare!
Location: Carmelita de Aveiro church
11. Pay a visit to Ponte dos Carcavelos!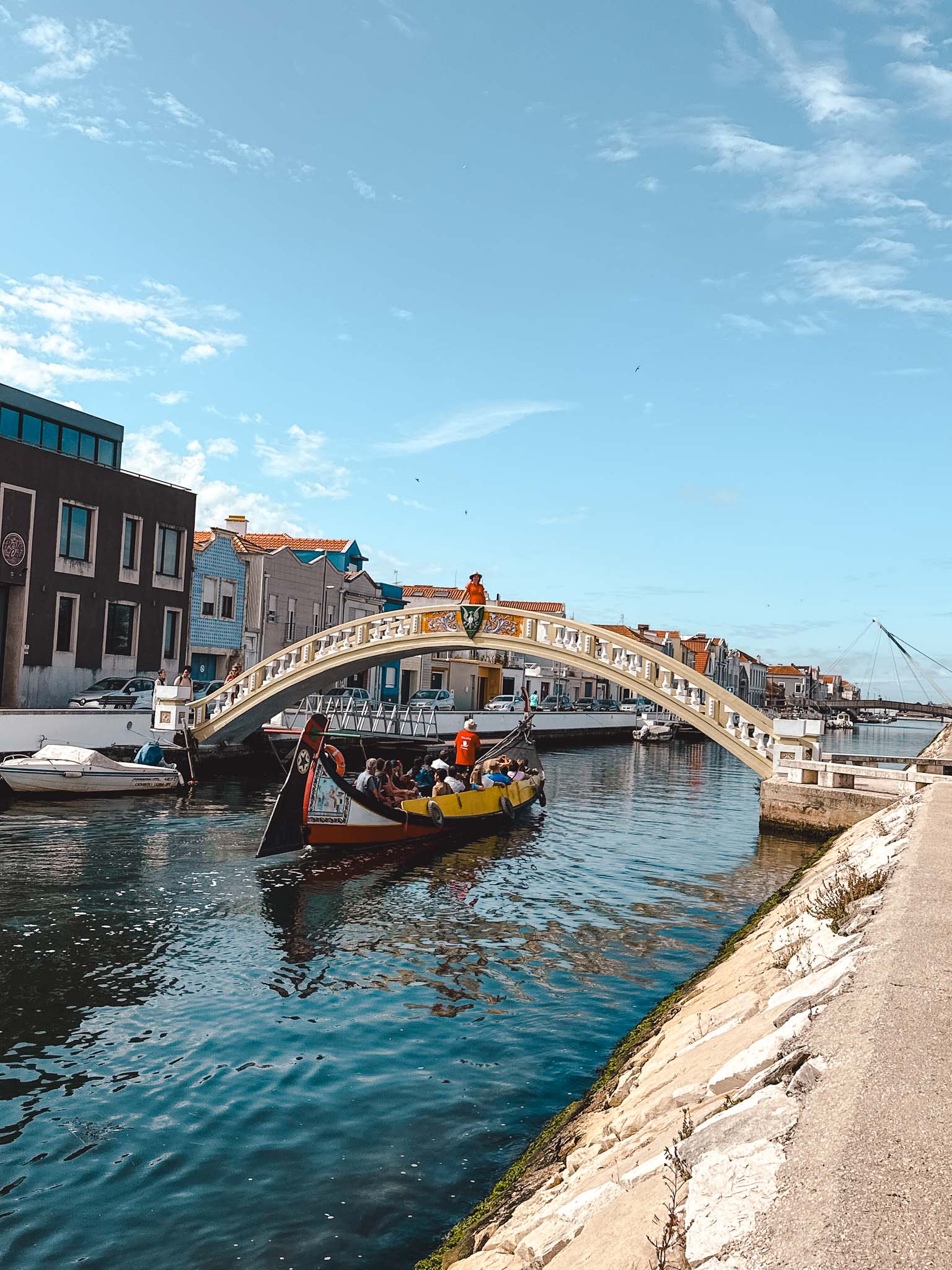 Ponte dos Carcavelos is one of the many bridges in Aveiro, however, this is a special one. Built in 1953, it is one of the oldest bridges in Aveiro. And it is definitely the most beautiful bridge in the city.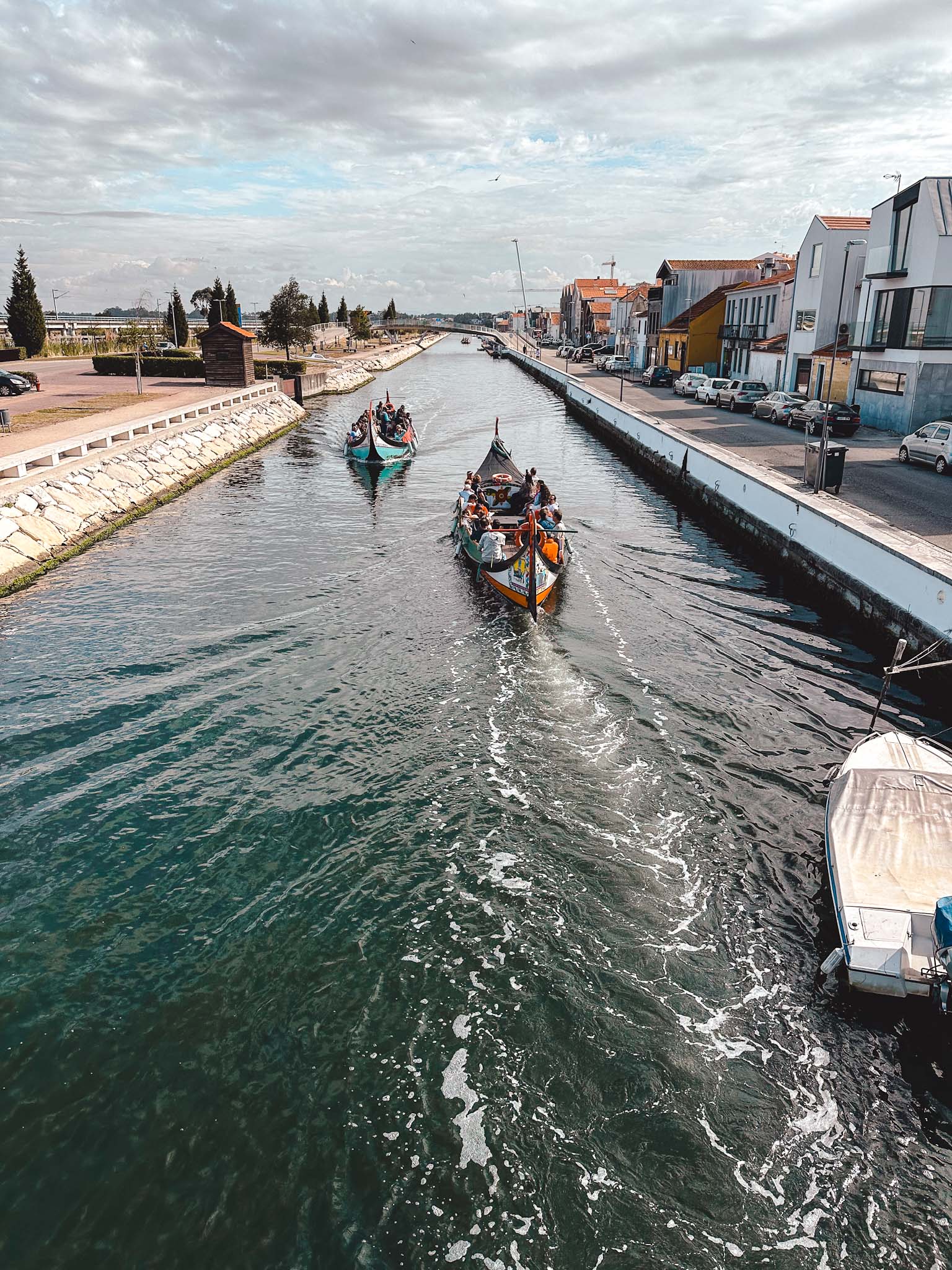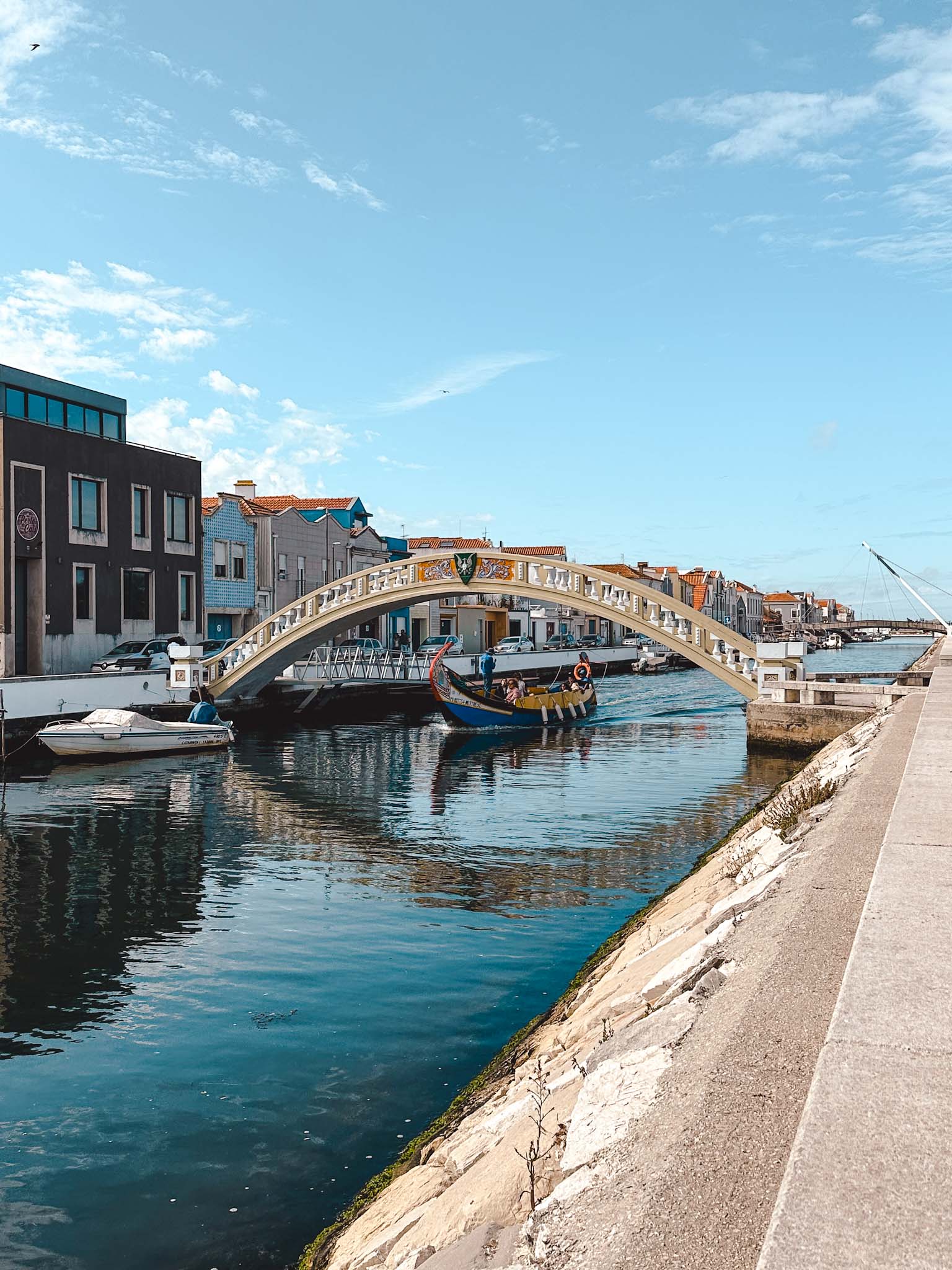 Painted in yellow color with white balusters, this bridge also boasts a beautiful green coat of arms of Aveiro city. It has an eagle on it – the symbol of the city. The bridge spans over the São Roque canal and it is a bit outside the heart of Old Town so it gets fewer visitors.
Location: Ponte dos Carcavelos
12. Peek inside Igreja da Misericórdia de Aveiro church!
Igreja da Misericórdia de Aveiro is an attractive church in the heart of Aveiro city next to Plaza de la República. It draws everyone's attention thanks to the beautiful facade. Construction of the church was completed in 1653.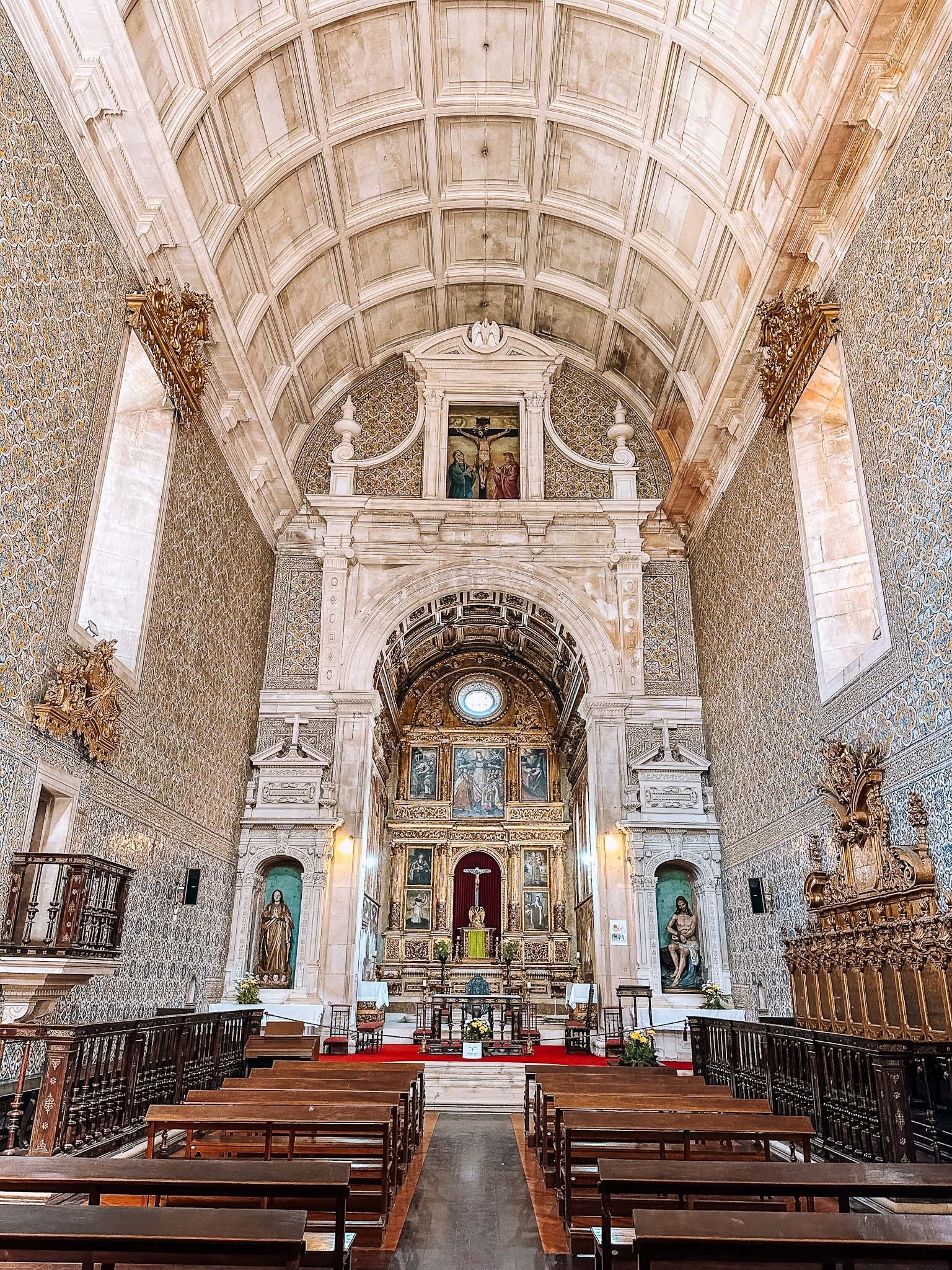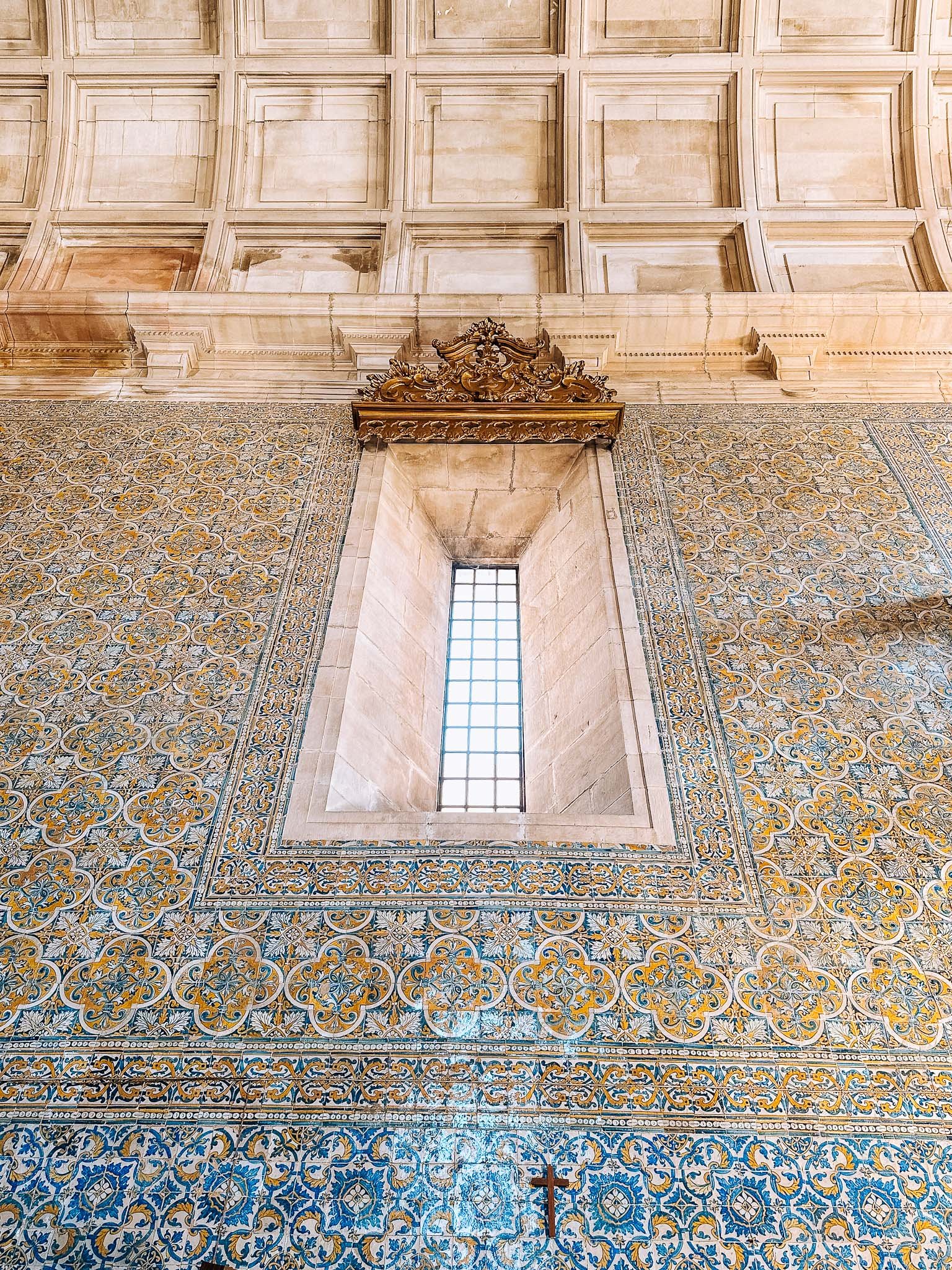 The front of the church is covered with blue and white tiles, however, the entrance portal of the church is made of stone and built in the Baroque style featuring four Corinthian columns and limestone statues.
During the 18th and 19th centuries, it served as the cathedral of Aveiro. You can visit this church for free. The interior is also covered with detailed tiles with patterns as well as gilded decorations. The beautifully vaulted altarpiece features multiple paintings in gilded frames.
Location: Igreja da Misericórdia de Aveiro
13. Taste the favors at Mercado Coletivo Aveiro and go souvenir shopping!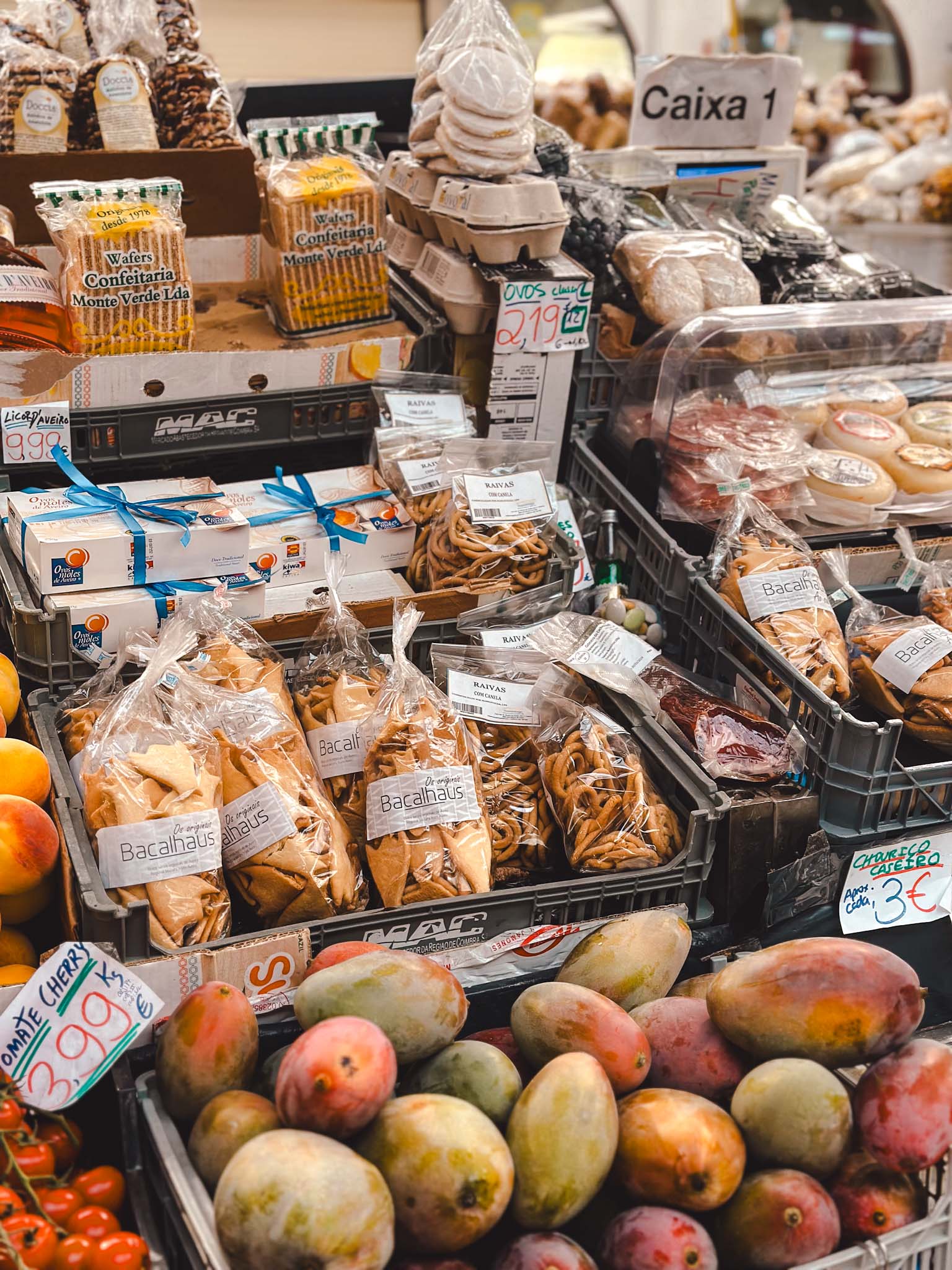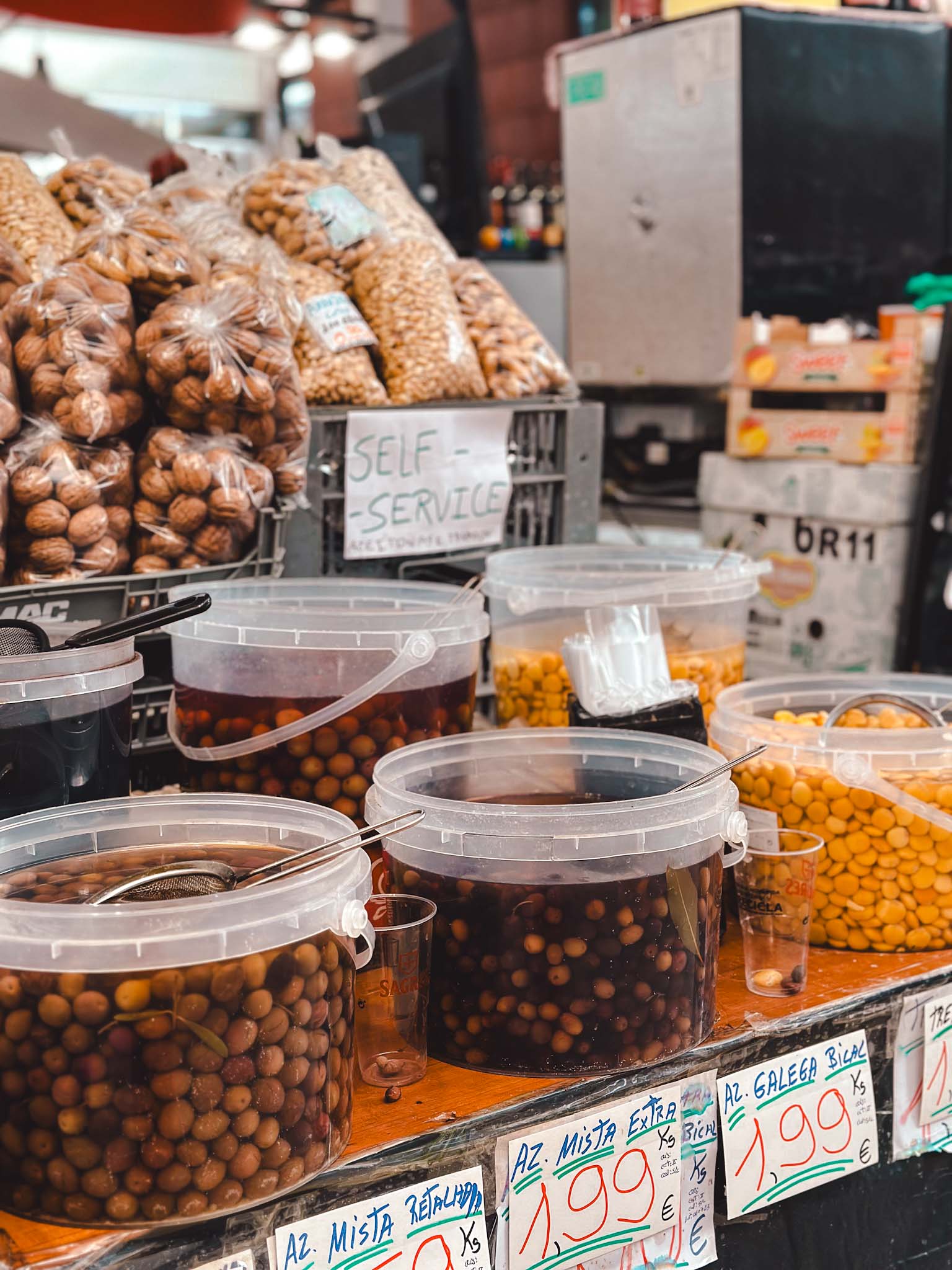 Wherever you travel always a must-do thing is to taste local flavors. And one of the best places to do that is at local markets. Mercado Coletivo Aveiro offers you a variety of local products to eat or buy for bringing home as gifts.
Here you can find different fresh vegetables, fruits, as well as meat and fish. My favorite were the cheese stands with lots of local cheese options. Besides these, you can buy snacks like nuts, cookies, pastries, and also bread.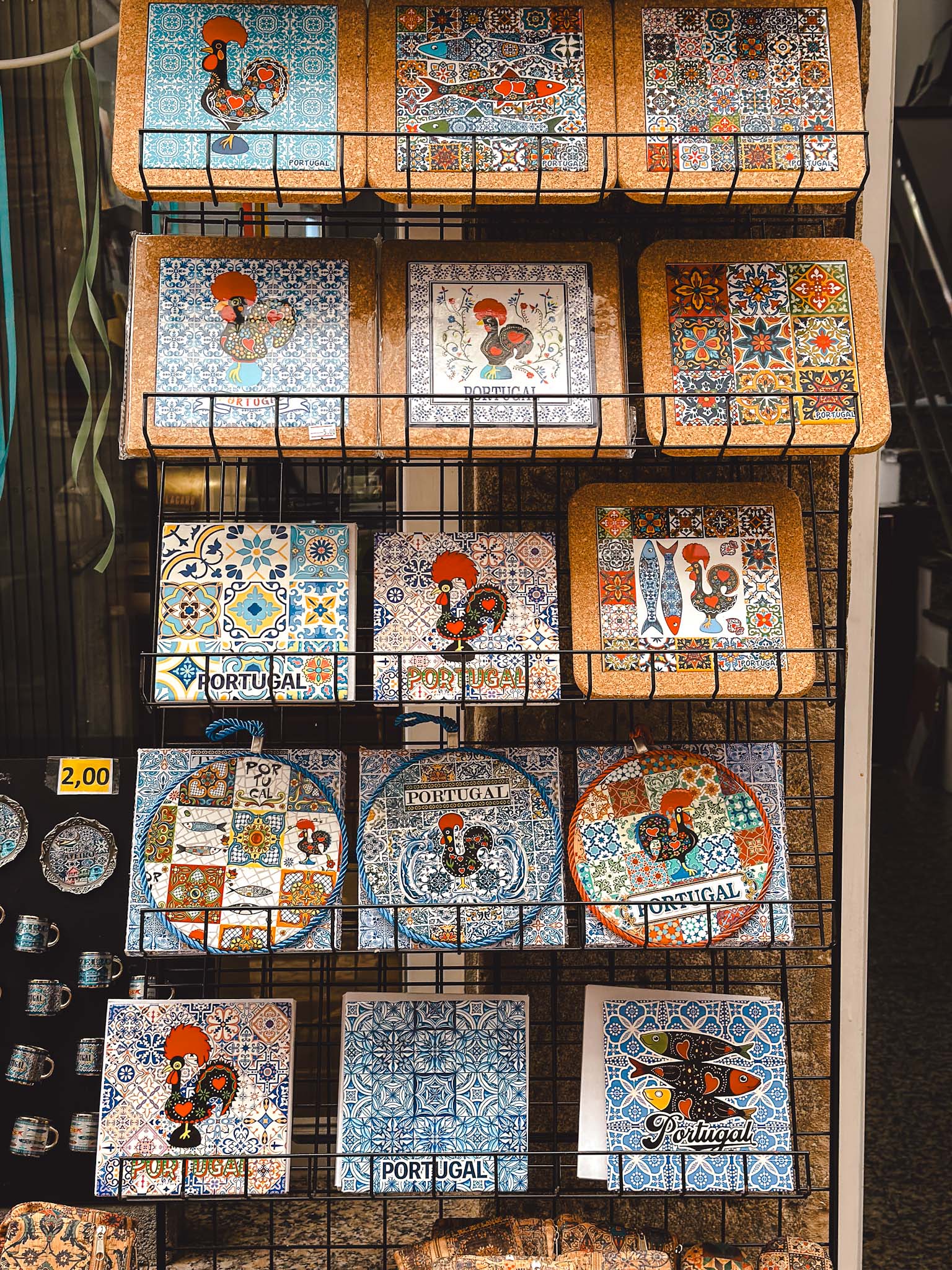 One of the best things to do in Aveiro is souvenir shopping. I already mentioned Ovos Moles traditional pastries that you can buy in a beautiful box in the Confeitaria Peixinho sweets shop. Other traditional souvenir is definitely salt from local salt flats, Portuguese tiles as well as products made of cork.
Tip! Check the area around Obelisco da Liberdade for souvenir shops!
Location: Mercado Coletivo Aveiro – Obelisco da Liberdade
14. Take a photo at the 'I love Aveiro' stairs!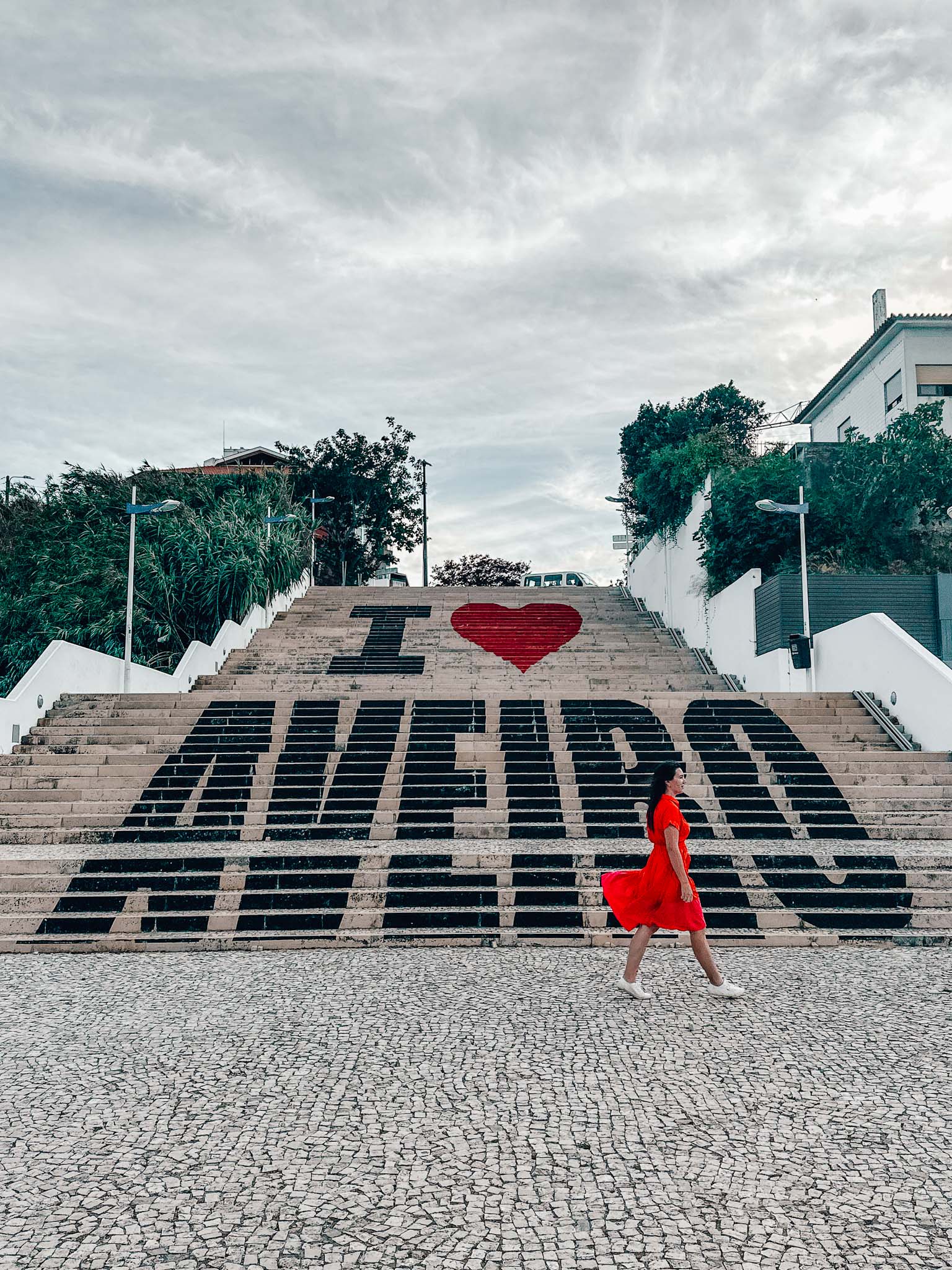 Just a short walk from the historic center you will find massive stairs with 'I love Aveiro' painted on them. Probably one of the best Instagram spots in Aveiro you will find. This catchy phrase always works. Don't forget to snap a photo, if you happen to be nearby!
Location: 'I love Aveiro' stairs
15. Check out fishermen's houses at Costa Nova!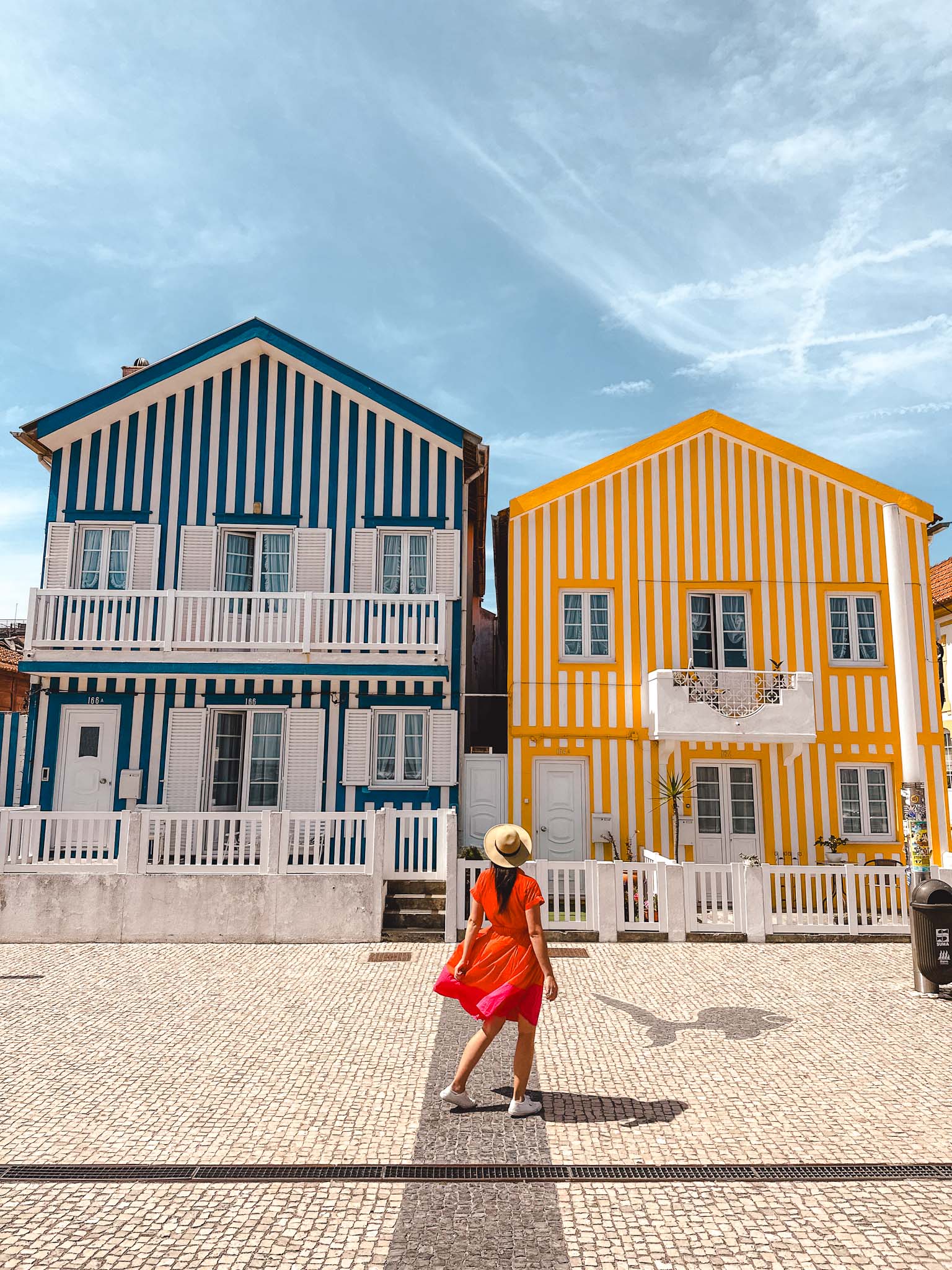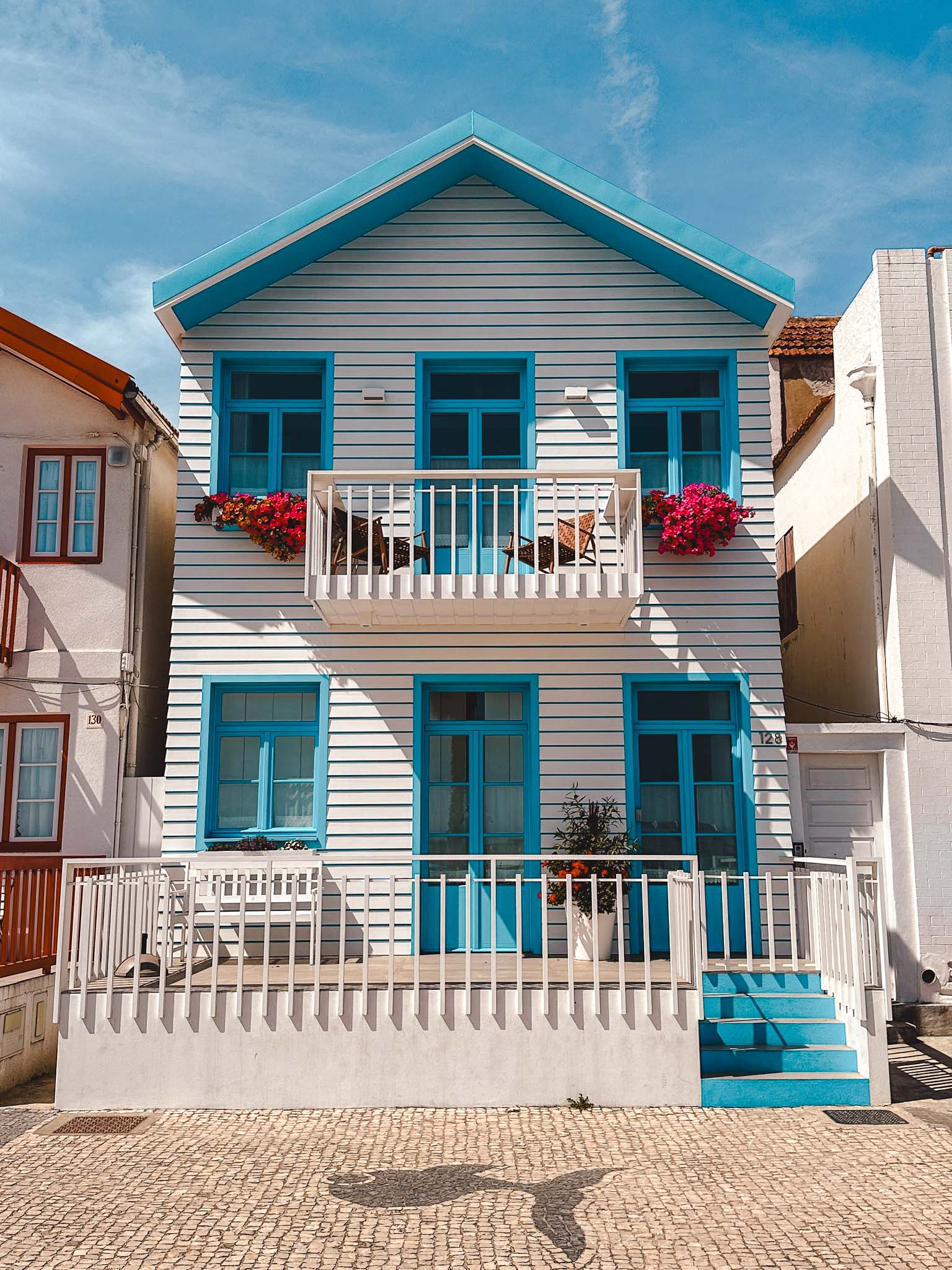 Costa Nova is Aveiro's coastal village located just 10 kilometers from Aveiro center. The village is famous for the candy-striped houses lining along the waterside promenade in Costa Nova – one of the most Instagrammable places in Aveiro! They are the cutest houses you will ever see!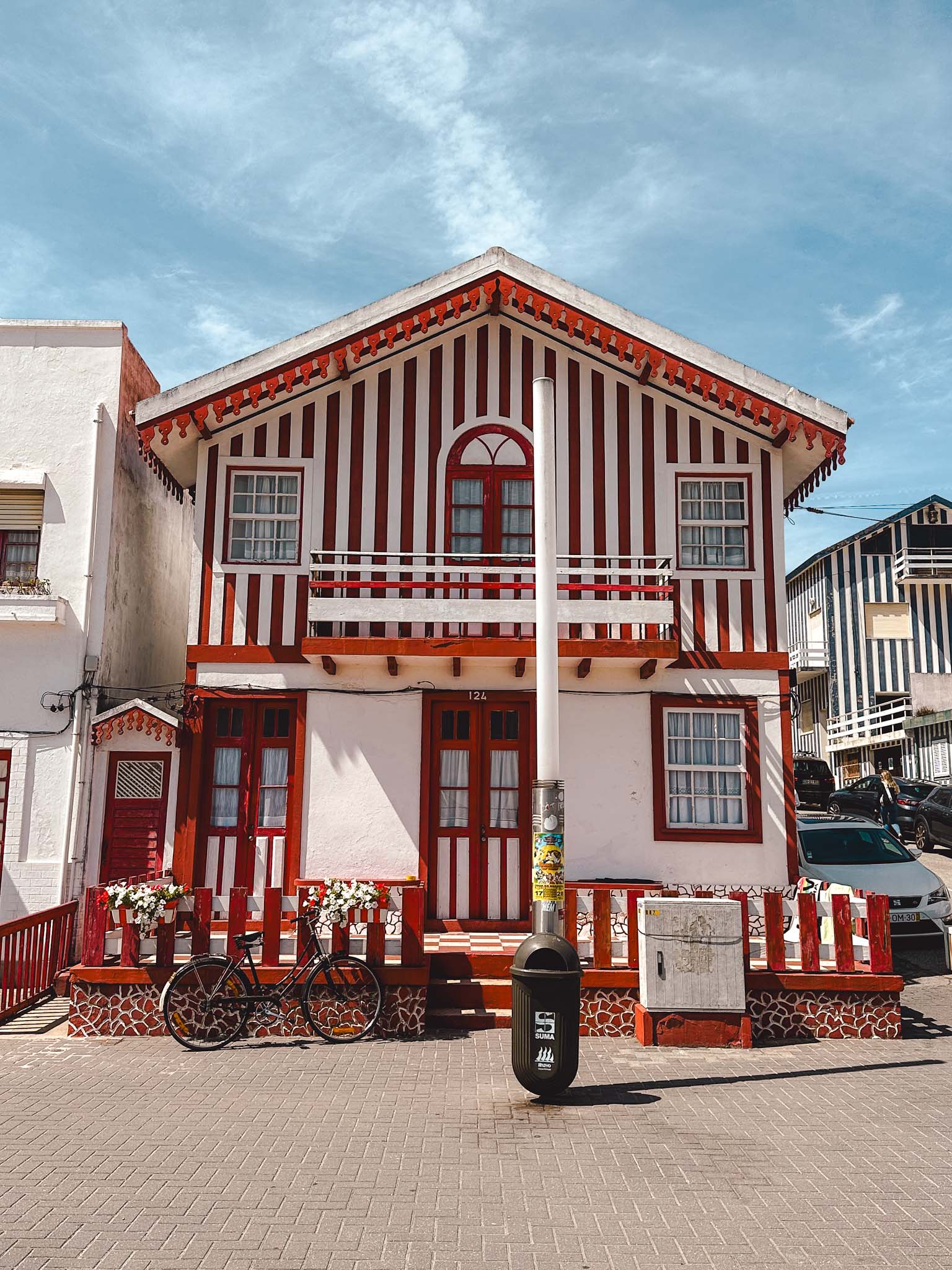 These houses are actually called 'palheiros' and originally were built by the local fishermen as warehouses to store their fishing equipment. Later they were redesigned and today some of them host restaurants, but others are actual residential properties.
Visiting these houses was one of my favorite things to do in Aveiro and one of the main reasons I decided to visit this city at all. You can get there by taxi, by bus or by car from Aveiro. We went by car and easily parked our car right in front of these houses (location below).
Location: Fishermen's houses at Costa Nova – Parking at Costa Nova
16. Enjoy the white-sand Aveiro beaches!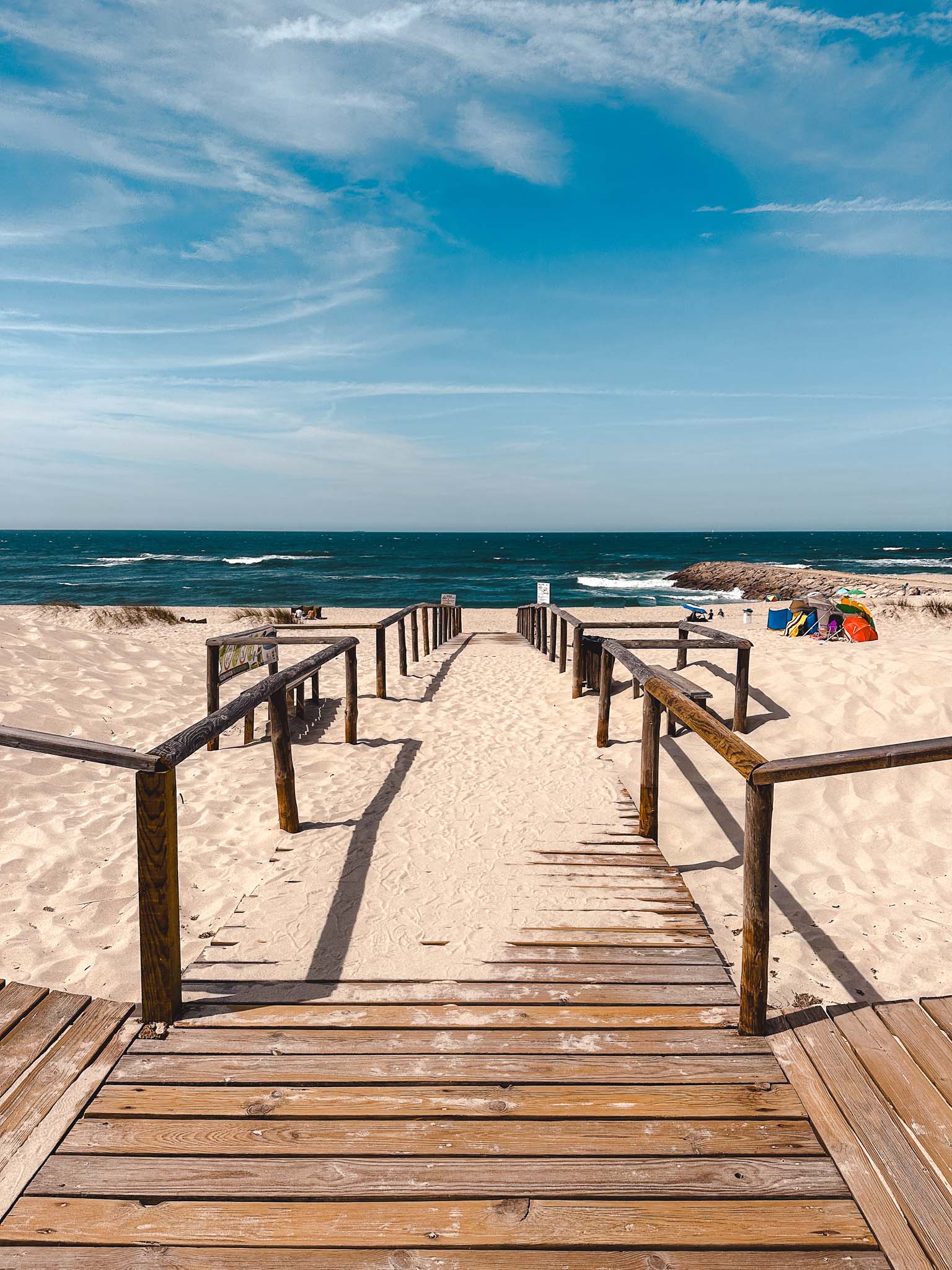 The coastal area of Aveiro has a beautiful white sand beach. It is very wide and stretches along the coastline far away. This makes it a popular holiday spot for locals and foreigners alike.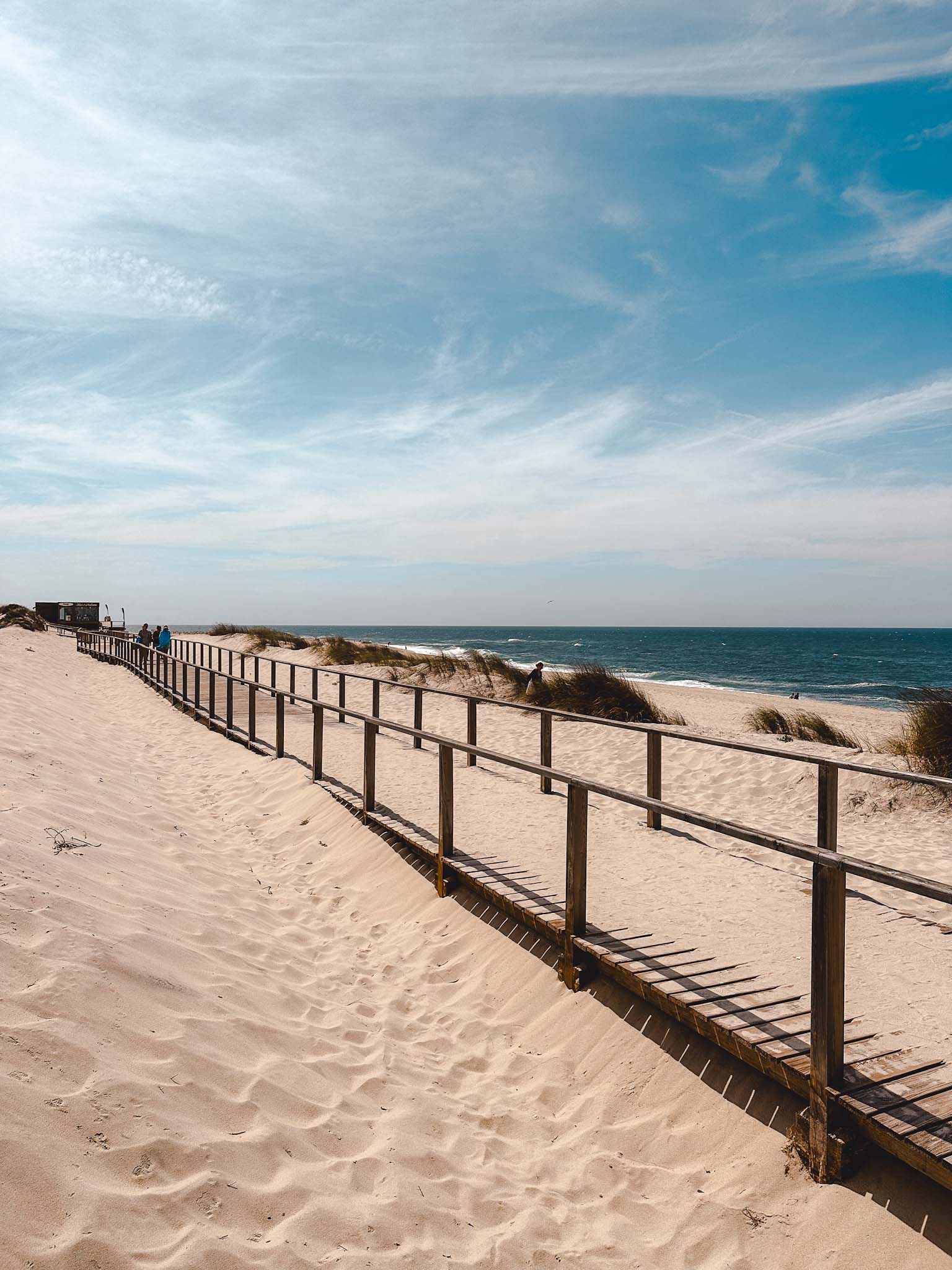 There are many beach bars and lounges for you to enjoy and sand dunes to hide from the wind on windy days. If you are craving some beach time, then this is the perfect spot to go!
Location: Aveiro beach
17. Walk through the salt fields at Salinas de Aveiro!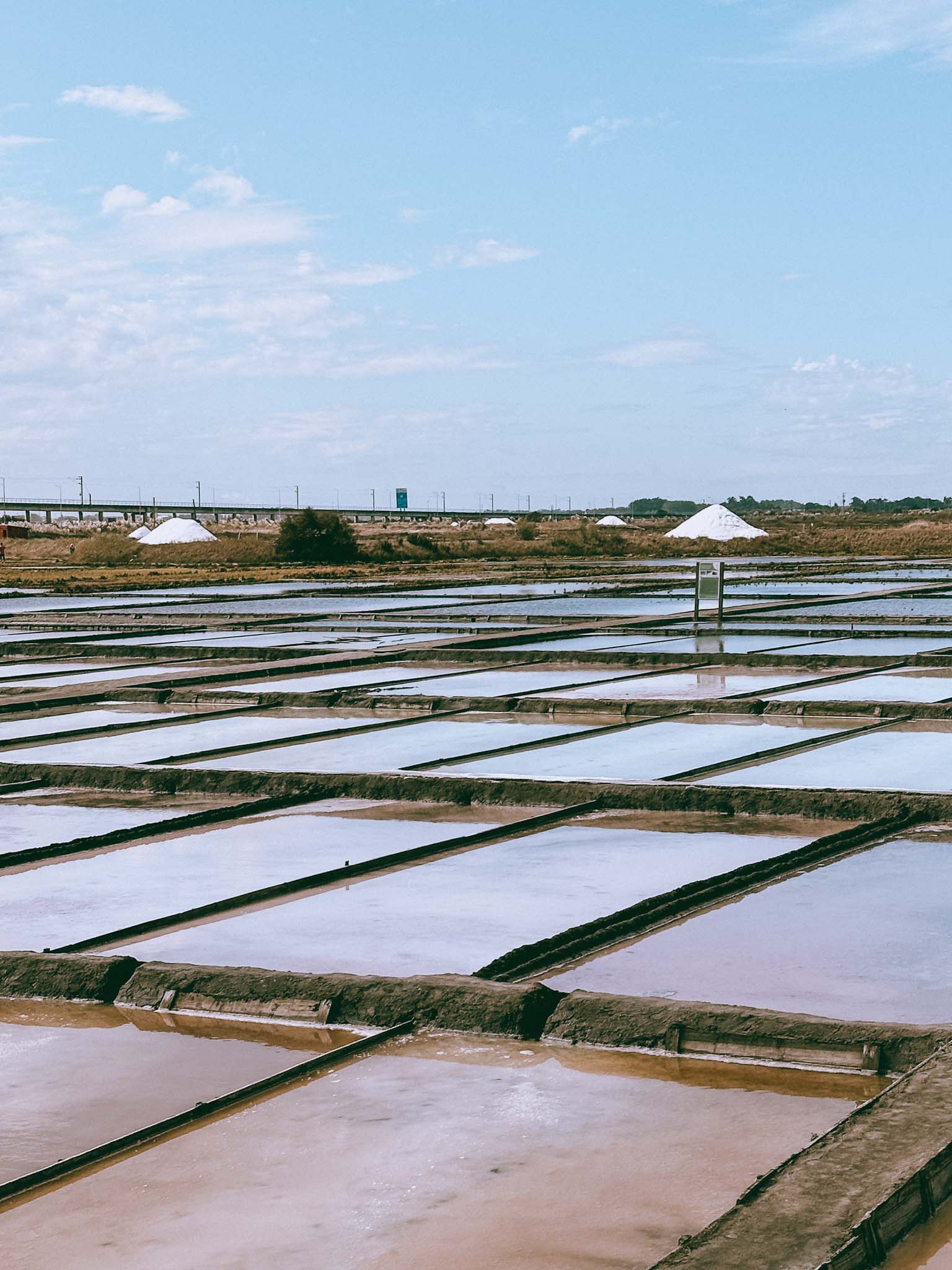 Salt exploration in the Aveiro region dates back to the times when the city didn't even exist yet. This tradition is the essence of Aveiro and has been a part of their daily lives since the very beginning.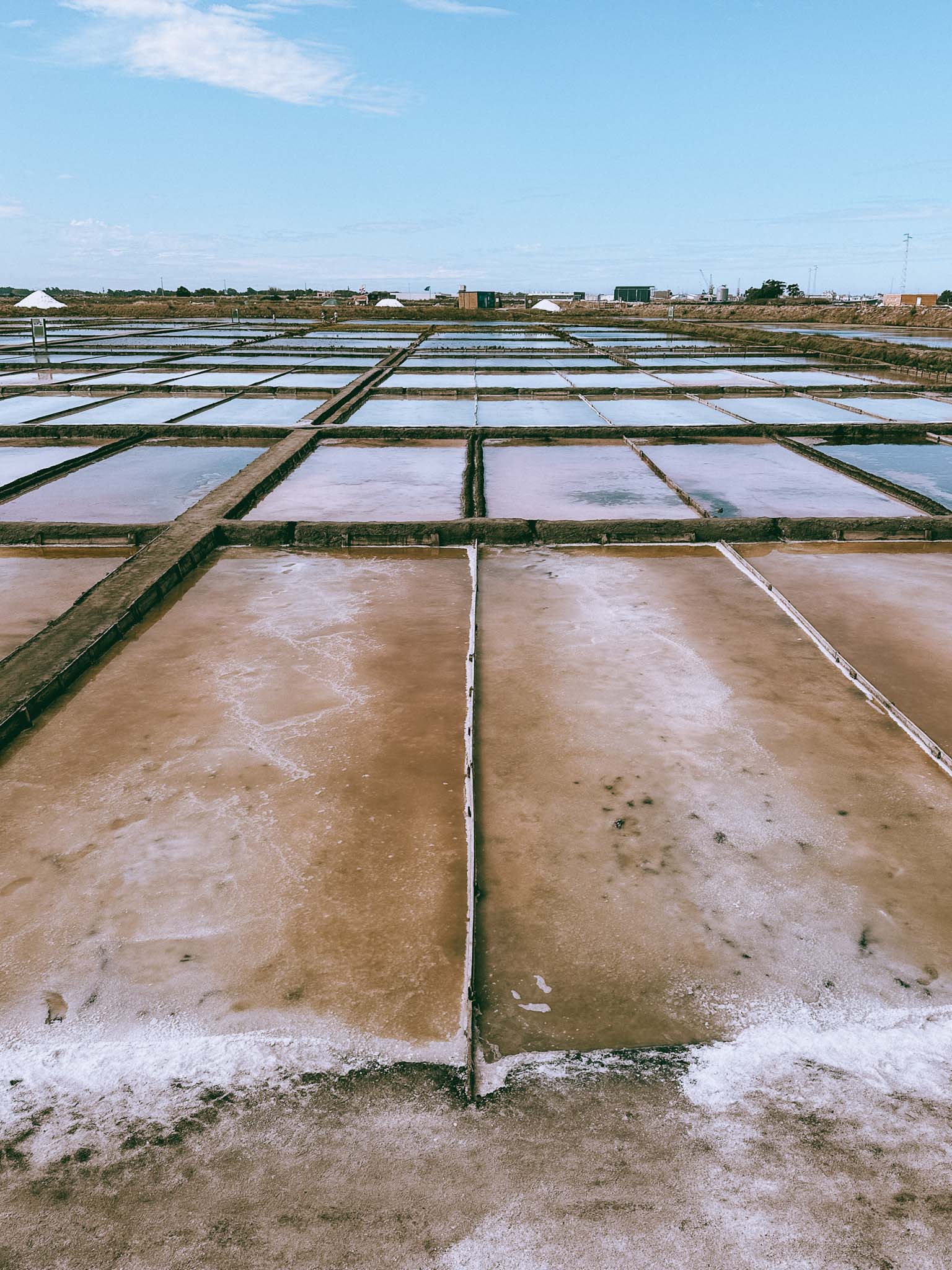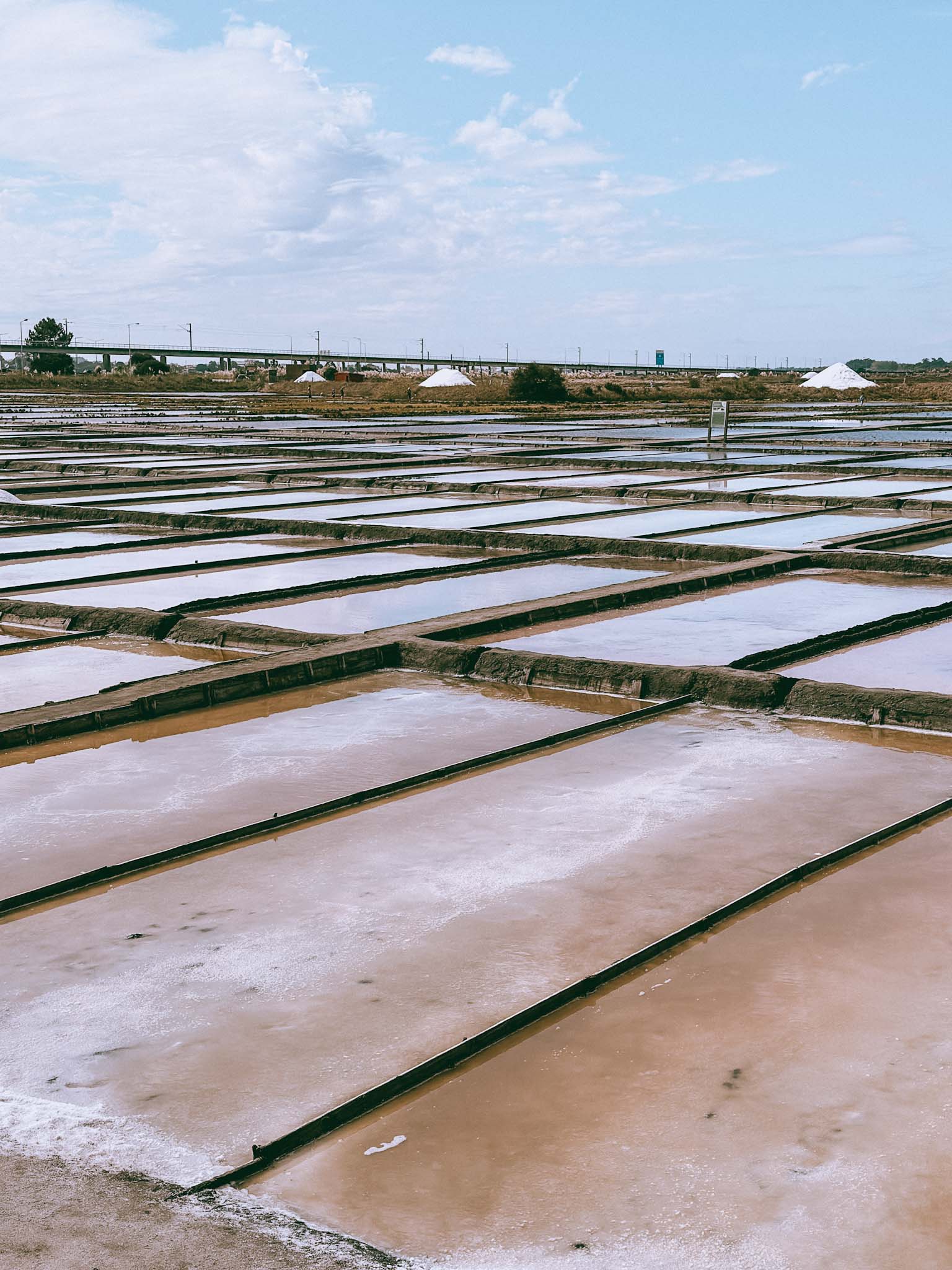 If you can buy one souvenir from Aveiro, then local salt is definitely one of the best things to buy. However, if you have time, you can visit the salt flats and walk around the salt pans on your own.
We did not walk around, but we did stop at the salt flats to take a look at this historic tradition and place. You can very well see the mountains of extracted salt and all the salt ponds reflecting the light in different shades.
Location: Salinas de Aveiro
18. Near Aveiro – stop by the City of Umbrellas!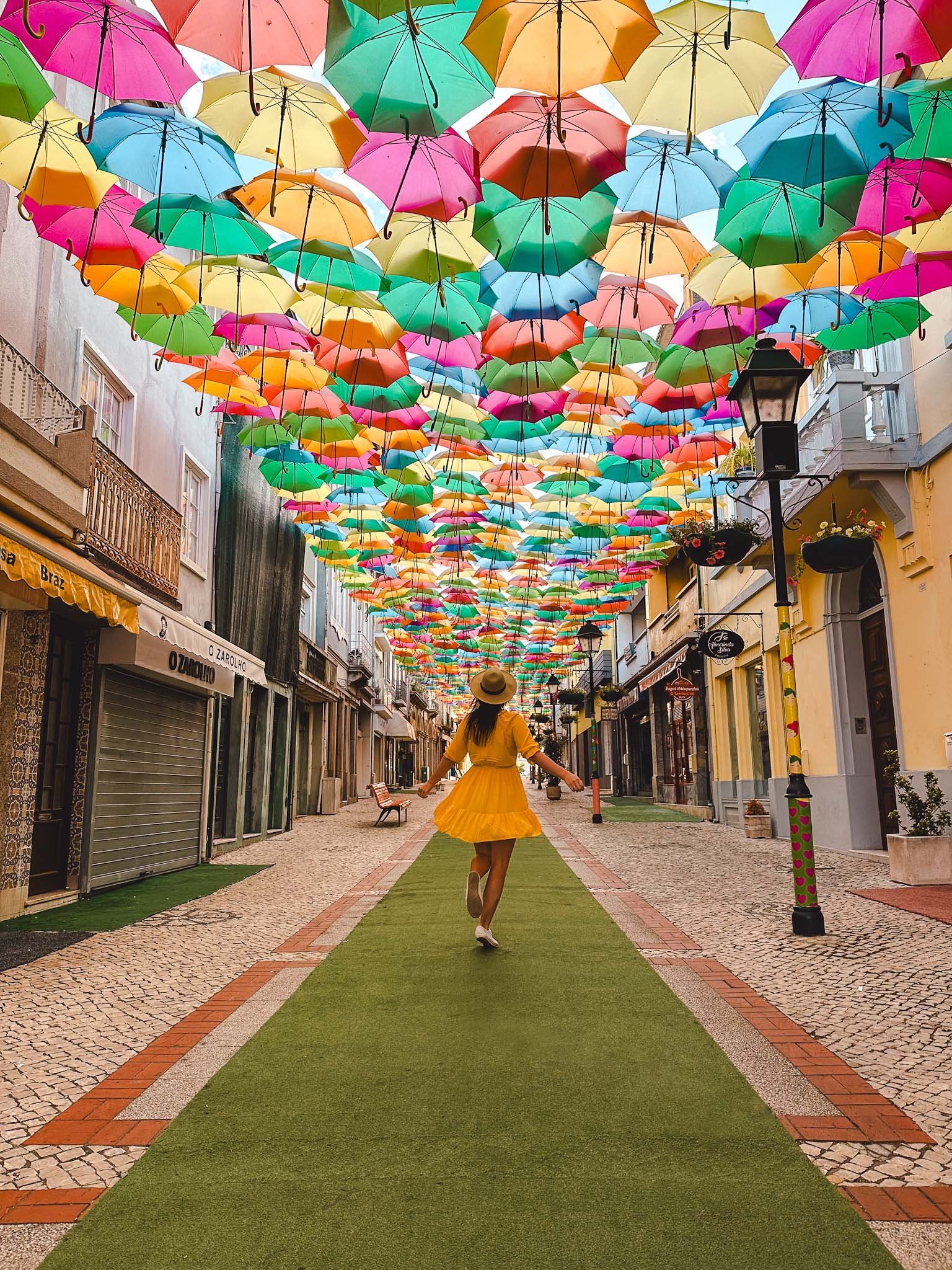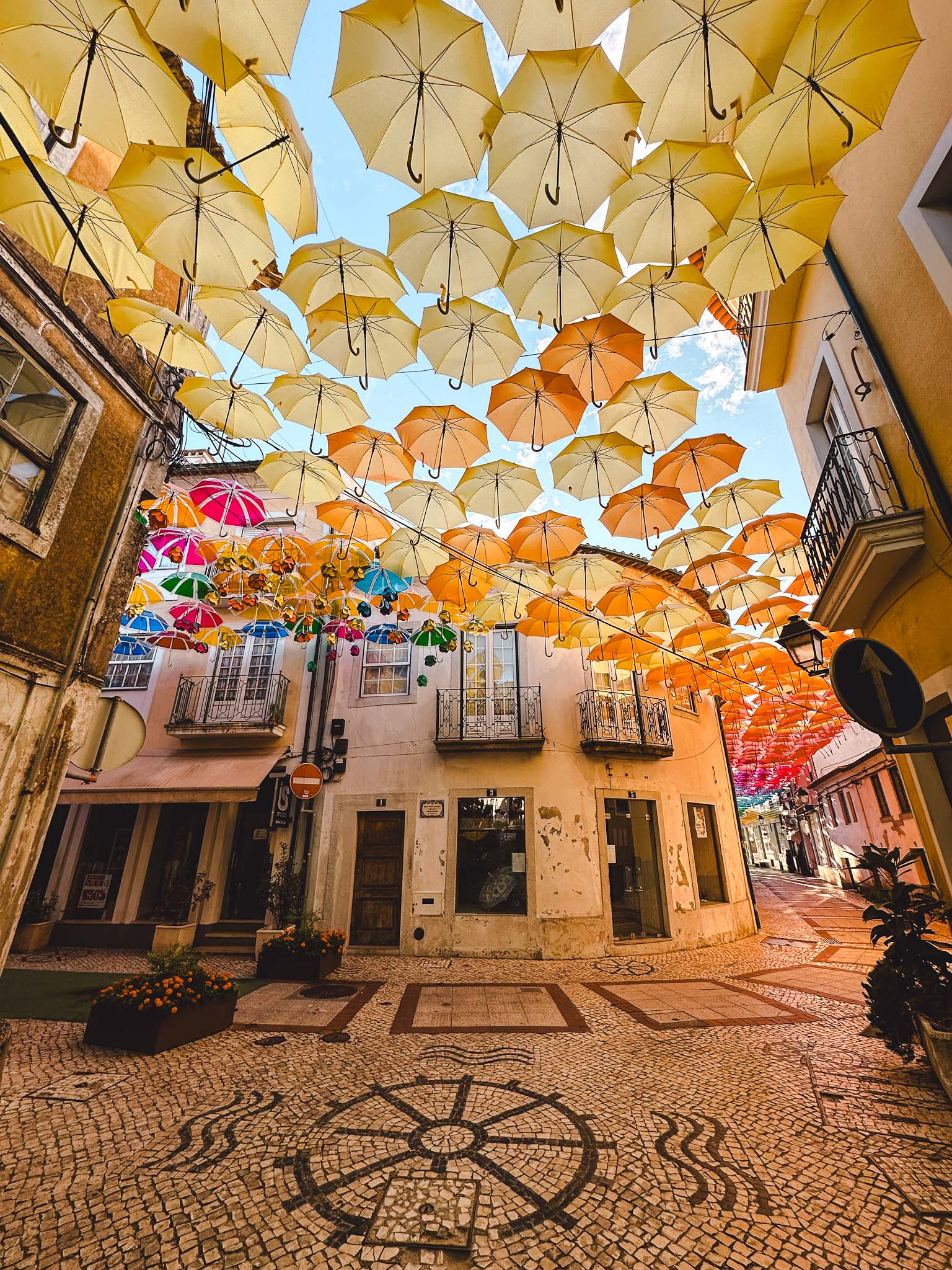 Agueda is a city in the Aveiro district just a 30-minute drive away from Aveiro city. It is one of the hidden gems in Portugal and one of the best places to visit in the Aveiro district if you time it right!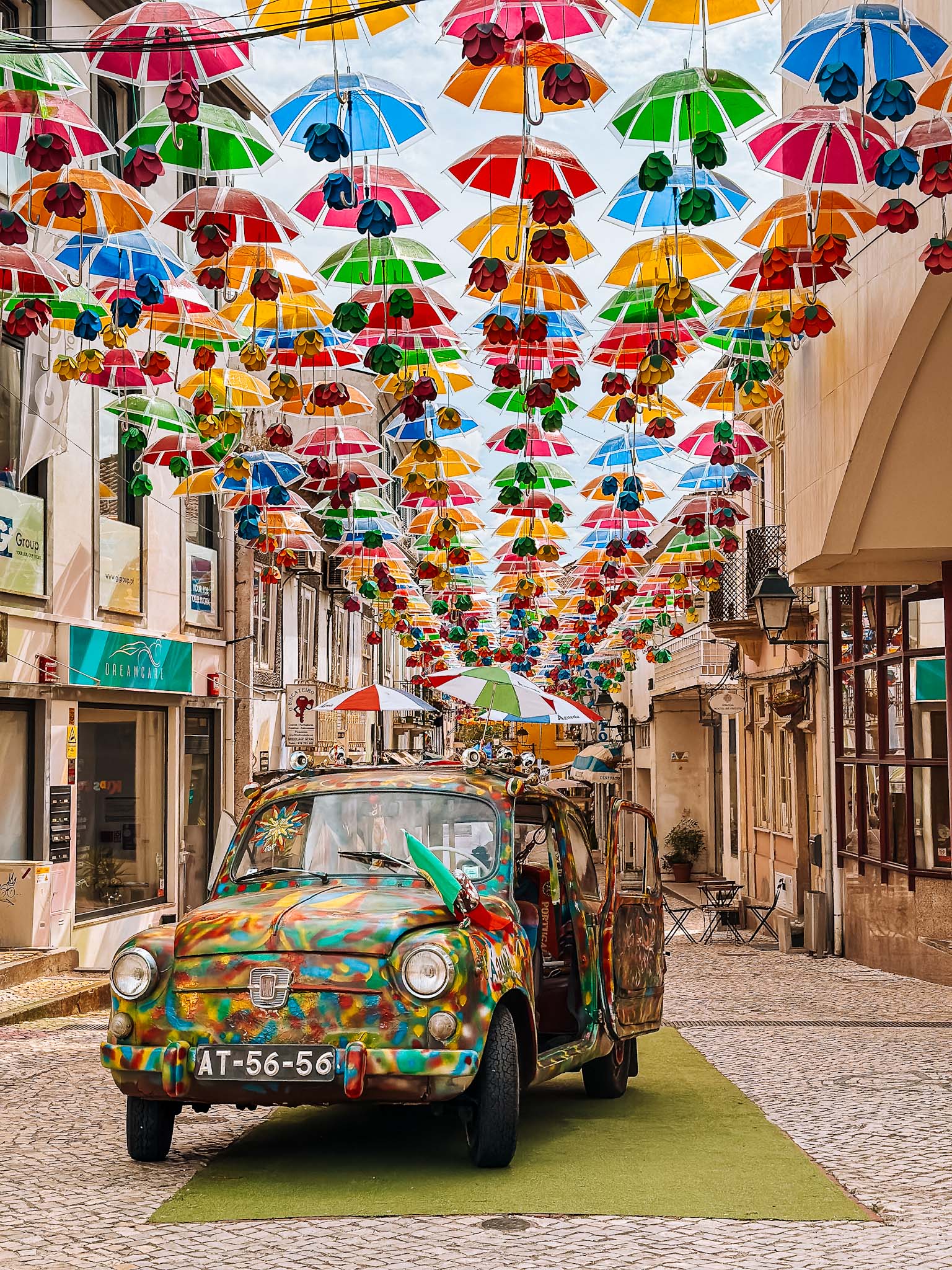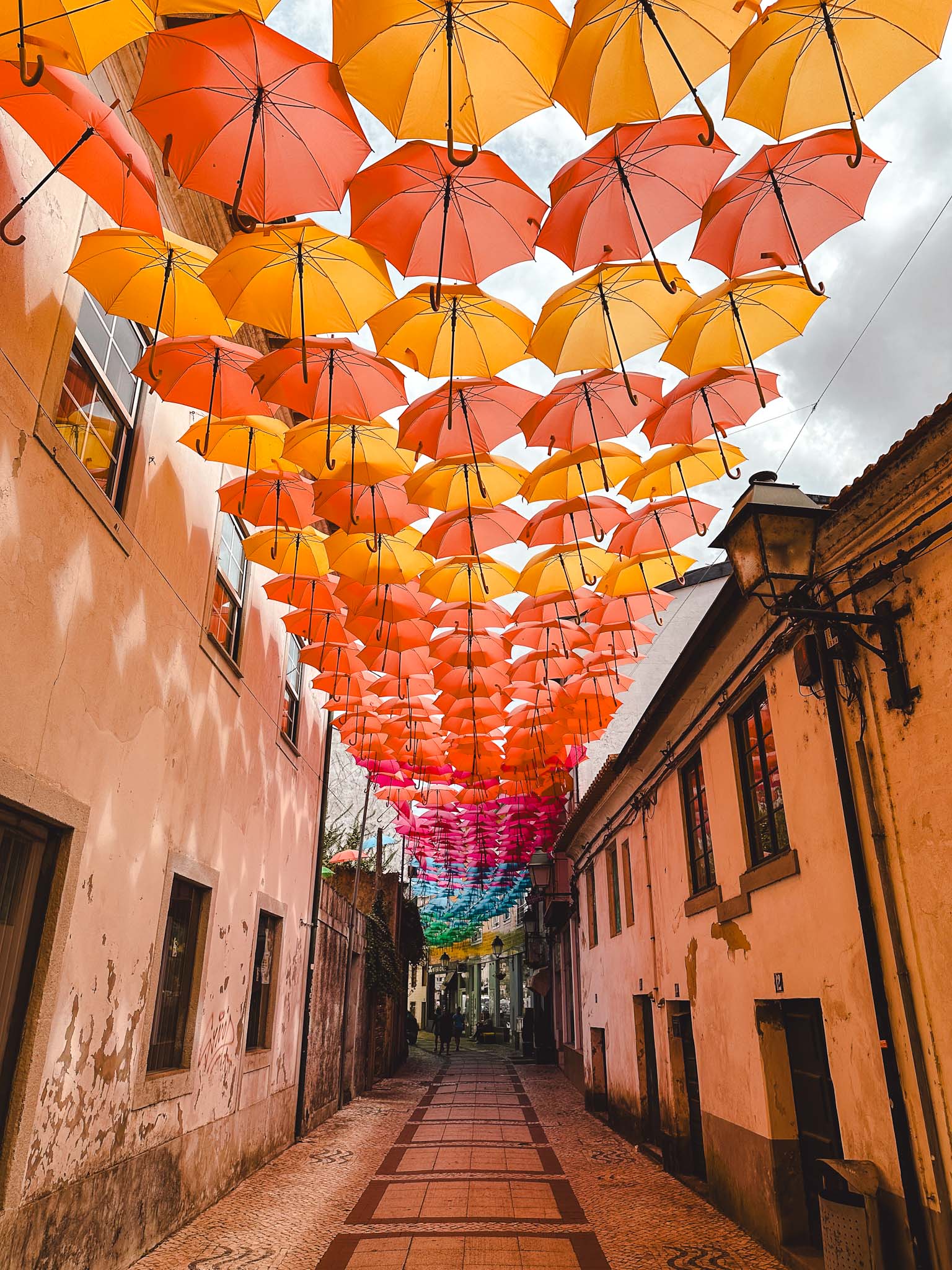 During the sunny season, the streets in this city are turned into a carnival of umbrellas. I counted about five streets that were covered with colorful umbrellas or other decorations. Some walls of houses and shops also had umbrellas on them.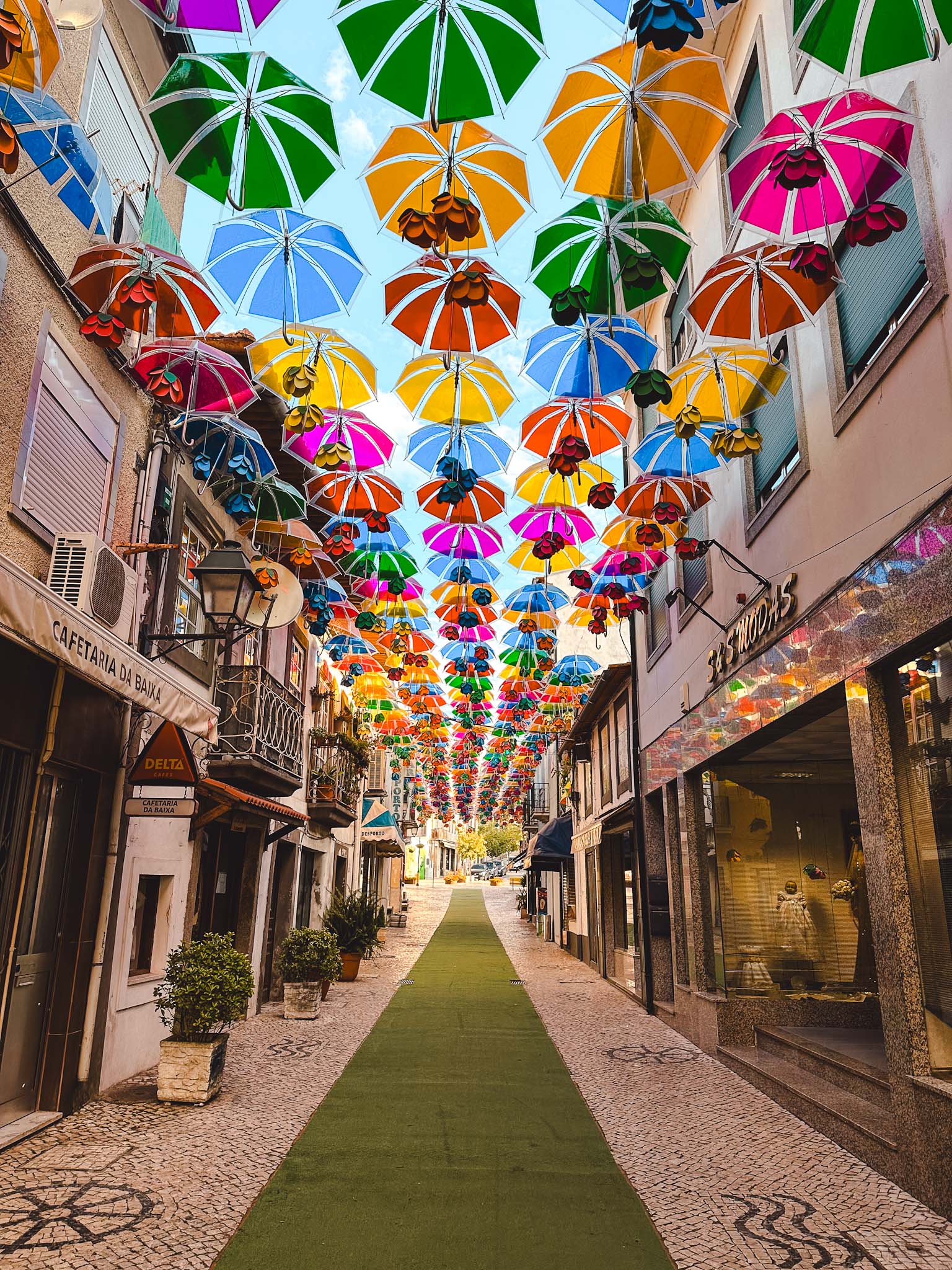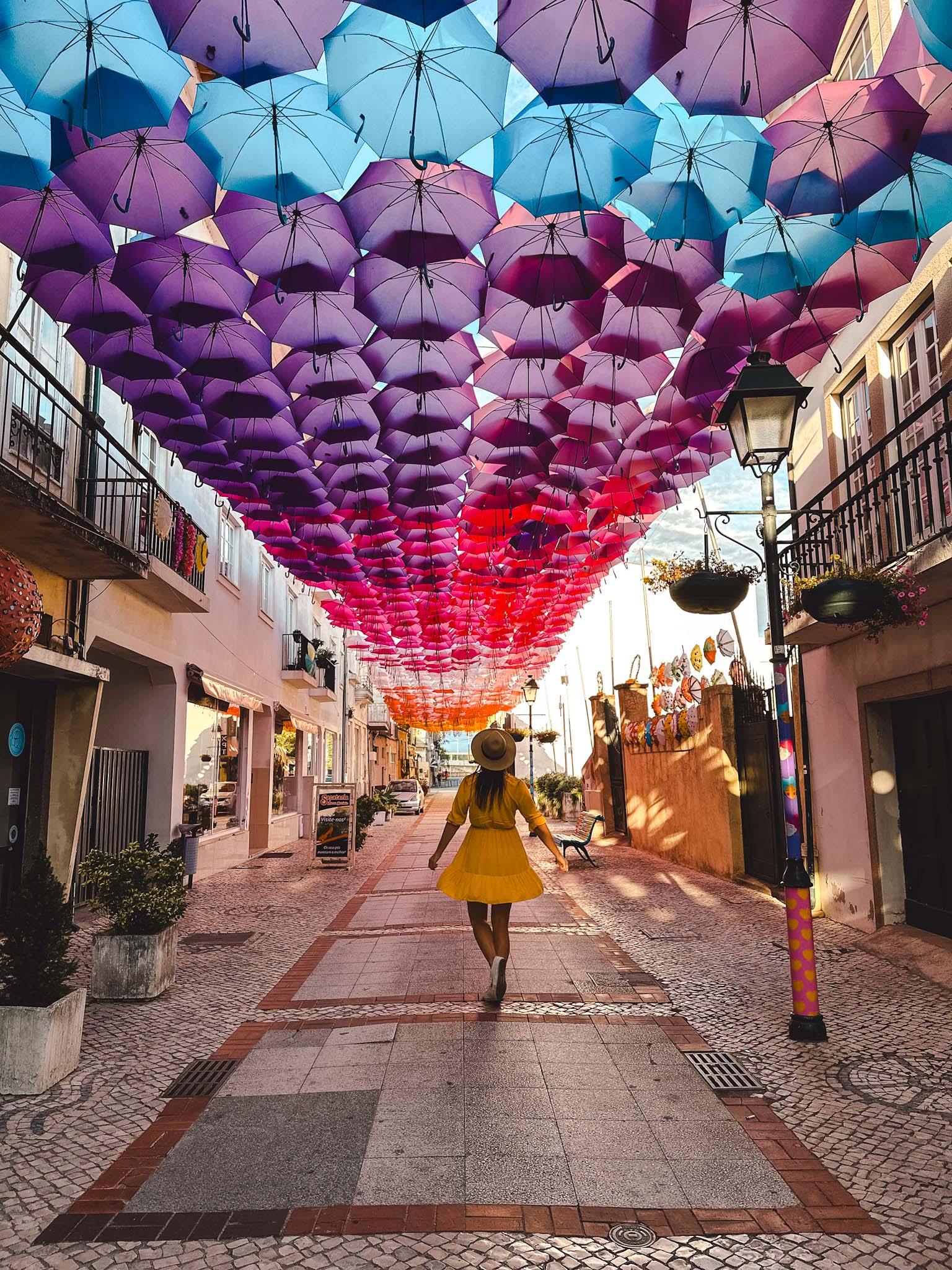 There were colorful benches, even a decorative car on one of the streets as well as other colorful decorations. We visited this place at the end of August and everything was still in full swing.
However, to my knowledge, the umbrellas are removed during the off-season. If you go to Portugal, I suggest opening this place on Googe Maps (link below) and checking the newest reviews to make sure you don't waste your trip to this city.
Location: Umbrella Sky Project in Agueda
19. Near Aveiro – visit Igreja Matriz de Válega, the most colorful church in Portugal!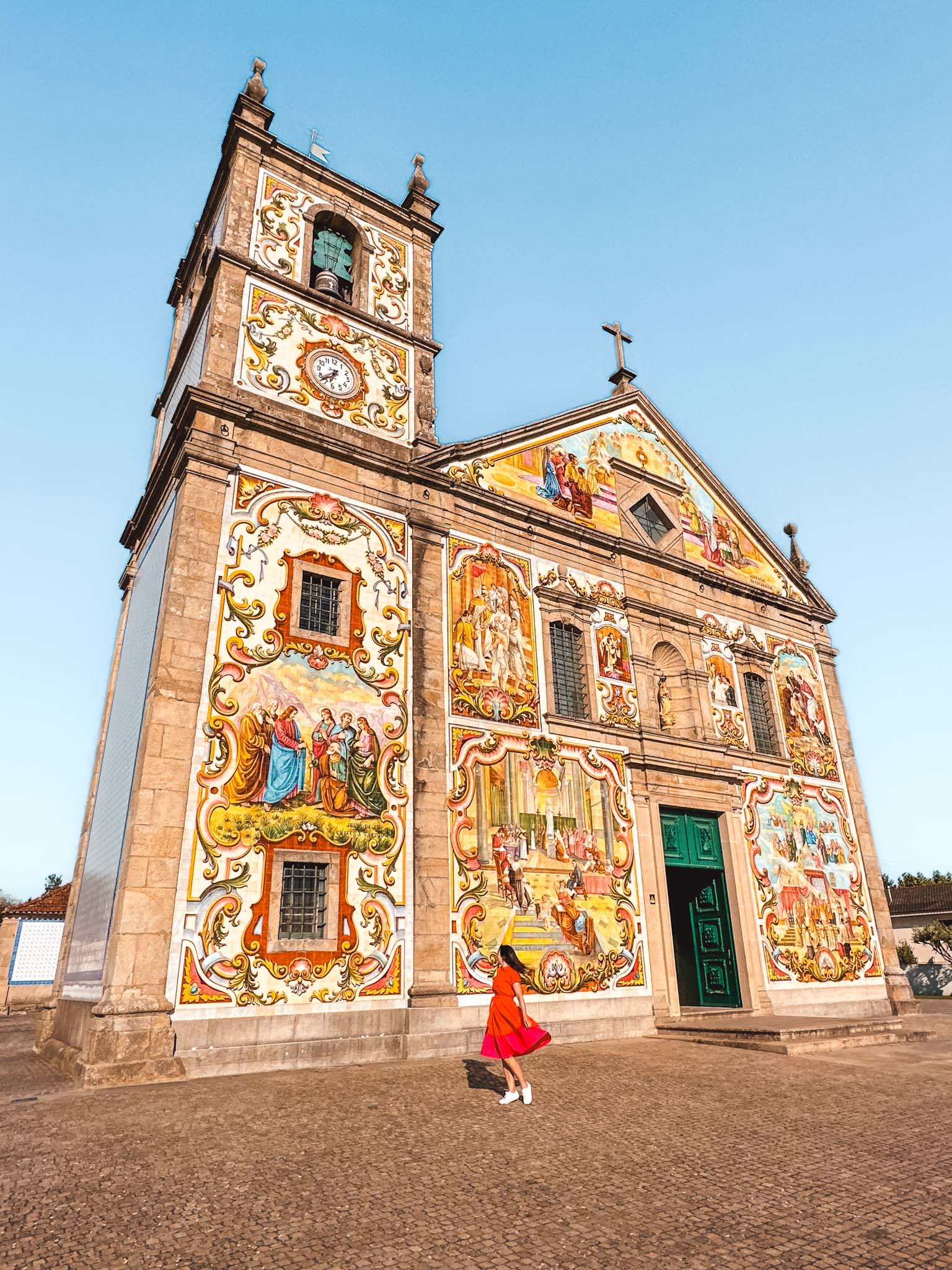 Matriz de Válega church was an absolute favorite of mine and one of the most beautiful hidden gems in Portugal. The whole church is covered by tiles with colorful biblical illustrations on the facade. You can visit this church for free!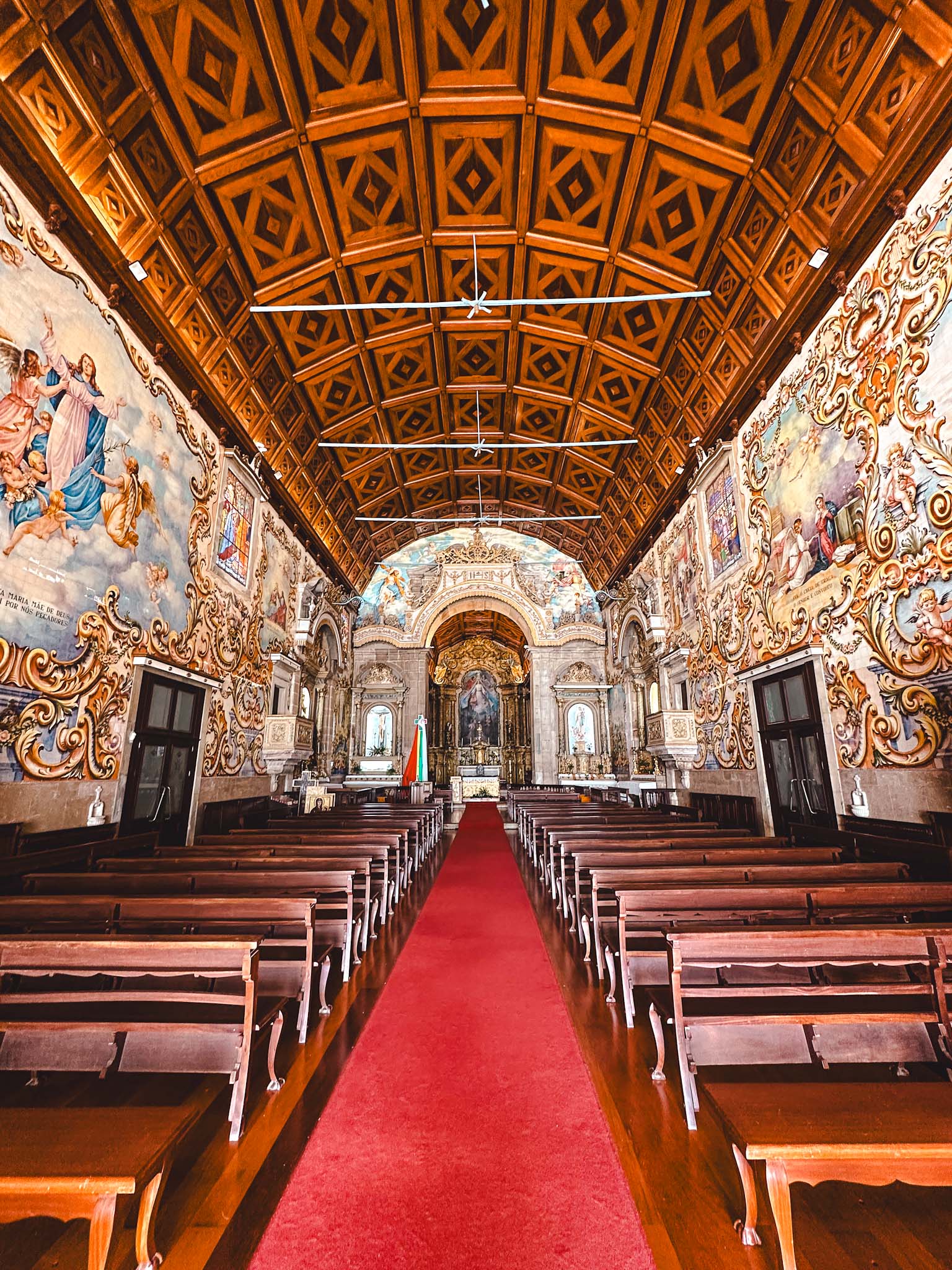 The church is located in Válega town in the Aveiro district and is amongst the best places to visit near Aveiro city. Construction of the church started in the middle of the 18th century and lasted for a hundred years.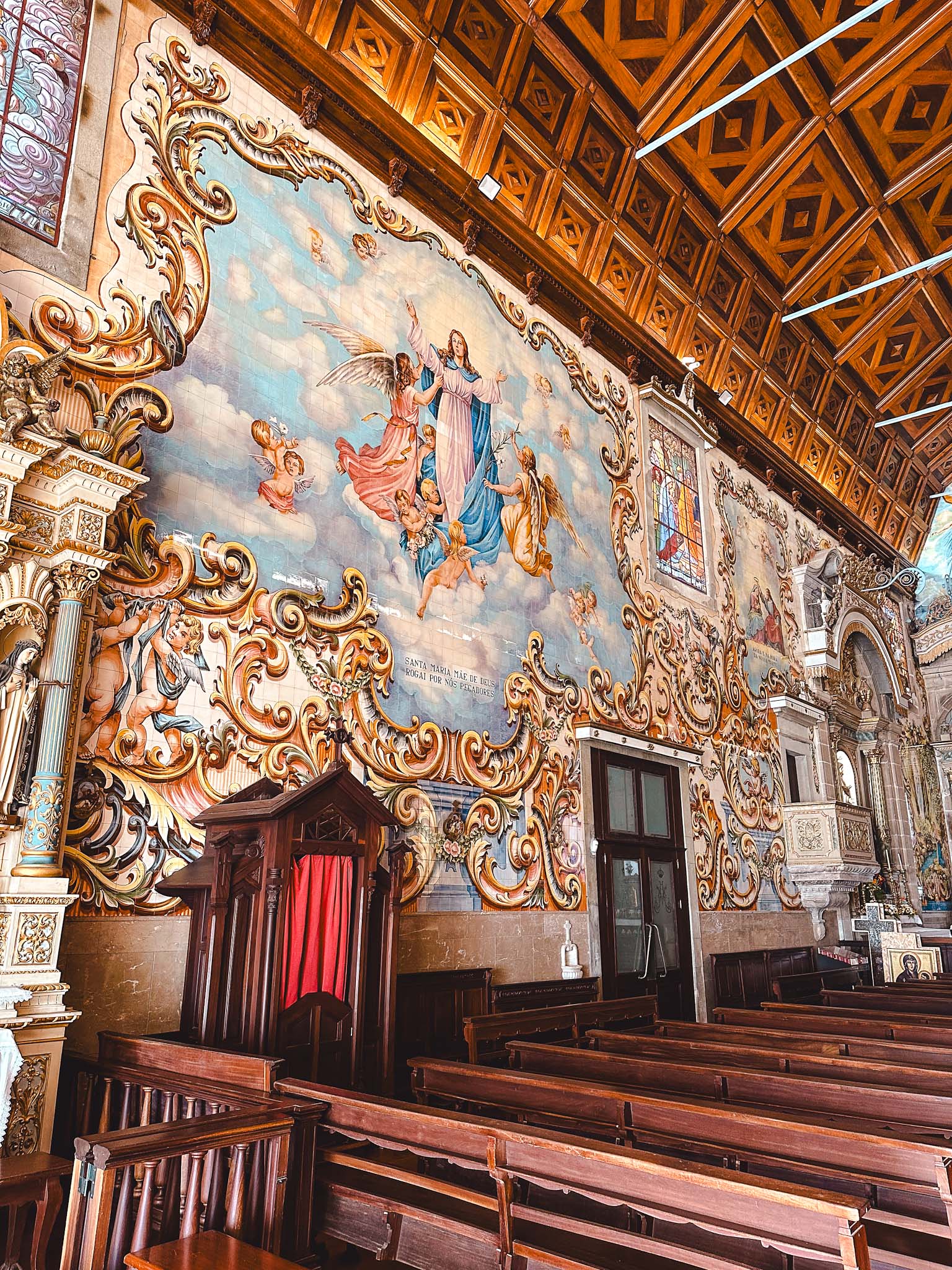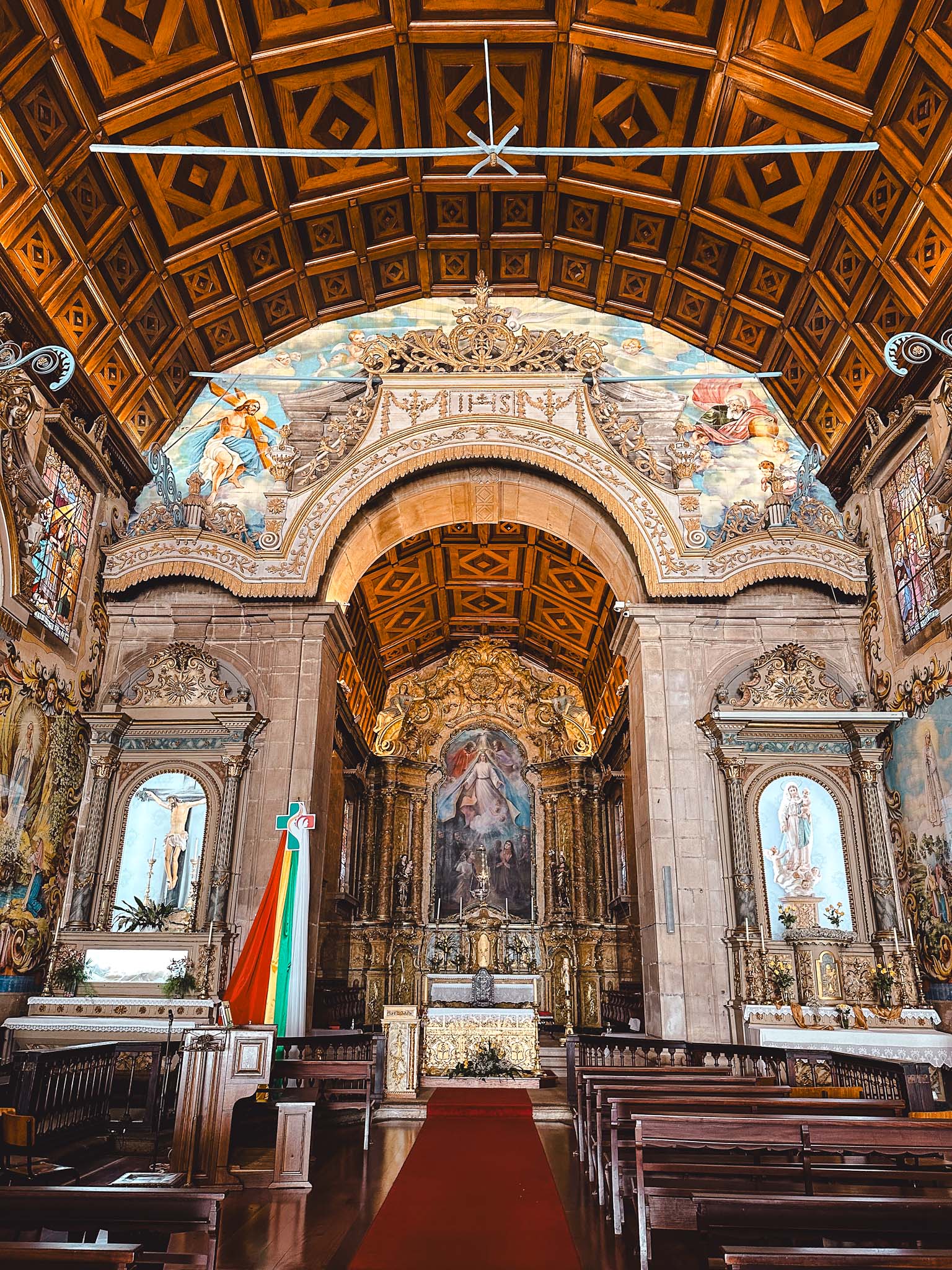 The tiles continue on the inside as well which is equally as spectacular as the outside depicting numerous biblical characters and scenes. The tile illustrations are combined with wooden panels as well as stunning altarpieces and statues.
The sides of the church are in typical blue and white tiles. There is a cemetery right next to the church for you to take a look at – you can notice some beautiful architecture there. Just check the working hours on Google Maps before you go (link below)!
Location: Igreja Matriz de Válega
20. Near Aveiro – admire the beauty of Buçaco Palace!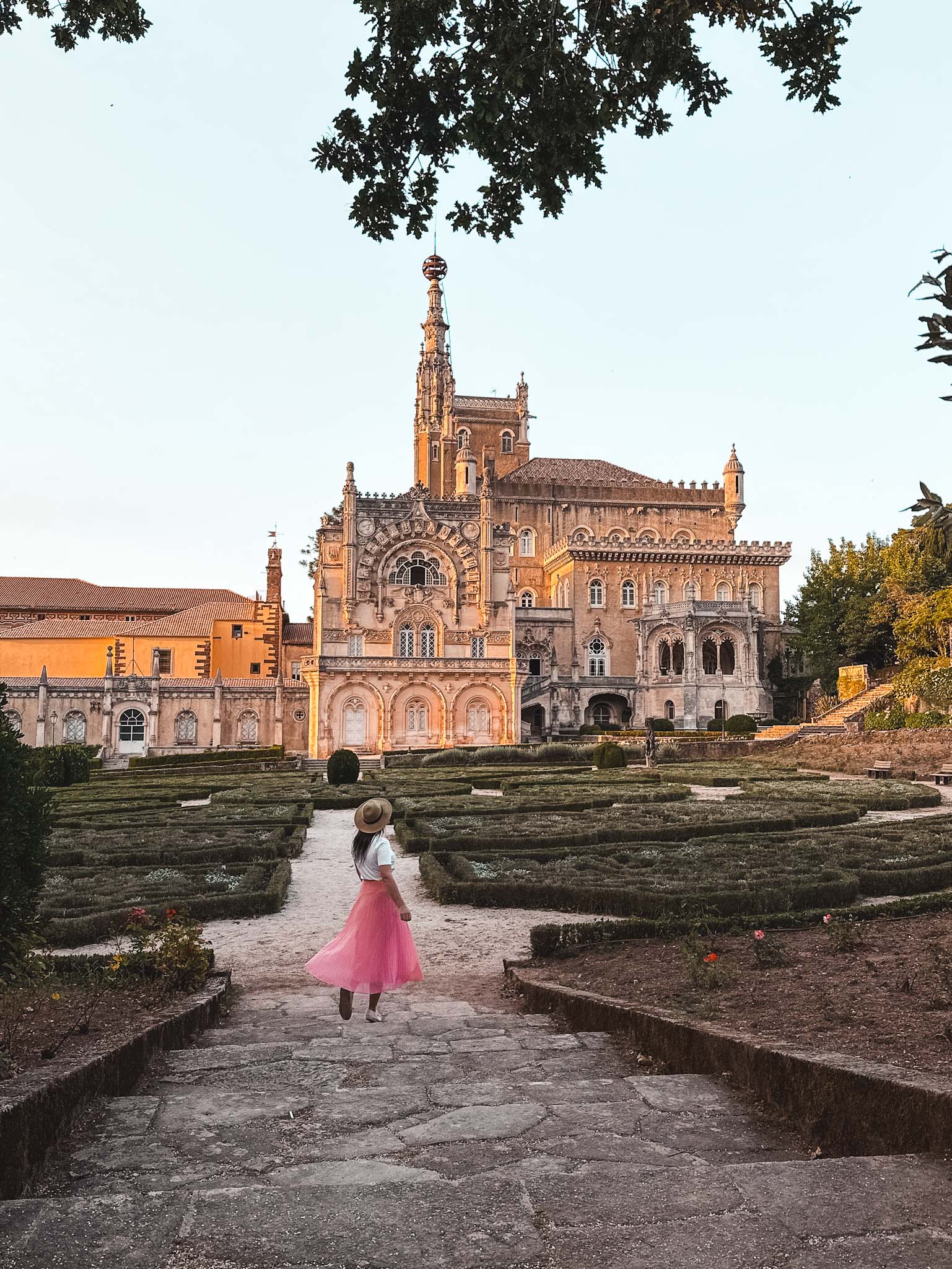 Another amazing place in the Aveiro district is Buçaco Palace. The palace is actually a former convent that today houses a luxury hotel. However, in order to visit the palace, you don't have to book a stay there – the property is accessible to the public for free!
This convent including a luxurious garden with countless species of trees was built in the 17th century. Part of that convent as well as a church is still preserved beside the palace to this day.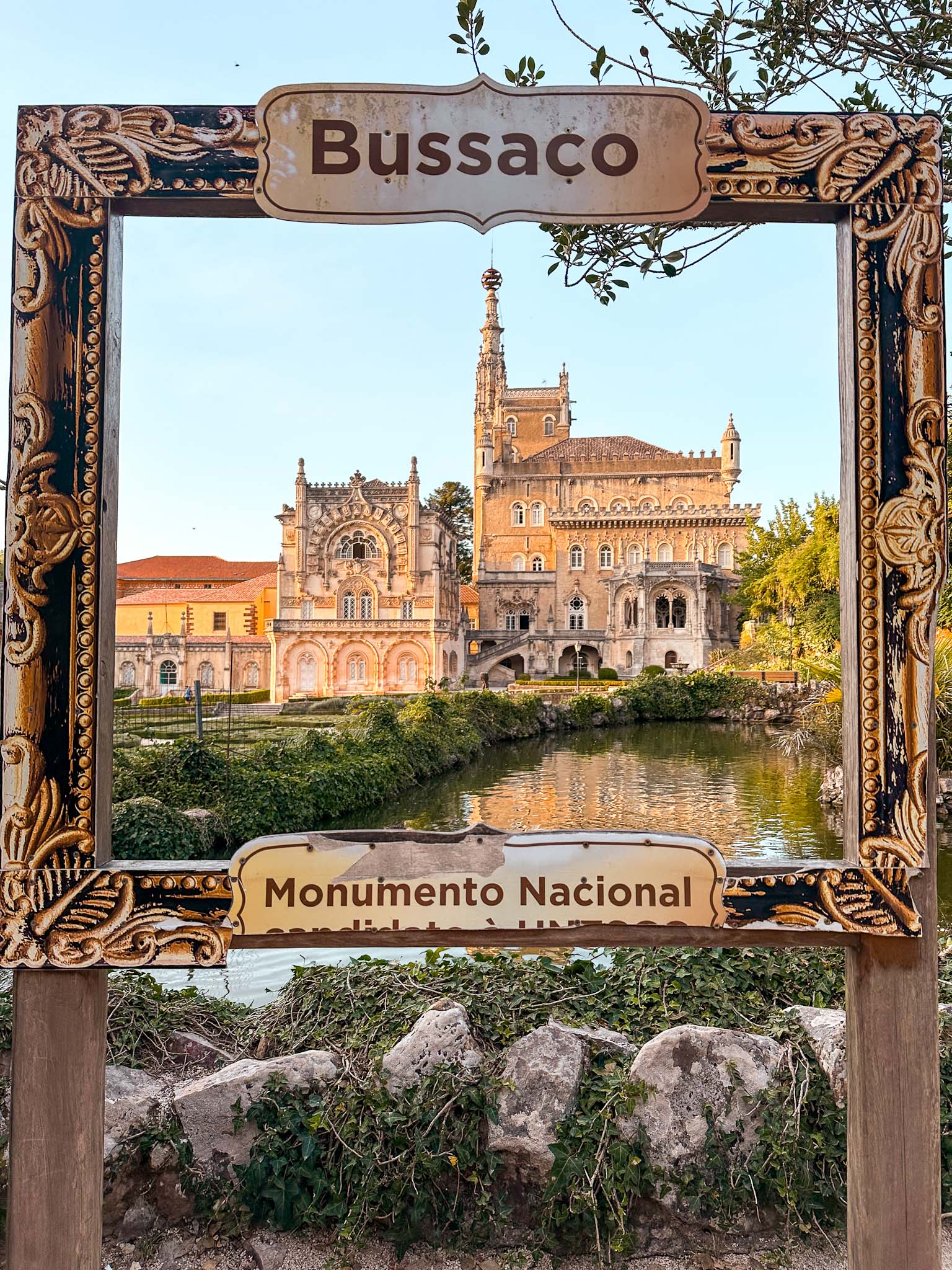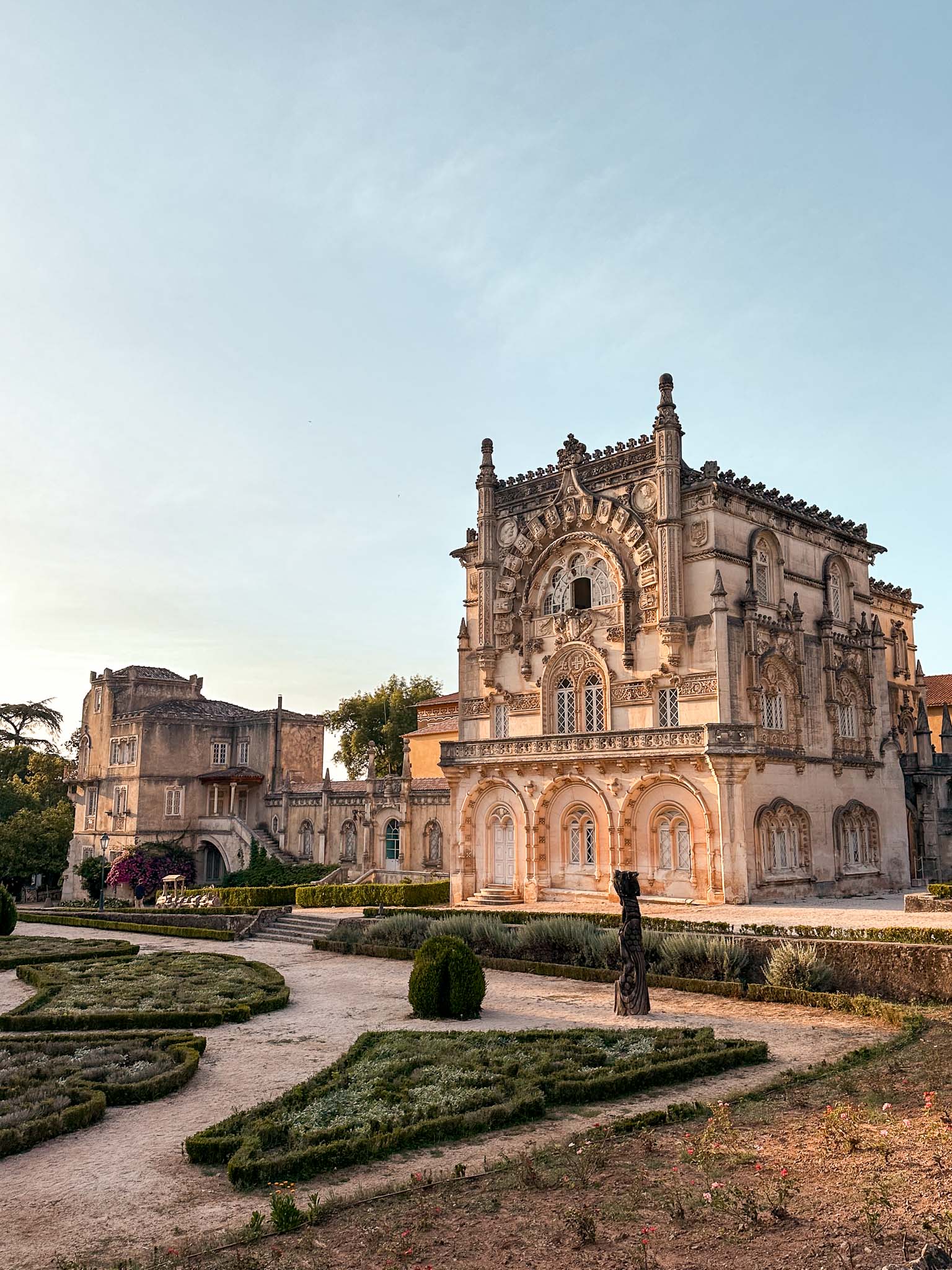 The Palace Hotel of Buçaco as we see it today was finished in 1907. The palace proudly boasts a Neo-Manueline architectural style that was born in Portugal. You can freely walk around the palace and the spectacular garden.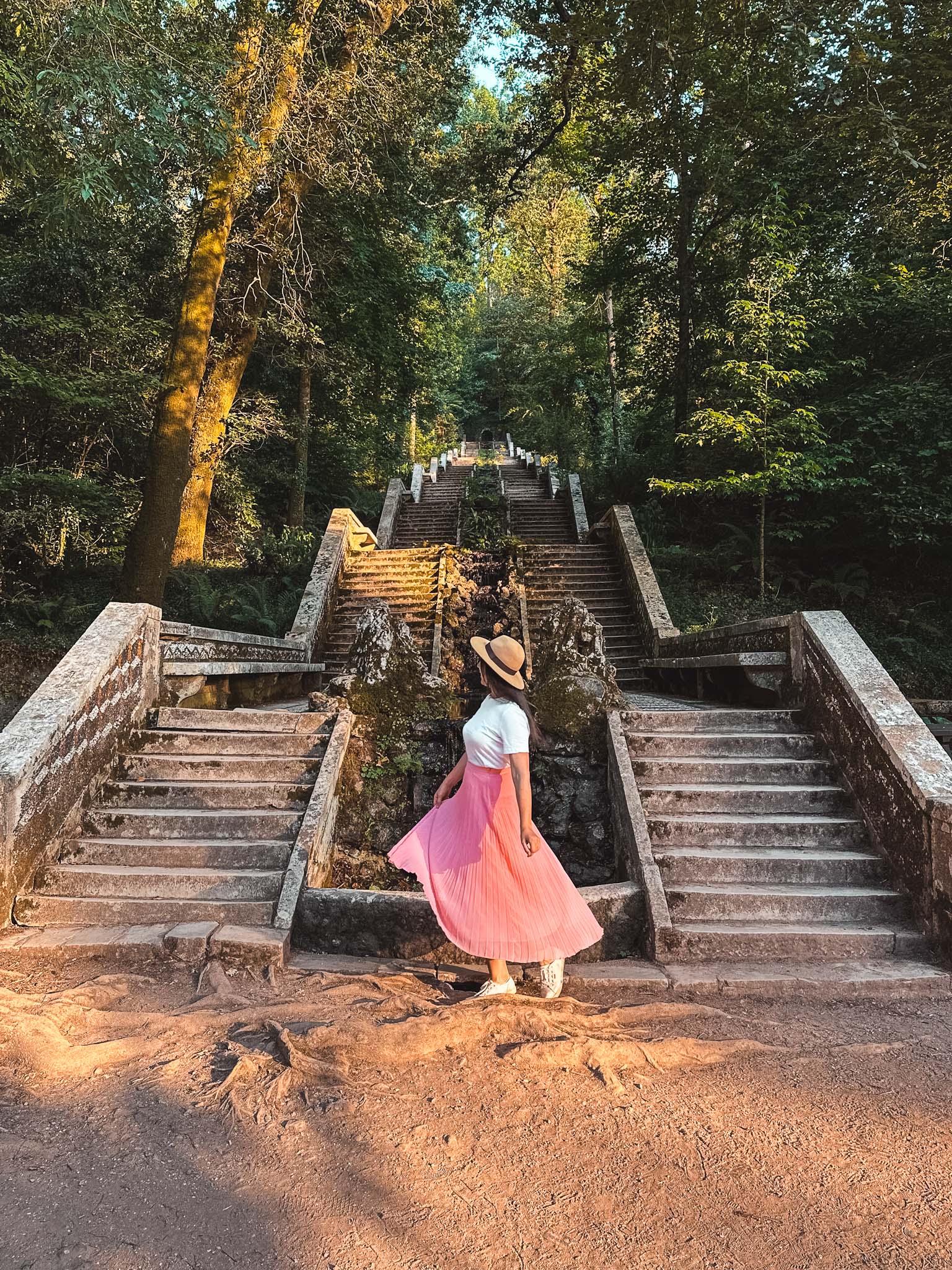 It is also possible to take a look inside, however, we did not have time to do that. The area around the palace is called Buçaco National Forest – one of the hidden gems in Portugal. It is a very thick forest with pathways, stairs, and fountains. A beautiful place for a walk!
Location: Buçaco Palace – Fonte Fria fountain
21. Near Aveiro – admire the stunning Igreja Paroquial de Cortegaça church!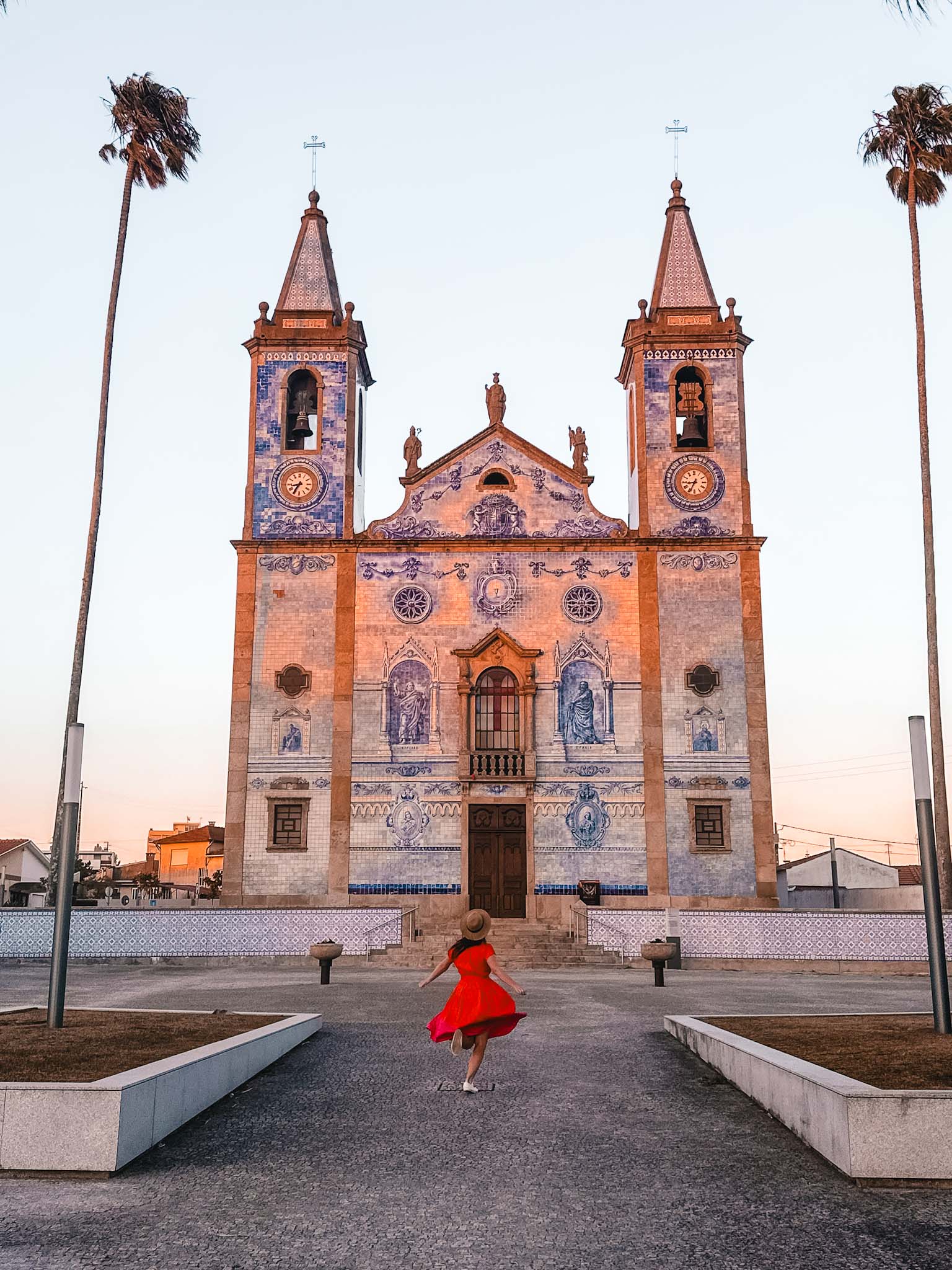 Located in Cortegaça village in Aveiro district is this wonderful sight you will remember forever – the stunning Igreja Paroquial de Cortegaça church. The building that we see today was completed in 1918 and was built to replace the temple dating back to the middle of the 12th century.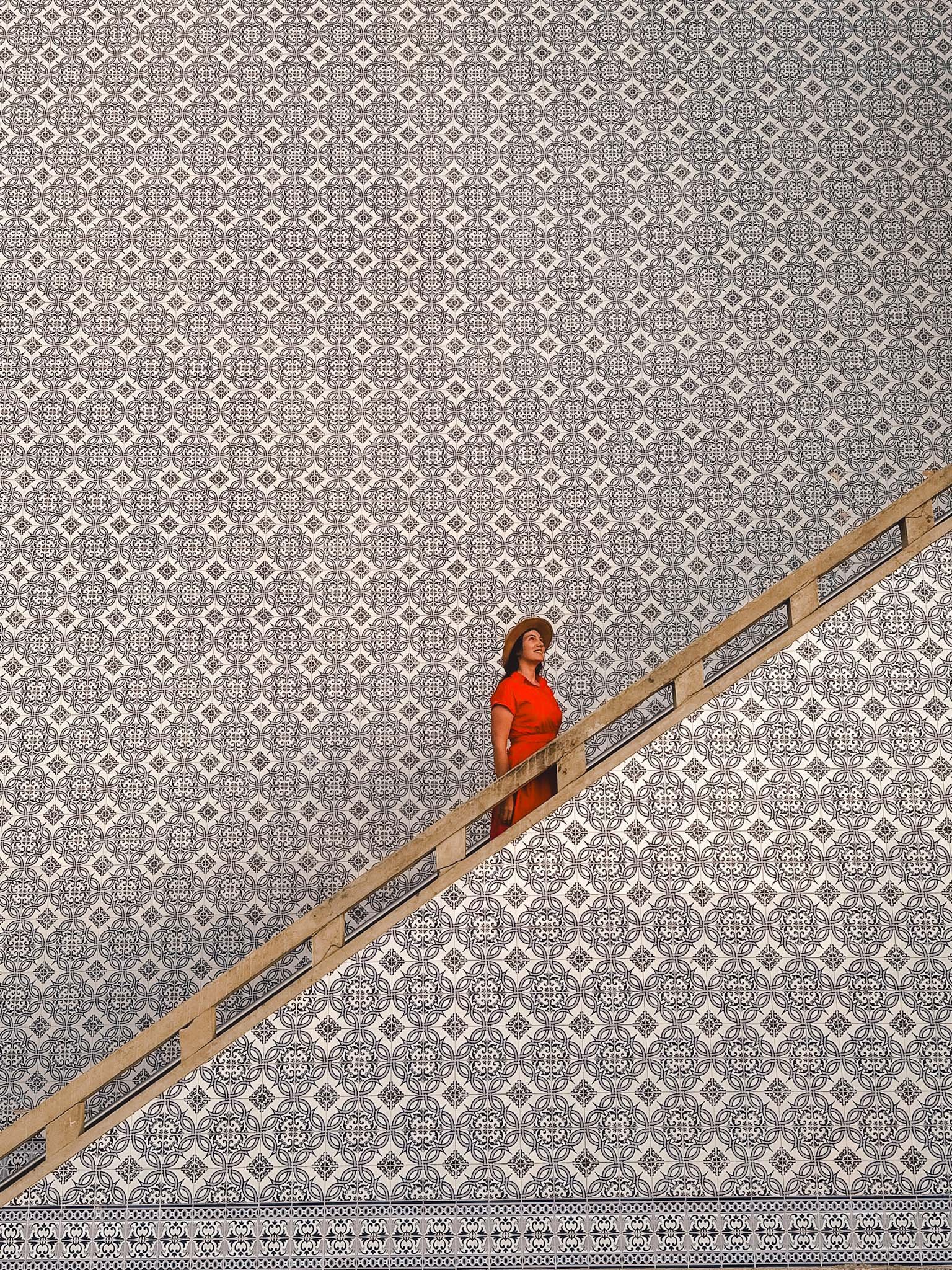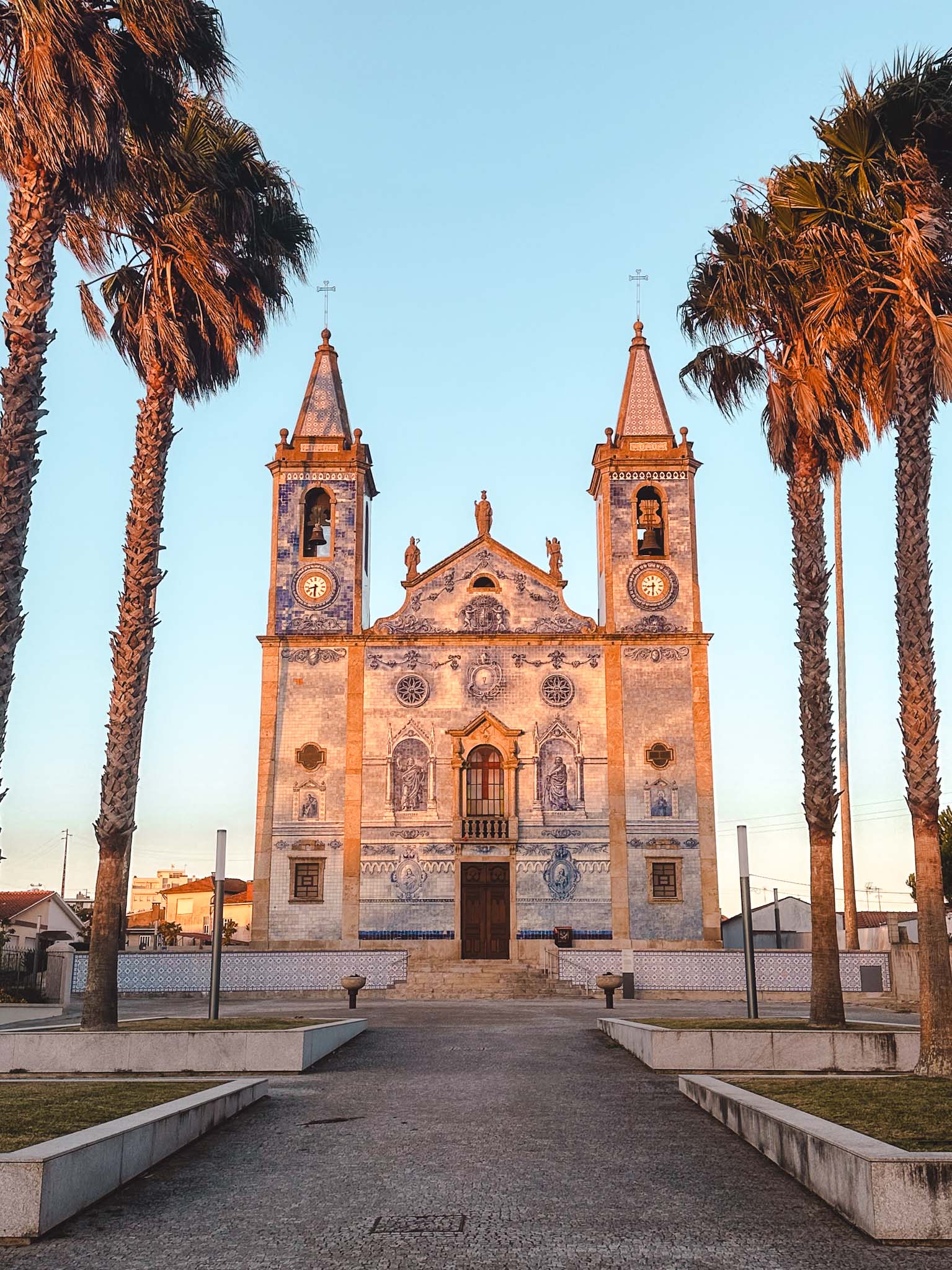 This striking church is located in a square at the end of an alley of palm trees. The incredible facade was covered with tiles between 1921 and 1923 and depicts religious figures. The church has two flanking towers topped with spires.
The pediment in the middle part is topped by three sculptures. I could only silently admire everything I saw here – it was magical. This church is definitely one of the most exquisite examples of Portuguese tile artworks and you must see it!
Location: Igreja Paroquial de Cortegaça
Happy exploring!
Aveiro is an iconic city in the Northern part of Portugal. Although it mostly attracts tourists with its scenic city canals and cruising Barcos Moliceiros boats, there is so much more to see in the city and beyond. It is a true gem in Portugal!
I hope you enjoy your time in Aveiro and in Portugal as much as we did! And I hope you will get some travel inspiration from this blog post to make your trip to Aveiro even more exciting, memorable, and filled with lots of fun things to remember forever!
PIN FOR LATER!