Destination wedding in the unique Madeira. Wait till you see this wild paradise!
When we were dreaming about what our perfect wedding day would look like, one of the dreams was to just fly somewhere far away and get married somewhere exotic with just the two of us present!
Then the pandemic came… Because we had our wedding date set and our wedding rings engraved with May 20th, 2020, we did not fly anywhere and celebrated our wedding in our home country with our close family.
However, the dream was still there. Because we bought our wedding gowns and because we wanted somehow to celebrate our marriage with just the two of us present and because we had that dream of flying somewhere and getting married, we made a decision.
We decided to celebrate our wedding anniversary by dressing up just like it was our wedding day! Our wedding (anniversary) destination – Madeira, an island of eternal spring! Wild, adventurous and beautiful – just like us, hehe!
Madeira – a paradise of volcanos and eternal spring!
I did not know anything about Madeira, so I found and contacted Say Yes to Madeira agency. For a fee, they helped me organize everything and answered all the questions I had about Madeira. Why is Madeira the perfect place for destination weddings?
Warm weather throughout the year, beautiful mountains, very green forests, jungles, endless ocean and beaches, wild nature, friendly people, and so on! It is definitely quite a unique place for a wedding!
We stayed in a beautiful hotel – Quinta do Furão – so it set us up for a magical day before the anniversary! We got the suite with a bathtub, three balconies with sunrise and sunset views, a living room, a bedroom, and a bathroom.
It has a very good restaurant next to it with unforgettable views over the coast of Madeira. Those were, without a doubt, some of the most beautiful views we saw on the island!
On our anniversary day, we drove to the capital city of Madeira – Funchal. We got our hair and makeup done in Queens Cabeleireiro e Estética salon and got dressed there as well.
We met up with an amazing local photographer – Miguel Ponte – and drove to the third-highest mountain in Madeira, Pico do Arieiro, for the sunset photoshoot.
Miguel is incredibly professional, and gifted, and does his job with pure joy. If you want a photoshoot in Madeira, contact Miguel! We had a lot of fun in the mountains while catching some amazing shots!
Anke from 'Say Yes To Madeira' had organized for us a small elopement-type setting on the mountain. There we had a glass of champagne and a piece of a beautiful and very tasty wedding anniversary cake from 4cakes bakery in Madeira.
They did an incredible job – the cake was tasty and rich with chocolate and cherry flavors! Our flower arrangements were from CS Flowers Design – big, green, and messy just like a typical Madeira jungle!
Pico do Arieiro mountain – a wedding photoshoot place in Madeira!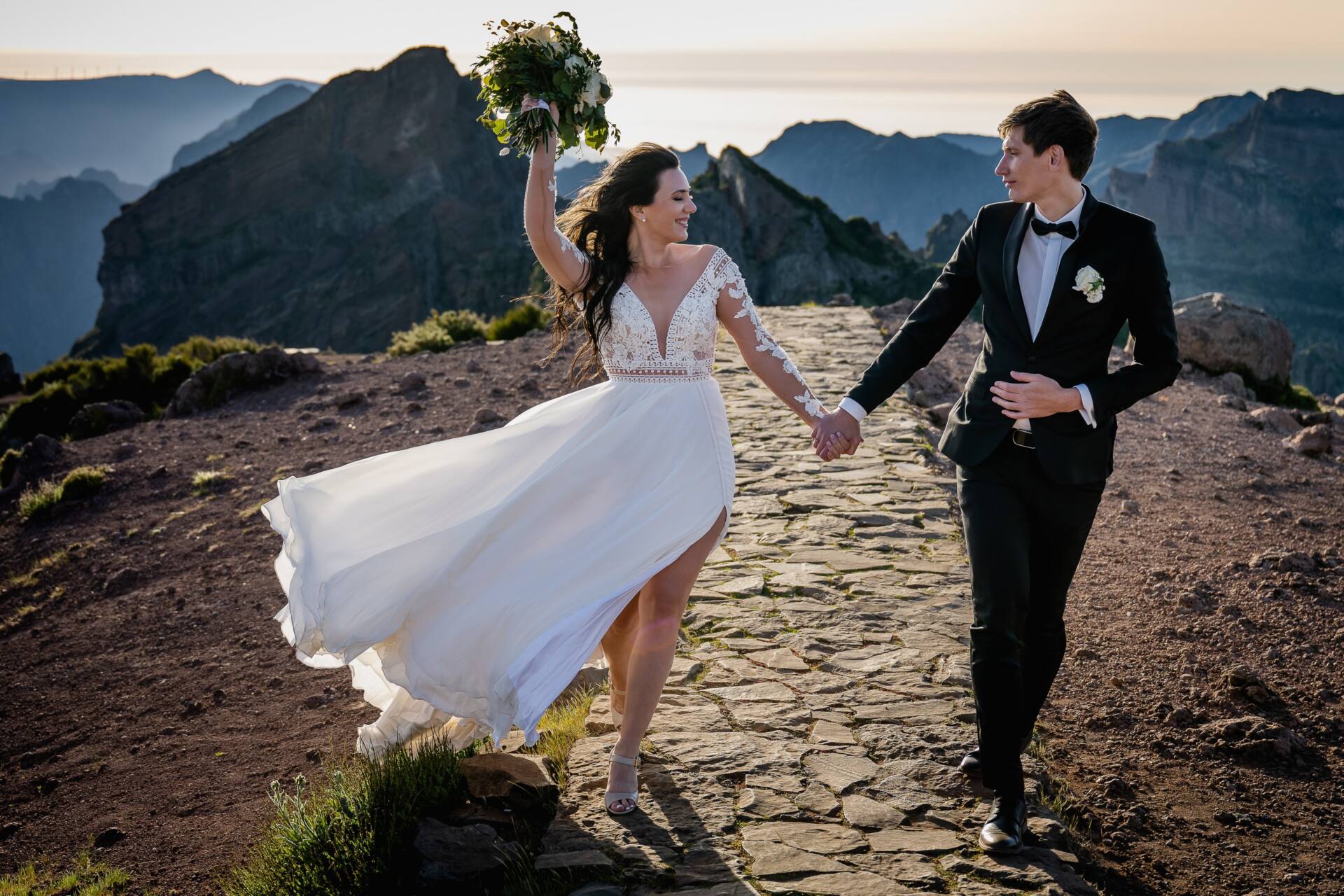 Why is Pico do Arieiro (1818 m) the perfect place for a photoshoot? There are unbelievable views over the island, mountains, and even clouds, but you don't have to walk long distances!
You can drive by car to the very top of the mountain, park there and get all these views without hiking! You will not have to walk further than 200 meters!
For me, it was important because I had my wedding shoes – it can be a challenge to walk dirt trails with wedding shoes! Ups!
However, I have to admit, that we were lucky because the weather up there can be unpredictable! It was very windy and cold tho, but we managed to survive!
You should definitely understand, that the weather in Madeira is very often not what is forecasted. Sometimes the top of the mountain looks like a big, white, endless fog and you can not see anything at all! We were so lucky!
After the photoshoot, we drove back to Quinta do Furão hotel for a nice dinner and relaxation. It was amazing to wake up with the sunrise in the ocean and go to bed with a sunset behind the mountains!
And, yes, we saw both from our balcony! All in all, we had an amazing time – we had fun, we relaxed, we enjoyed our time with just the two of us and we got some amazing photos as a keepsake from our very first wedding anniversary! Unforgettable!
Should you have a wedding in Madeira?
Would I recommend having a wedding in Madeira? Well, if you are into white sand beaches and crystal clear water, then no!
But if you are adventurous, want something different, and are ready to just enjoy, be yourself and not care about the perfect photo, then – definitely!
It was cold and super windy for us up in the mountain, plus it was difficult to run around the mountain trails in wedding shoes. But we were both ready to just let it all go and just focus on us and nothing else!
Of course, there are also other spots in Madeira that would be suitable for a ceremony with guests, but a photo shoot on a mountain is a must! Don't you think so?